On working-class Los Angeles before and after the civil unrest of 1992—and how structural inequities continue to shape the city's labor struggles from the classrooms to the docks.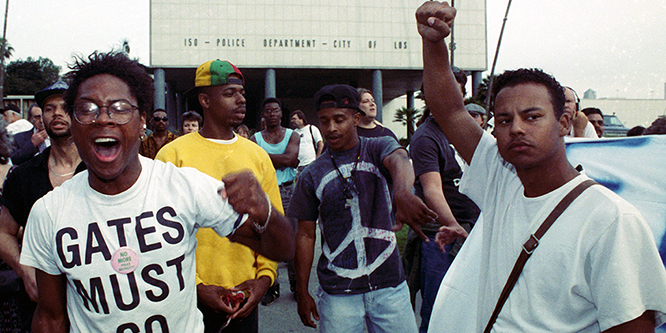 Subscribe to the Belabored RSS feed here. Support the podcast on Patreon. Subscribe and rate on iTunes, Stitcher, and Spotify. Tweet at @DissentMag with #Belabored to share your thoughts, or join the conversation on Facebook. Check out the full archive here. Belabored is produced by Casey Stone.
Almost exactly thirty-one years ago, Los Angeles was burning as several days of civil unrest erupted in the wake of the acquittal of the police officers who had brutally beaten Rodney King. It was not just an impulsive uprising fueled by rage at police brutality but a reflection of many years, if not decades, of a simmering urban crisis in which social disinvestment, deindustrialization, and deep segregation turned the city into an economically and racially polarized landscape, with the police serving as chief enforcers of a brutal social hierarchy. In this episode, we talk about working-class Los Angeles before and after the civil unrest of 1992—and how the city's labor movement reflects and grapples with the scars of historical injustice.
The late Mike Davis examined the racial, cultural, and political divisions of Los Angeles in his seminal work on the city, City of Quartz. We revisit that text and the events of 1992 with Tobias Higbie, associate director of UCLA Institute for Research on Labor and Employment, and Kent Wong, director of the UCLA Labor Center, to discuss how the city's structural inequities continue to shape its labor struggles in sectors from the classrooms to the docks. 
In other news, we look at the Hollywood writers' strike, teachers' strikes across England with Vik Chechi-Ribeiro of NEU Manchester, African tech workers organizing, and South Asian Americans mobilizing against caste discrimination with Karthikeyan Shanmugam of the Ambedkar King Study Circle.
Thank you for listening to our 265th episode! If you like the show, you can support us on Patreon with a monthly contribution, at the level that best suits you.
If you're interested in advertising on the show, please email ads@dissentmagazine.org. And as always, if you have any questions, comments, or tips, email us at belabored@dissentmagazine.org.
This season of Belabored is supported in part by the Economic Hardship Reporting Project.
News
John Koblin, Brooks Barnes, and Nicole Sperling, Hollywood, Both Frantic and Calm, Braces for Writers' Strike, New York Times
Daniel Arkin, Hollywood writers go on strike after contract negotiations fail, NBC 
Sakshi Venkatraman, California is one step closer to banning caste-based discrimination, NBC 
Richard Adams, Schools across England close as teachers vow to continue strikes, Guardian 
Vik Chechi-Ribeiro, The NEU strike – Winning a rank-and-file led union, Notes From Below 
Billy Perrigo, 150 African Workers for ChatGPT, TikTok and Facebook Vote to Unionize at Landmark Nairobi Meeting, Time  
Conversation
Kent Wong, Director, UCLA Labor Center
Tobias Higbie, Associate Director, UCLA Institute for Research on Labor and Employment
Mike Davis, Realities of the Rebellion, Against the Current 
Cindi Katz, Neil Smith, and Mike Davis, L. A. Intifada: Interview with Mike Davis, Social Text
Ruth Milkman, Immigrant Organizing and the New Labor Movement in Los Angeles, Critical Sociology
Corina Knoll, Adeel Hassan, and Shawn Hubler, Los Angeles Schools and 30,000 Workers Reach Tentative Deal After Strike, New York Times 
Sarah and Michelle, Belabored: L.A. Teachers Shut It Down, with Alex Caputo-Pearl, Dissent
Sarah Jaffe, What Rydell High School Can Teach Us about the LA Teachers Strike, Nation
Michelle Chen, Warehouse Workers of Los Angeles, Unite!, Nation
City on the Edge, HERE Local 11