Three education workers talk about school reopening, and their struggle to protect their health and that of their students.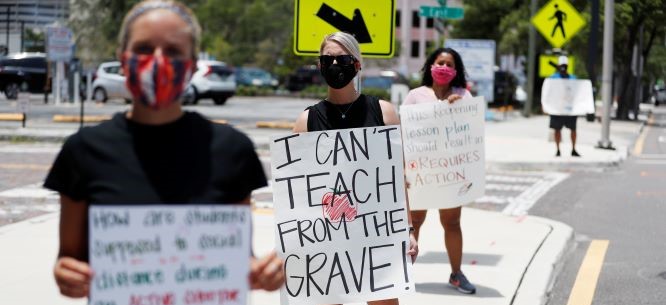 Subscribe to the Belabored RSS feed here. Support the podcast on Patreon. Subscribe and rate on iTunes, Stitcher, and Spotify. Tweet at @DissentMag with #Belabored to share your thoughts, or join the conversation on Facebook. Check out the full archive here. Belabored is produced by Colin Kinniburgh.
School's back in session across the country—or is it? September was supposed to herald a partial return to normalcy for communities that have been ruptured by the pandemic, as college students returned to campus and children resumed in-person classes. But city after city has been forced to walk back plans for reopening brick-and-mortar instruction. And colleges that have attempted to start the semester with students on campus have been wracked with anxiety, as administrators try in vain to contain outbreaks and restrict social activities. We talked to three educational workers about school reopening, and their struggle to protect their health and that of their students: Erin Markiewitz, Vice President of GEO, the Graduate Employees' Organization at the University of Michigan, talks about the graduate workers' decision to strike earlier this month, which triggered a legal attack from the administration; Andrew Spar, president of the Florida Education Association, discusses the lawsuit the teachers filed against the state's plan to resume in-person instruction statewide; and Annie Tan, a special education teacher and member of the MORE Caucus in New York City, explains why educators like her are nervous and frustrated about Mayor Bill De Blasio's haphazard school reopening plan.
In other news, we look at how the West Coast wildfires are affecting farmworkers; a strike at the Tate London; Heidi Shierholz of Economic Policy Institute on a legal defeat for a regressive Labor Department rule; and a nonprofit unionization streak, with Kayla Blado and Katie Barrows of the Nonprofit Professional Employees Union. With recommended reading on workplace safety in the midst of a pandemic, and why urban homesteaders are rebranding tenant farming.
We are now on Patreon! You can sign up to support us with a monthly contribution, at the level that best suits you.
If you're interested in advertising on the show, please email ads@dissentmagazine.org. And as always, if you have any questions, comments, or tips, email us at belabored@dissentmagazine.org

News
Wildfires Make Dangerous Air For Farmworkers: 'It's Like You Can't Breathe' (NPR)
Michelle: No Sanctuary in Fire-Stricken California's Immigrant Communities (The Nation)
NY Court Strikes Down Significant Portions of DOL's Final Rule Defining Joint Employment Scenarios Under FLSA (JD Supra)
EPI applauds judge's decision on joint-employer rule: Trump's rule would have cost workers more than $1 billion annually (EPI)
'It's All Performative, They Don't Care': Why Tate Workers Are Going on Strike (Novara)
Sarah: Nonprofit Workers Join the Movement to Unionize (Progressive)
Nonprofit Professional Employees Union
Conversation
University of Michigan Graduate Employees' Organization Vice President Erin Markiewitz
Graduate employees reach deal with University of Michigan to end strike (MLive)
Graduate Employees' Organization (GEO)
Florida Education Association President Andrew Spar
Judge sides with Florida's largest teachers' union in school reopening lawsuit against state  (WTSP)
Annie Tan, special education teacher, member of Movement of Rank and File Educators
I'm a Teacher in New York. I'm Doing My Job by Fighting an Unsafe Reopening. (New Republic)
Note: Shortly after we interviewed Annie Tan, NYC Mayor Bill de Blasio announced an updated, "staggered" schedule for the return to school, so most students would begin their classes virtually rather than in person on Monday, September 21. Middle and high school students are now due to return on October 1.

Sarah: Teachers Fight for Their Lives and the Future of Public Education (Rethinking Schools)
Argh, I wish I'd written that!
Sarah: Kevin Reuning, OSHA complaints show workplace safety is still a concern as the economy reopens (Strikewave)
Michelle: Nick Martin, The New York Times Discovers a Manhattan Makeover for Nu-Tenant Farming (New Republic)