In The Great Escape, Saket Soni recounts how he organized a group of Indian migrant workers to free themselves from a human trafficking scam and hold their captors accountable.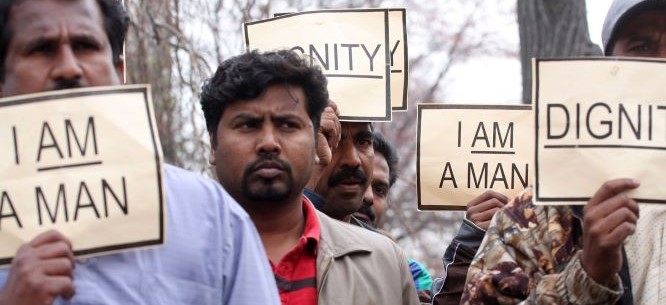 Subscribe to the Belabored RSS feed here. Support the podcast on Patreon. Subscribe and rate on iTunes, Stitcher, and Spotify. Tweet at @DissentMag with #Belabored to share your thoughts, or join the conversation on Facebook. Check out the full archive here. Belabored is produced by Casey Stone.
Migration is almost always connected to work, and is usually the product of some combination of aspiration and desperation, ambition and escape. Saket Soni's new book, The Great Escape, recounts the journey of a group of Indian migrant workers who came to the Gulf Coast in the aftermath of Hurricane Katrina, on the promise of jobs that would help rebuild the region. Instead, they were roped into a convoluted transnational labor trafficking enterprise.
Written as a nonfiction thriller/memoir from the point of view of Soni, who organized the workers to hold their captors accountable, The Great Escape tells the story of how they collaborated with local activists to free themselves from bondage and advocate for their rights. But the narrative of escape intersects with the workers' stories at multiple angles: not only did they have to escape physical captivity, they were also on a much longer quest to escape poverty and social pressures in their homeland; the hierarchies of race, citizenship and culture that ensnared them in the United States; the talons of immigration enforcement; and their own self doubt. Soni now heads Resilience Force, which aims to change the way the country responds to disasters by supporting the workers who help communities cope with the rebuilding, healthcare, and social needs that emerge after disaster.
In other news, we look at Dollar General workers organizing in Louisiana, with NOLA Dollar General worker David Williams; an Amazon workers' opera in St. Louis; the impact of the debt ceiling deal on older people and student debtors; and hardships facing aging workers.
Thank you for listening to our 267th episode! If you like the show, you can support us on Patreon with a monthly contribution, at the level that best suits you.
If you're interested in advertising on the show, please email ads@dissentmagazine.org. And as always, if you have any questions, comments, or tips, email us at belabored@dissentmagazine.org.
This season of Belabored is supported in part by the Economic Hardship Reporting Project.
News
Gabrielle Fonrouge, Activist firms call on Dollar General, Dollar Tree to improve worker safety, wages, CNBC
Michael Corkery, Dollar General Is Deemed a 'Severe Violator' by the Labor Dept., New York Times
Sarah Fenske, New 'Workers Opera' Is About How Much Working for Amazon Sucks, Riverfront Times
Alex Fees, St. Peters warehouse worker takes safety message to Amazon shareholders, KSDK 5 On Your Side
Matt Bruenig, The Debt Ceiling Deal Is an "F You" to Poor People, Jacobin
Kamaron McNair, 'This bill does end the payment pause': What the debt ceiling deal means for student loan borrowers, CNBC
Monique Morrissey, Many older workers have difficult jobs that put them at risk: Working longer is not a viable solution to the retirement crisis, Economic Policy Institute
Conversation
Saket Soni, The Great Escape: A True Story of Forced Labor and Immigrant Dreams in America, Algonquin Books
Farah Stockman, When $20,000 Gets You Exploited in America, New York Times
Sarah and Michelle: Belabored Podcast #50: The Future of Work, with Saket Soni, Dissent