Workers at a division of games conglomerate Activision Blizzard shocked the industry by becoming one of the first collective bargaining units in U.S. gaming.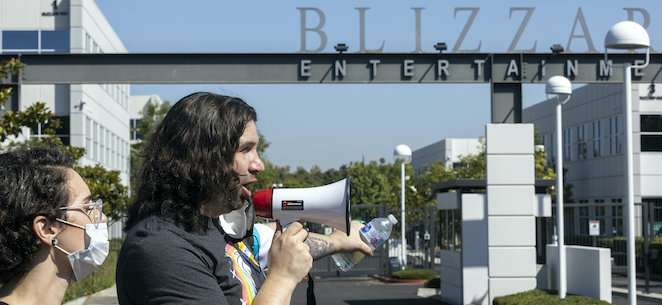 Subscribe to the Belabored RSS feed here. Support the podcast on Patreon. Subscribe and rate on iTunes, Stitcher, and Spotify. Tweet at @DissentMag with #Belabored to share your thoughts, or join the conversation on Facebook. Check out the full archive here. Belabored is produced by Colin Kinniburgh.
Last week, workers at Raven Software, a division of major video game production company Activision Blizzard, voted to unionize, forming one of the first collective bargaining units in the games industry in the United States. The small group of quality assurance testers shocked the industry, but not our guest Emma Kinema, a former game worker turned senior campaign lead at the Campaign to Organize Digital Employees-Communications Workers of America (CODE-CWA). She joins us to talk Raven, Activision, and games and tech-industry organizing more broadly.
We also hear from Grace, a member of the latest union drive at a Planned Parenthood affiliate under the looming repeal of Roe v. Wade, and about a settlement for Victoria's Secret garment workers in Thailand from the Solidarity Center's David Welsh. We look in on the latest conditions for gig workers around the country (spoiler alert: they're bad) and Seattle's attempt to improve them. And for Argh, we consider what longtime organizers could learn from unexpected victories at Amazon and Starbucks, and a report on employers holding workers' past sex work against them.
Catch up with Belabored at Labor Notes June 17-19! We'll be hosting Belabored LIVE from the conference on Friday 6/17 at 5pm, and you can find us on several other panels throughout the weekend, talking China, labor radio, and essential workers. For more details check out the conference schedule here. 
Thank you for listening to our 248th episode! If you like the show, you can support us on Patreon with a monthly contribution, at the level that best suits you.
If you're interested in advertising on the show, please email ads@dissentmagazine.org. And as always, if you have any questions, comments, or tips, email us at belabored@dissentmagazine.org

News
Anne D'Innocenzio, Thai garment workers win $8.3M in back pay after layoffs, ABC News
Matt Nesterak, Planned Parenthood workers in five states announce intent to unionize, Minnesota Reformer
National survey of gig workers paints a picture of poor working conditions, low pay, Economic Policy Institute
Seattle's PayUp Policy, Working Washington
Sarah Grace Taylor, Seattle City Council passes 'Pay Up' bill, raising wages for certain gig workers, Seattle Times
Kari Paul, Activision Blizzard's Raven Software workers vote to form industry's first union, Guardian
Kellen Browning, A Vote by Activision Workers Could Give Unions a Foothold in Gaming, New York Times
Sarah Jaffe, Organizing Big Tech, Rosa Luxemburg Stiftung
Sarah Jaffe, Tech's new labor movement is harnessing lessons learned a century ago, Technology Review
Argh, I wish I'd written that!
Michelle: J. Edward Moreno, Prior Sex Work Haunts Employees Returning to Traditional Job, Bloomberg Law
Sarah: Chris Brooks, How Amazon and Starbucks Workers Are Upending the Organizing Rules, In These Times