Musicians take to the picket lines in Chicago, New York nurses prepare to strike, and a deep look into how automation affects women workers.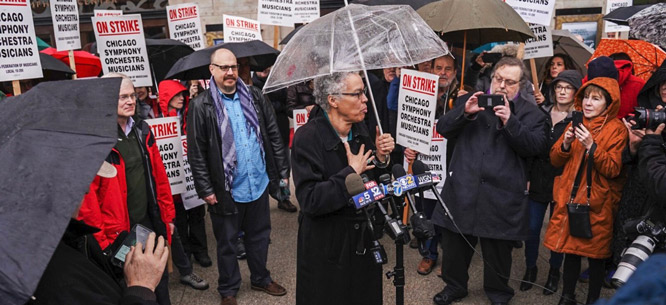 Subscribe to the Belabored RSS feed here. Subscribe and rate on iTunes here or on Stitcher here. Check out the full Belabored archive here. Tweet at @dissentmag with #belabored to share your thoughts, or join the conversation on Facebook. Belabored is produced by Natasha Lewis.
Some of the finest classical musicians in the world are on strike this week. Performers in the Chicago Symphony Orchestra, members of the Chicago Federation of Musicians Local 10-208, are walking the picket lines thanks to demands for givebacks in their contract. To explain the strike as well as the life of a working concert musician, we speak with Robert Kassinger, a bassist with the orchestra and part of the union's leadership.
We also speak with Anthony Ciampa of the New York State Nurses Association about the major strike vote taken by that union recently, and Ariane Hegewisch of the Institute for Women's Policy Research about a new report on how automation will affect women workers. We also look at more proposals for paid family leave, and a potential union staffers strike. For Argh, we consider whether a clothing brand can eliminate all distinction between work and play, and the undying myth of meritocracy.
News:
New York Nurses Prepare to Strike over Patient Ratios
Gillibrand Pans GOP Paid Leave Proposal 
How Do The Different Childcare And Paid Family Leave Plans Stack Up?
Trump's Parental Leave Proposal Is Pure Hypocrisy
Union Employees Authorize A Strike Against Their Own Union
Women, Automation, and the Future of Work, Institute for Women's Policy Research
Conversation:
The Chicago Symphony Goes on Strike over Pension Plan
Argh:
Sarah: Jia Tolentino, The New Yorker, Outdoor Voices Blurs the Line Between Working Out and Everything Else
Michelle: Nathan Robinson, The Guardian, Meritocracy is a myth invented by the rich