UPS workers are sharing photographs of triple-digit temperature readings inside their trucks. The Teamsters say drivers are suffering from heat-related illnesses at an alarming rate.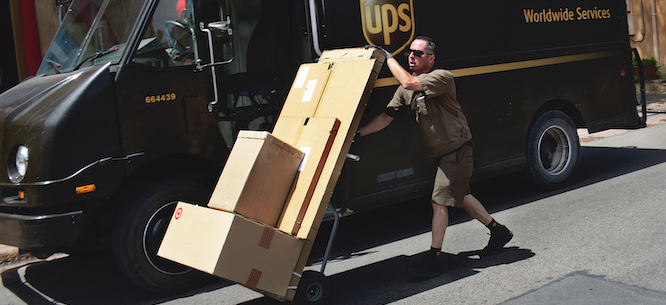 Subscribe to the Belabored RSS feed here. Support the podcast on Patreon. Subscribe and rate on iTunes, Stitcher, and Spotify. Tweet at @DissentMag with #Belabored to share your thoughts, or join the conversation on Facebook. Check out the full archive here. Belabored is produced by Colin Kinniburgh.
As climate change accelerates and temperatures reach into the triple digits, you might want to do all of your shopping online so that you don't have to go outside. But somebody's got to deliver those packages, and often it's a UPS driver, chugging through the heat in that signature brown truck. You might be surprised to learn that those trucks are not air conditioned. UPS workers have taken to social media to post pictures of thermometers—sometimes reading well over 110 degrees Fahrenheit—from inside their vehicles. According to the Teamsters, who represent some 350,000 UPS workers nationwide, workers have been getting sick and hospitalized from heat-related illnesses at an alarming rate. We speak with Basil Darling, a UPS driver with Teamsters Local 804 in New York City, about the job's safety risks and upcoming contract talks.
In other news, we discuss the union drive at Trader Joe's stores with worker-organizer Sarah Beth Ryther, a walkout by Reuters workers, strike plans among Kaiser Permanente's mental health workers, and a strike at British Telecom with Dave Ward of the Communication Workers Union. With recommended reading on Black farmers seeking justice in Arkansas and misery in Amy's Kitchen.
Thank you for listening to our 252nd episode! If you like the show, you can support us on Patreon with a monthly contribution, at the level that best suits you.
If you're interested in advertising on the show, please email ads@dissentmagazine.org. And as always, if you have any questions, comments, or tips, email us at belabored@dissentmagazine.org

News
Noam Scheiber, Trader Joe's Workers at a Massachusetts Store Form a Union, New York Times
Jocelyn Wiener, Kaiser mental health workers signal open-ended strike in Northern California, CalMatters 
Michael Race, Thousands of BT staff walk out in strike over pay, BBC
Moya Lothian-McLean and Strike Map UK, Everything You Need to Know About Hot Strike Summer, Novara Media
Josh Eidelson, Reuters US Journalists Plan to Strike For First Time In Decades, Bloomberg

Conversation
Adiel Kaplan, 'Sending drivers out to die': UPS workers demand heat safety amid record temps, NBC
A Local 886 Teamster, A truck full of sensors, Tempest 

Argh, I wish I'd written that!
Sarah: Erik Baker, All in the Family: Amy's Kitchen and America's Shadow Workforce, The Drift 
Michelle: Wesley Brown, Black Farmers in Arkansas Still Seek Justice a Century After the Elaine Massacre, Civil Eats