How close are we to fully automated robot logistics?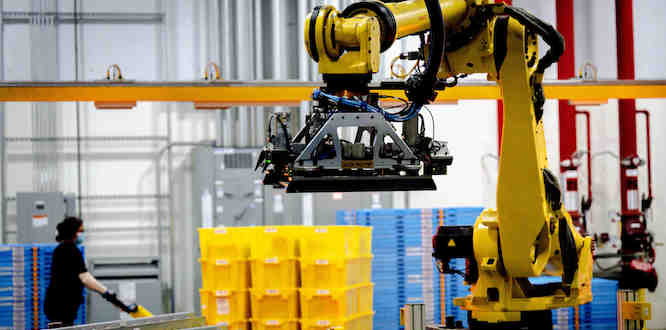 Subscribe to the Belabored RSS feed here. Support the podcast on Patreon. Subscribe and rate on iTunes, Stitcher, and Spotify. Tweet at @DissentMag with #Belabored to share your thoughts, or join the conversation on Facebook. Check out the full archive here. Belabored is produced by Colin Kinniburgh.
In this episode, we're returning to the supply chain story, this time looking in on the warehouse. Amazon warehouse workers in Staten Island and Bessemer continue their push toward union votes, and warehouse workers around the country have been registering unrest in a variety of ways. But what is really going on inside the warehouse, how does it connect to shipping, trucking, and retail, and how close are we to fully automated robot logistics? Beth Gutelius, research director of the Center for Urban Economic Development at the University of Illinois Chicago, joins us to discuss.
We also check in on the strike votes in Minneapolis and St. Paul public schools with Ma-Riah Roberson Moody, an education-support professional in Minneapolis, and the union drive among Apple store workers. We talk about a victory for the U.S. women's soccer players in their fight for equal pay, and legislation that would end forced arbitration for workplace sexual harassment and assault. For Argh, we consider the life of an ER doctor during the pandemic's latest wave and what the Black Plague tells us about labor struggles today.
Thank you for listening to our 241st episode! If you like the show, you can support us on Patreon with a monthly contribution, at the level that best suits you.
If you're interested in advertising on the show, please email ads@dissentmagazine.org. And as always, if you have any questions, comments, or tips, email us at belabored@dissentmagazine.org
News
M. Isabelle Caudry and Jamillah Bowman Williams, Banning workers from suing their employer hurts people of color and women most, The Hill
Andrew Das, U.S. Soccer and Women's Players Agree to Settle Equal Pay Lawsuit, New York Times
Beau Dure, The USWNT got $24m in their equal pay battle. Now comes the hard part, Guardian
Sarah Roach, Some Apple Store employees are starting to unionize, Protocol
Mara Klecker, Teachers unions in Minneapolis, St. Paul set 10-day strike warning, Star Tribune
Minneapolis, St. Paul teachers and support staff authorize strike, Star Tribune

Conversation
Amazon unionization vote was a referendum on automation — and it's not over yet, Philadelphia Inquirer

What Will New Technology Mean for the Future of Warehouse Work?, The Startup

The Future of Warehouse Work: Technological Change in the U.S. Logistics Industry
Sarah Jaffe, It'll Take a Movement: Organizing at Amazon after Bessemer, New Labor Forum
Organizing Big Tech, Rosa Luxemburg Stiftung
Argh, I wish I'd written that!
Sarah: M.T. Anderson, In Medieval Europe, a Pandemic Changed Work Forever. Can It Happen Again?, New York Times
Michelle: Yoojin Na, My life as an ER doctor during Covid: "People walk in, throw their garbage at you, and walk out," Guardian