Delivery workers from New York and London join the podcast to talk about organizing during the pandemic.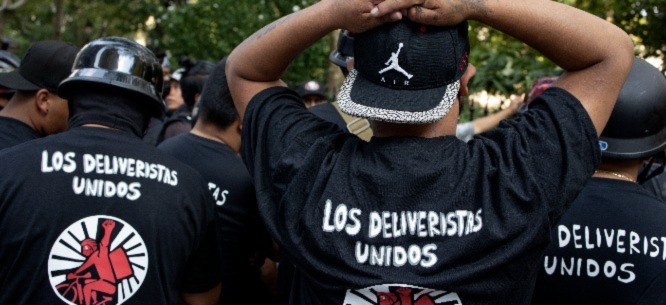 Subscribe to the Belabored RSS feed here. Support the podcast on Patreon. Subscribe and rate on iTunes, Stitcher, and Spotify. Tweet at @DissentMag with #Belabored to share your thoughts, or join the conversation on Facebook. Check out the full archive here. Belabored is produced by Colin Kinniburgh.
While the pandemic brought turmoil and massive job losses to many sectors of the economy, some industries flourished during the many months of lockdowns, quarantines, and remote work and schooling. We came to rely on Zoom and Amazon as basic means of communication and consumption, and when it came to staying fed, many of us turned to food platforms like Grubhub, DoorDash, or Uber Eats. Food couriers became part of the essential workforce of the pandemic, toiling for long hours on the streets and often putting their own health at risk to serve the public.
With many people seeking work after restaurants and other businesses shuttered, the ranks of delivery workers expanded massively, as did the health and safety risks endemic to their trade. Many began organizing to improve their pay and seek more protections at work. The transnational struggles of couriers sparked innovative ways of networking and mobilizing, as workers discovered they could use their phones not just to pick up gigs but also to connect with fellow couriers. To learn more about organizing food delivery labor during the pandemic, we spoke with Antonio Solis, a member of Los Deliveristas Unidos—an organization of app-based delivery workers in New York City—and with Ahmed Hafezi and John Kirk, Deliveroo couriers and organizers with the Independent Workers' Union of Great Britain.
Read a transcript of Michelle's interview with Antonio Solis here.
In other news, we look at allegations of worker abuse in the House of Bezos, the Gannett newsroom strikes, Chinese iPhone workers struggling under a COVID-19 lockdown, and labor ballot measures. 
Thank you for listening to our 259th episode! If you like the show, you can support us on Patreon with a monthly contribution, at the level that best suits you.
If you're interested in advertising on the show, please email ads@dissentmagazine.org. And as always, if you have any questions, comments, or tips, email us at belabored@dissentmagazine.org

News
David K. Li and Diana Dasrath, Housekeeper's claims that Jeff Bezos made staff go 'without rest or meal breaks' are without merit, his lawyer says, NBC News
Josh Eidelson, Lawyer Suing Twitter Over Layoffs Says Musk Trying to Comply, Bloomberg News
Sam Hancock, Apple: Chinese workers flee Covid lockdown at iPhone factory, BBC News
New York rally in solidarity with Foxconn workers; Apple's new statement hides the truth, change.org 
Aaron Morrison, Slavery, involuntary servitude rejected by 4 states' voters, AP News
Daniel Wiessner, Voters in Illinois, Tennessee approve dueling measures on union membership, Reuters

Pittsburgh Union Progress

Conversation
Independent Workers' Union of Great Britain
Michelle Chen, Los Deliveristas Unidos Demand Justice, Dissent
Michelle Chen, Your Rent or Your Life, The Nation
Sarah Jaffe and Michelle Chen, Belabored: Riding for Deliveroo, with Callum Cant, Dissent
Kimiko de Freytas-Tamura, Food Delivery Apps Are Booming. Their Workers Are Often Struggling, New York Times
The Transnational Courier Federation, Notes From Below

Thanks to the Ford Foundation of Social Justice for sponsoring this series.