For decades, the United Auto Workers has been controlled by a tight-knit group of insiders. Now members are voting in a historic referendum on how the union elects its central leadership.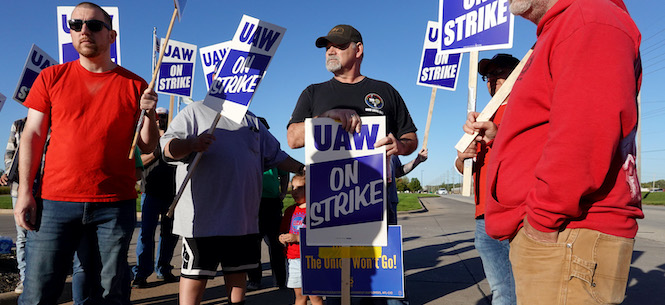 Subscribe to the Belabored RSS feed here. Support the podcast on Patreon. Subscribe and rate on iTunes, Stitcher, and Spotify. Tweet at @DissentMag with #Belabored to share your thoughts, or join the conversation on Facebook. Check out the full archive here. Belabored is produced by Colin Kinniburgh.
For decades, the United Auto Workers (UAW) has been controlled by a tight-knit group of insiders known for its opacity and corrupt tendencies, leading many rank-and-file members to criticize the leadership for its arrogance, lack of accountability, and failure to address the needs of a workforce that is increasingly precarious and alienated. All that might start to change in the coming weeks as UAW members vote on a historic referendum to change the way it elects its central leadership: members can decide whether to replace the current system of indirect elections through a small, exclusive group of delegates, with direct elections, known as "one member, one vote." That might seem like a pretty basic change, but pro-reform members say that this is the first step toward breaking the monopoly on power held by the current leadership, and could help this storied union become more progressive and address endemic corruption. And it only took a huge embezzlement scandal to get here. To learn more about how the current turmoil among UAW's top brass could create an opportunity for grassroots change, I talked with Justin Mayhugh of Unite All Workers for Democracy (UAWD), which describes itself as "a grassroots movement of UAW members, active and retired, united in the common goal of creating a more democratic and accountable union." 
In other news, we've got updates on the narrowly averted strike of craft film and television workers, and their new pending agreement, the ongoing strikes of John Deere workers and Saint Vincent nurses, and Glasgow bin workers planning to strike during the upcoming climate talks. With recommended reading on striking Big Bourbon and making sex work safer. 
Thank you for listening to our 233rd episode! If you like the show, you can support us on Patreon with a monthly contribution, at the level that best suits you.
If you're interested in advertising on the show, please email ads@dissentmagazine.org. And as always, if you have any questions, comments, or tips, email us at belabored@dissentmagazine.org
Jazz Tangcay, Crew Members React to IATSE Agreement, Variety
Jonah Furman, 'Let's Put a Wrench in Things Now': Deere Workers Strike as Company Rakes in Record Profits, Labor Notes
Libby Brooks,  Glasgow bin workers to strike during Cop26 climate summit, The Guardian
Drew Sandelands, Bin workers planning strike during COP26 urged to 'think again', GlasgowLive
Conversation
Unite All Workers for Democracy
Justin Mayhugh, Can Auto Workers Win the Right to Vote? Here's How Teamsters Did It, Labor Notes
Argh, I wish I'd written that!
Sarah: Alex Press, Workers at One of the Country's Biggest Bourbon Producers Have Been on Strike for a Month, Jacobin
Michelle: Cecilia Gentili, This Is What Will Make Sex Work in New York Safer, New York Times