A preview of our Fall 2021 issue.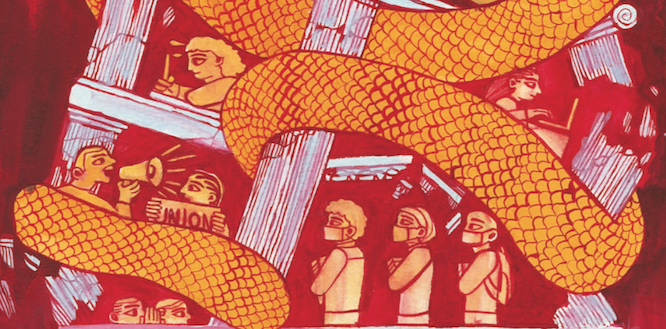 Our Fall 2021 issue, out October 4, features a special section on higher education. "It's a section for anyone who has seen how rarely universities live up to their own stated ideals, and how easy it is to twist high-minded arguments into rationales for exploitation," Timothy Shenk writes in his introduction. "It's also a section for anyone who believes in what universities could be: a community devoted to human flourishing, where students are invited to join a vital conversation about what makes life worth living."
Subscribe now to get your copy at a 25 percent discount.
In the section (with cover art by Tabitha Arnold): a roundtable on academia after the pandemic with Maggie Doherty, Nils Gilman, Adam Harris, Tressie McMillan Cottom, Christopher Newfield, and Timothy Shenk; Ian Gavigan and Jennifer Mittelstadt on wall-to-wall organizing on campuses; Davarian L. Baldwin in conversation with Sam Klug; Lyra Walsh Fuchs on the limits of Title IX; Alice Quach and Victor Tan Chen on the inequalities deepened by digital learning; Mike Rose on community college; Michael Kazin and Timothy Shenk on radicals and the university; and Lucia Geng, Dissent's college columnist, on mutual aid.
Also in the issue: Jennifer Wilson on adjunct fiction; Charles Taylor on Wong Kar Wai; Adom Getachew on the new black internationalism; Benjamin Fogel and Andre Pagliarini on Bolsonaro; Steve Fraser and Joshua Freeman on a 1990s labor conference that sparked hope; and Tausif Noor on Ansel Adams's wartime photography.
And in the book review section: Joshua Leifer on Joshua Cohen's The Netanyahus; Lovia Gyarkye on Stuart Hall; Jake Werner on China's market reformers; Ruth Milkman on how the Hart-Celler act changed America; and Daniel Schlozman on the 2020 campaign season.
Click here to subscribe at a 25 percent discount. Please consider donating, purchasing a gift subscription, or becoming a solidarity subscriber to help sustain Dissent.