As infections from the Delta variant rise, so do concerns among nail salon workers about customers who do not wear masks.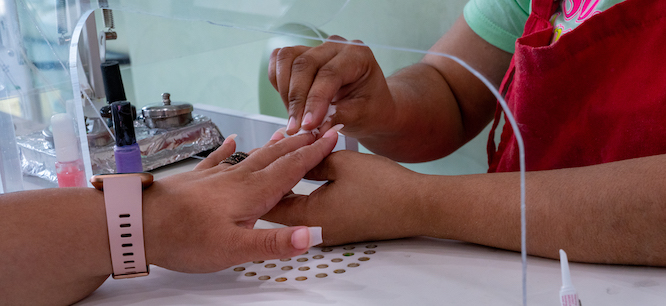 This article is part of Belabored Stories, a series by Sarah Jaffe and Michelle Chen featuring short accounts of what workers are facing during the coronavirus pandemic. Send your stories to belabored@dissentmagazine.org.
As New York City's gradual return to normalcy is hobbled by the Delta variant, workers must absorb growing foot traffic amid looming infection risks. With many customers returning to salons to glam up after a year and a half of lockdowns, workers are anxious as public-health restrictions ease and vaccination rates stagnate. At nail salons in particular, customers may be getting pampered by nail technicians besieged by health risks.
Mariwvey works at nail salons in Rego Park, Queens, and Larchmont, Westchester County. She told Dissent that although she is vaccinated, she remains uncomfortable around customers. Masks are required at her workplaces, she says, but customers' willingness to comply "depends on the area." In Westchester, customers tend to wear masks voluntarily as a courtesy, but not so much in Rego Park. She speculated that there, the many customers who are of Russian descent see the mask mandate as an "attempt of the government to control them." (Though many U.S.-born residents, of course, balk at mask mandates as well.)
Dissent last talked to Mariwvey at the height of the pandemic in the summer of 2020, when she and her coworkers wore masks while treating the nails of people inches away from them, who were often unmasked despite the salons requiring face coverings for customers. 
New York imposed an indoor mask mandate last year, but it was lifted in May for most businesses. "Many people don't want to wear the masks, but we need to keep wearing the masks as workers," Mariwvey said. Some services are worse than others, she continued, "especially in the waxing room, where you're enclosed with a person, where someone could be coughing, and it just gives you a bit of fear." 
Even before COVID-19 rocked the city, the nail industry was known to be exploitative and rife with chemical safety hazards and discrimination. A study published pre-pandemic by the New York Nail Salon Workers Association (NYNSWA) found that wage theft had affected about eight in ten nail salon workers surveyed, costing them each an average of $9,000 per year.
"[With the government] taking away the mask requirement, alongside the wage theft that we've generally experienced, you feel really betrayed," Mariwvey said. "It's a feeling of being powerless, of being abused, like you need to find an alternative. I have a family I have to feed and house. Alongside my immigration status, [I] have to conform with these conditions. You feel cheated, but you have to accept it. You feel robbed. This is the only thing that I have."
The city's focus on promoting vaccinations over masking makes interacting with customers even more difficult, Mariwvey said. (Around 60 percent of New Yorkers are vaccinated.) Last week, Mayor Bill de Blasio issued a mandate that beginning on August 16 customers in restaurants, gyms, and entertainment venues—but not nail salons—must show proof of vaccination. 
The massive spread of the Delta variant, even by vaccinated people, is only making matters worse for nail salon workers. "All of these clients pull off their mask and they'll say that they're already vaccinated, but as we know, this variant is getting around very quickly, and so it's frustrating to be with people that might not be concerned about the people around them," Mariwvey said.
For all the lionization of "essential workers" during the pandemic, many low-wage service workers like nail techs struggled to keep working despite the risk—and the fact that their service isn't classified as essential. For the undocumented workers who constitute much of the workforce inside and outside the essential occupations, there has been little to no federal pandemic assistance, from unemployment insurance to stimulus checks.
After much pressure from grassroots organizations, the New York State Legislature recently established an "excluded workers" fund that will disburse relief payments to undocumented immigrants and others who have been deemed ineligible for federal relief. But the application is complex. Mariwvey is unsure whether she will qualify for any assistance, because of the extensive documentation requirements: "as an undocumented worker, there's just so many things that I don't necessarily have."
As a member of the NYNSWA, she is campaigning for dedicated government assistance for nail technicians. The organization—a project of Workers United, the SEIU-affiliated New York-New Jersey Regional Joint Board—has called for comprehensive government support, including access to Medicare and public assistance regardless of immigration status, rent suspension, and stronger health and safety regulations.  It calls on New York to pass the Nail Salon Accountability Act, a state bill introduced earlier this year that would condition business licensing on adherence to safety standards. The association is also campaigning for New York to stop the systematic classification of nail technicians as independent contractors rather than formal employees with rights and protections, and is demanding an end to the criminalization and incarceration of immigrants, which can suppress organizing efforts among workers fearful of being exposed or turned over to the authorities.
The spread of the Delta variant makes Mariwvey worry about another spate of nail salon closures. She lamented that many fellow nail technicians have already fallen ill with COVID-19; a February 2021 survey by the NYNSWA found that nearly 30 percent of workers surveyed had tested positive for the virus. "I understand that [customers] don't want to wear a mask. . . . But if the virus comes back with a new variant, our industry is going to be the first to close, because we're not considered indispensable or essential. And it's really the rich that govern everything."
---
Michelle Chen is a member of Dissent's editorial board and co-host of its Belabored podcast.