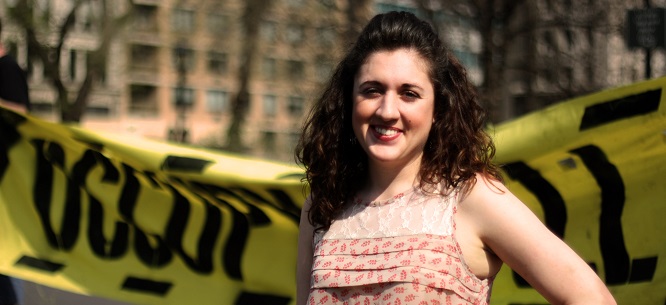 Cecily McMillan has had trouble concentrating on the master's thesis she is supposed to be writing this spring under my direction at the New School in New York City, a study of the political beliefs and career of the late, great socialist, pacifist, and civil rights campaigner Bayard Rustin. It's not that Cecily has writer's block and has been avoiding the library (if only it were that). Rather, she is spending far too much of her time in the defendant's seat in a courtroom in New York City Criminal Court in Lower Manhattan. There she is facing charges of felony assault on a police officer in Zuccotti Park, birthplace of Occupy Wall Street, on March 17, 2012. On that day a demonstration took place in the park to mark the six-month anniversary of the original occupation. When the police moved in to clear the park, making scores of arrests, Cecily was caught in the melee. Her trial, billed as the last Occupy trial, began this past week, on Monday, April 7, and has drawn national and international media attention. On Friday, the newly seated jury heard opening arguments from the prosecution and from Cecily's lawyers. The case is expected to last another two weeks. If convicted, she could be sentenced to seven years in prison.
I have known Cecily for nearly three years. I met her when I was invited to speak at a Democratic Socialists of America youth section gathering in the Catskills in the summer of 2011. Cecily, then twenty-two years old, was a recent college graduate (Lawrence University in Appleton, Wisconsin) and a veteran of the previous winter's Madison, Wisconsin protests against Governor Scott Walker's anti-labor policies. She was obviously in her element in a political gathering—self-confident, vocal, and, in that much abused term, charismatic. A leader. And also (and this doesn't always go with the territory) generous and empathetic. My seventeen-year-old son, a high school student, was attending his first socialist meeting, over-awed by the older, worldly college students surrounding him, and I was deeply grateful when Cecily took him under her wing. So, a leader—but with a pronounced maternal instinct.
Cecily went off to New York that August to begin her graduate studies at the New School. And I was not terribly surprised when, in October, I came across her name in a New York Times story about Occupy Wall Street, on its one-month anniversary. I learned that she had been involved with Occupy from the earliest planning sessions in August. And I was pleased to see that she was in the faction that thought Occupy should put forward concrete demands, if it was going to be taken seriously and broaden its support. As the Times reported:
[P]olitically active members like Cecily McMillan and David Haack, who first proposed formulating demands in a pre-campout planning meeting in August, said they were ready to take action. Mr. Haack, who in 2009 tried to run for the White Plains City Council, admitted feeling disillusioned after the group struck down their proposal in August, but now he feels inspired by the movement's "true democratic process," even if it means slower progress going forward.

"Let's give ourselves two weeks," Ms. McMillan said about presenting provisions to the General Assembly. Ms. McMillan, 23, a New School graduate student, feels such dedication to the cause that she has contemplated taking a sabbatical from her studies — but she has begun to worry that the movement could become "a joke" without specific goals. Still, with the right demands, she said, more union members and diverse contingencies could join.
In other words, within the spectrum of political tendencies represented in Occupy, Cecily represented the Michael Harrington/democratic socialist "left wing of the possible" perspective, which never turned out quite as influential as the anarchist/utopian wing (alas).
Cecily and I crossed paths again at other DSA gatherings. I was pleased when she asked me to supervise her master's thesis this spring (even though I don't teach at the New School). Her topic reflects her deep interest in and personal commitment to the politics of nonviolent direct action. I have no doubt about the sincerity of her convictions on that score.
Now, more than two full years after her arrest, Cecily is back in the pages of the New York Times, and not in a way she would like to be. As the Times reported at the end of the first week of the trial:
The central issue facing jurors, who are being selected this week, is who assaulted whom. Prosecutors say Ms. McMillan wheeled around and elbowed Officer Grantley Bovell in the face while he was arresting her. Ms. McMillan says Officer Bovell grabbed her right breast from behind and she reacted instinctively, not knowing he was a police officer.

She has published pictures, which she says were taken just after her arrest, of a dark bruise on her breast. Her supporters in court have taken to wearing paper cutouts of hands pinned to their shirts above the right breast.
The Times coverage of the trial has not been bad, but the distancing phrase "which she says were taken just after her arrest," strikes me as odd, some kind of obligatory journalistic convention to sound neutral and objective. The dark bruise on her breast is apparent in this interview with Amy Goodman several days after her release from jail.
There is another "central issue" in the case, and that is Officer Grantley Bovell's record. As the Guardian newspaper reported:
The Guardian last week disclosed that Bovell is being sued by another Occupy activist, Austin Guest, who alleges that the officer dragged him down the aisle of a bus while "intentionally banging his head on each seat" while removing him and dozens of other protesters from the demonstration, which marked six months of the Occupy movement.

Guest's attorneys said in an updated complaint in federal court that as a result, the 33-year-old Harvard graduate "suffered physical, psychological and emotional injuries, mental anguish, suffering, humiliation, embarrassment, and other damages".
Bovell was involved in several other cases of police misconduct that led to civil suits against the city. And he received an official reprimand for involvement in a notorious Bronx ticket-fixing case, which should raise some questions of credibility with the jurors.
I wasn't in Zuccotti Park that March night two years ago. I freely admit a lack of objectivity. But my loyalties and gut instincts are reinforced by the memory of the many and long discussions Cecily and I have had about nonviolence. I believe the video evidence supports her case. I believe Officer Bovell's credibility is problematic. And finally, if all that weren't enough, look in this YouTube video at the outfit she was wearing when she was arrested—a green miniskirt (it was St. Patrick's Day). That is not the costume of a street fighter.
Cecily was offered a plea bargain by the DA's office: in exchange for pleading guilty to felony assault, she would get no jail time. Were she my daughter, I would have urged her to take the plea—anything to stay out of jail. But Cecily is stubborn. And principled. And sees herself, rightly, as the victim in this case.
I admire her. And I fear for her.
Cecily has excellent lawyers, and a strong support group, whose website is www.justiceforcecily.com.
As reported in the press, dozens of her supporters came to the courtroom last week for each day's session, and that was the boring part (pretrial motions, jury selection). Now the interesting part is beginning, and there's room for many more. It is important that the jury see that Cecily is not some isolated kook, but has a community behind her. Court sessions at the New York City Criminal Court (100 Centre Street, Room 1116 Part 41, on the eleventh floor) run daily (except Thursdays, and tomorrow for Passover) from 9:30 a.m. until 1 p.m., and then from 2 p.m. to 4:30 p.m. I urge anyone concerned with Cecily's case, and the broader issues it raises about civil liberties and police violence, to attend for a day, or even just for an hour or two.
This case should never have been brought to trial. I hope it ends with the only just outcome: Cecily's acquittal and exoneration. And then she can get back to what she should have been doing this spring: finishing her thesis about Bayard Rustin.
---
Maurice Isserman is a professor of history at Hamilton College, the author of An Other American: The Life of Michael Harrington (2000). His most recent article for Dissent chronicled its sixty-year history.