A look at our forthcoming Winter 2021 issue, After Trump.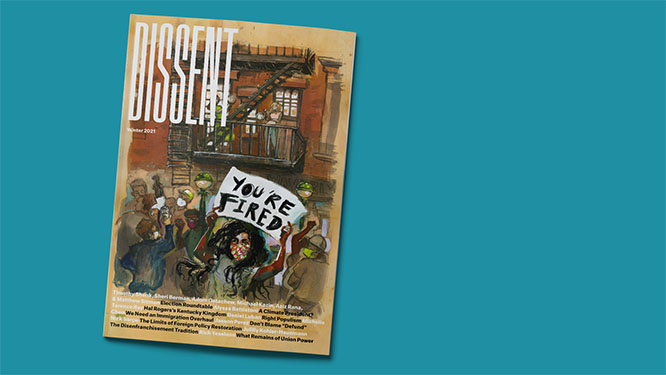 In our Winter 2021 issue, out January 11, we look at the political challenges and crises that lie beyond the end of the Trump presidency.
Subscribe now to get your copy at a 25 percent discount.
In the special section you'll find: an election roundtable with Timothy Shenk, Sheri Berman, Adom Getachew, Michael Kazin, Aziz Rana, and Matthew Sitman; Alyssa Battistoni on what Biden can and can't do on climate; Tarence Ray on Republican power in southeastern Kentucky; Daniel Luban on the fate of right populism; Michelle Chen on the immigration overhaul we need; Jasson Perez on the lasting effects of the George Floyd uprising; Nick Serpe on the limits of a foreign policy restoration; Julilly Kohler-Hausmann on the tradition of voter suppression; and Rich Yeselson on what remains of union political power.
Also in the issue: Sarah Jaffe on burnout; Charles Taylor on the 1970s Black working-class romance Claudine; Jedediah Britton-Purdy on the possibilities for the American left in the current moment; Sam Adler-Bell on organizing the unemployed during the pandemic; Vanessa Williamson on the intertwined histories of white supremacy and the cult of the taxpayer; Michael Brenes and Daniel Steinmetz-Jenkins on the legacies of Cold War liberalism; and Daniel Wortel-London on the pitfalls of progressive taxation.
And in the book review section: Walden Bello on Trade Wars Are Class Wars; Adam Tooze on the global politics of distribution in the climate change era; Gabriel Winant on the backlash that never ended; Hari Ramesh on Isabel Wilkerson's Caste; and Jeffrey Wasserstrom on repression in Xi's China.
Print subscribers will receive their issues in the next few weeks. Get a subscription today to receive a copy of this issue (or consider donating or purchasing a gift subscription to help sustain Dissent).