There is no such thing as a spontaneous strike, protest, or any other kind of social irruption. Spontaneity is just another word for ignorance on the part of those in power who are the object of subaltern scorn and protest.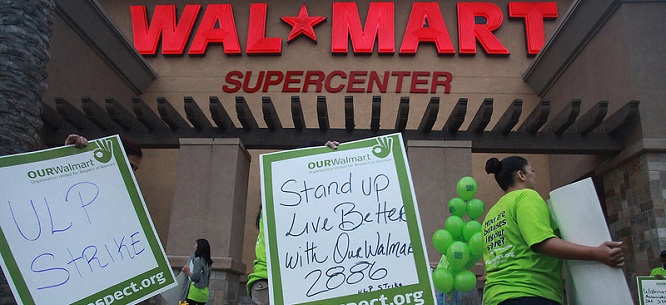 During this week and the last, perhaps a couple of hundred of Wal-Mart workers have walked out of their stores in at least a dozen cities across America. They have formed picket lines, spoken to the press, and demonstrated that it is possible to put the name of the nation's largest private-sector employer in the same sentence with the word "strike."
So what is going on here? Do these job actions herald a new wave of worker militancy in a company long synonymous with both determined anti-unionism and a seductive brand of managerial paternalism, or were the views of Wal-Mart spokesperson Dan Fogleman a more accurate reflection of reality? "There is nothing new, nor historic, about the fact that labor unions want to organize Wal-Mart," he told reporters after striking Los Angeles area workers demonstrated outside of a Pico Rivera Wal-Mart. "Their rally was just the latest publicity stunt by [the United Food & Commercial Workers] to seek media attention in order to further its political agenda and financial objectives."
Fogleman is half-right. There is no such thing as a spontaneous strike, protest, or any other kind of social irruption. Spontaneity is just another word for ignorance on the part of those in power who are the object of subaltern scorn and protest. The most genuinely "spontaneous" walkout at a Wal-Mart store took place in 2006 when virtually the entire hourly staff walked out of a Hialeah Gardens, Florida supercenter to protest an abrupt scheduling change in shifts and hours.
That protest may have contributed to the UFCW's current "organizing" perspective. At the turn of the new century, the union had conducted a vigorous, but traditional, organizing drive seeking National Labor Relations Board certification at dozens of U.S. stores. All failed because the anti-union experts deployed by Wal-Mart top management knew how to intimidate workers and propagandize the workforce in the weeks leading up to a formal union vote. In the case of one Canadian town, they just closed the store when forced to actually bargain with the union under the relatively pro-union laws then governing labor relations in Quebec.
Spontaneity is just another word for ignorance on the part of those in power who are the object of subaltern scorn and protest.
So like many other U.S. unions faced with a dysfunctional labor law, the UFCW sought another path toward worker organization and power. All of the current walkouts have been well-organized by the UFCW, which for more than a year has been recruiting workers into an organization called OUR Walmart, standing for Organization United for Respect at Walmart. According to the UFCW, several thousand Wal-Mart workers have signed up and paid minimal dues. The organization does not claim to be a union; it does not seek formal recognition from either the NLRB or even from Wal-Mart. But it does seek to give effective voice to the fears and aspirations of those Wal-Mart associates willing to join. I met four of them last March when they came to a writing workshop at UC Santa Barbara. They were working-class folks with all the insecurities, bills, family problems, and job issues faced by millions of retail and service workers. And they were incredibly brave, because they were determined to tell their story, to explain why their work life at Wal-Mart was so often punctuated by a series of humiliations, petty and grand, that they found intolerable. Joining OUR Walmart was a gamble they were willing to take.
As Wal-Mart public relations officials are quick to point out, in a company workforce of 1.4 million in the U.S. alone, the membership of OUR Walmart is tiny, and fewer still are the handful who are willing to hold a picket sign or offer a public statement outside their own store. But it is also clear that for every company employee fearless enough to participate in one of the sidewalk rallies, there were dozens who kept their heads down, stayed on the job but who silently endorsed the protest. That is the way it has always been when social movements get their start. And it bears acknowledging that no matter how staff-driven these OUR Walmart rallies and walkouts have been, they have actually succeeded in bringing scores of currently employed Wal-Mart workers into an organization and a protest that speaks to their own felt needs and larger aspirations. This constitutes a huge step in the right direction because it re-centers the critique of this giant corporation where it belongs, on the working conditions and wages of the many million who toil in the corporation's stores, distribution centers, and overseas factories. Indeed, the near-simultaneous protests and walkouts that have disrupted the Wal-Mart controlled distribution centers in Elwood, Illinois and in southern California indicate that workers are beginning to stir throughout the entire Wal-Mart supply chain. Like the OUR Walmart protests, these supply-chain walkouts were organized by a labor-supported NGO-type formation, Warehouse Workers for Justice, affiliated with the still radical United Electrical Workers in the Midwest, and Warehouse Workers United, which has been backed by the Change to Win labor coalition in California.
What is the meaning of "victory" in this set of Wal-Mart walkouts and demonstrations? That bridge has yet to be crossed because the fate of those who stood up, walked out, made their voices heard, and then returned to their jobs has not yet been determined. One can be certain that Wal-Mart Asset Protection personnel are carefully reviewing the surveillance tapes and videos that they made during the job actions outside each store and at Wednesday's picket and press conference at company headquarters in Bentonville, Arkansas, where the UFCW bused workers to be on hand for the annual Wall Street analysts' meeting. Asset Protection, sometimes labeled the Gestapo by Wal-Mart workers and lower-level management, is an internal police force that the company uses not only to stop shoplifters and prevent employee theft but to protect top executives and keep tabs on potential unionists. Under the federal labor law it is illegal to fire a worker who engages in "concerted activity," so Wal-Mart gets rid of such troublemakers in a more subtle fashion over a period of weeks and months. They will have their hours cut, be put on awkward shifts, or dismissed for poor performance.
OUR Walmart organizers and UFCW lawyers must therefore defend and protect those brave workers who stuck their necks out in order to construct a new sense of solidarity, one that has the potential to subvert the corporation's faux communitarianism. If they can prevent such retaliation and make it safe for workers to remain members of OUR Walmart, talk among themselves, and participate in even the most minimal degree of "concerted activity," then a huge victory indeed will have been won. As every labor historian knows, union recognition and a signed contract are hardly the only indexes of working-class power. At Wal-Mart, the "associates" want higher wages, sure, but the main source of their chronic humiliation and insecurity arises from store managers' manipulation of and control over their hours of employment, shift preferences, and promotion possibilities. Indeed, it is just such "flexibility"—which plays havoc with the daily work lives of Wal-Mart clerks and stockers—that has constituted a signal competitive advantage for the company when compared with many unionized grocery stores. If and when thousands of Wal-Mart hourly workers make it clear, to their store managers as well as the public, that collectively they want a more predictable work life, then Wal-Mart's famed "culture" will indeed begin to change, and much for the better.
Nelson Lichtenstein is MacArthur Foundation Chair in History at the University of California, Santa Barbara. The author of The Retail Revolution: How Wal-Mart Created a Brave New World of Business, he also directs the Center for the Study of Work, Labor, and Democracy.
UFCW International Union photo via Flickr