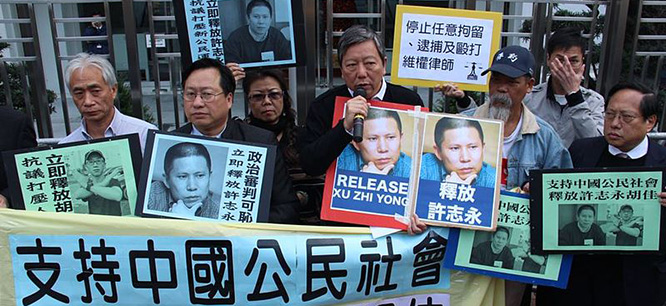 For most observers of Chinese politics, it came as no surprise when, at the end of January, lawyer-activist Xu Zhiyong was sentenced to four years in prison on trumped-up charges of "gathering a crowd to disturb public order." The court had already detained Xu illegally for months before formally arresting him last August; it had split his case from that of eight other activists and promoted it to a court further from public view; and it had promised an open trial, only to bar foreign reporters, the defense's witnesses, and all but two of Xu's family members from entering a courtroom with just twenty-four seats. Moreover, the protests in question—short actions calling for equal access to education and a "Sunlight Bill" requiring officials to disclose their assets—were undoubtedly legal. And yet these kinds of proceedings have come to be considered standard: under the weight of power, the branches of the Chinese justice system bow deeply to avoid the due process owed defendants like Xu.
Given these circumstances, it was equally unsurprising that Xu refused to defend himself before the court. Instead, he limited his testimony to a powerful closing statement assessing the court's motives and affirming his commitment to a kind of idealism uncommon among prominent Chinese activists:
You have accused me of disrupting public order for my efforts to push for rights of equal access to education and for reforms allowing migrant workers' children to sit for university entrance examinations where they reside, as well as for my calls that officials publicly declare their assets.

While on the face of it, this appears to be an issue of the boundary between a citizen's right to free speech and public order, what this is, in fact, is the issue of whether or not you recognize a citizen's constitutional rights.

On a still deeper level, this is actually an issue of fears you all carry within: fear of a public trial, fear of a citizen's freedom to observe a trial, fear of my name appearing online, and fear of the free society nearly upon us.*
Xu went on to discuss the New Citizens' Movement, an organization he helped found in 2012, which had gone unnamed by the prosecution:
[While] you have not mentioned the New Citizens' Movement throughout this trial, many of the documents presented here relate to it, and in my view there is no need to avoid the issue. . . . What the New Citizens' Movement advocates is for each and every Chinese national to act and behave as a citizen, to accept our roles as citizens and masters of our country—not to act as feudal subjects, remain complacent, and accept mob rule or a position as an underclass. . . .

And also to take seriously the responsibilities that come with citizenship, starting with the knowledge that China belongs to each and every one of us, and to accept that it is up to us to defend and define the boundaries of conscience and justice.
Xu is China's closest thing to a public interest icon, and when he speaks, people listen. His personal history is often difficult to distinguish from the history of China's rights movement. In 2003, while still enrolled as a PhD candidate at Beijing University, he was part of a team of graduate students who appealed to the National Congress of People's Representatives to end its "custody and repatriation" policy, which allowed authorities to seize and deport Chinese citizens living away from where their household registrations (hukou) were. Their unexpected victory was hailed as the start of a movement. In 2008, when a contaminated milk powder scandal broke, Xu was among a group of lawyers who fought for the fair compensation of over four hundred infants and children, after government compensation failed to account for even a third of each victim's health bills. His 2009 Open Constitution Initiative, which had built cases and fought for Tibetans, activists, criminals, members of underground Christian churches, and many other at-risk groups, was fined and ultimately shut down by the government.
In the same year, Xu appeared in the pages of the Chinese Esquire among sixty movers and shakers who were asked to describe how they imagined the "Chinese Dream," and was quoted saying that he wanted a "happy and free" China where every citizen "need not go against their conscience." In the years since, he's applied a decade of experience as an activist in coordinating the New Citizens' Movement, amassed thousands of followers on microblogs like Weibo, and become a fixture in the public imagination.
In late 2012 President Xi Jinping announced that the "Chinese Dream" would be the signature of his own administration. Coverage of Xu's trial has already pointed out the distance between one dream and the other, and the irony that Xi's latest exhortation to root out corruption and enforce transparency has coincided with Xu's silencing, as Xi tries to establish a monopoly on that dream.
Despite the irony, Xu has repeatedly avowed that he's committed to working for change within the system—so committed that he was willing to run for a local district assembly seat in 2003 (which he won). He eschews violence and, as his closing statement makes clear, espouses the rhetoric of moderate reform, stances which have alienated him from more radical figures like Ai Weiwei, who recently told the Financial Times that he fears that "young scholars" like Xu are being "unrealistic."
---
Besides the "Chinese Dream," another phrase on people's tongues these days is "spiritual crisis" (jingshen weiji). It may not be Xi's open-faced lies or Ai's "realism" that are needed so much as Xu's dynamic idealism, which inspired him and a group of volunteers to spend three years at Beijing subway entrances and shopping malls, distributing flyers and collecting 100,000 signatures—with contact information—on a petition for equal access to education for migrants' children. The way to fight a "segregation system with Chinese characteristics" is through petitioning, Xu says, or "rights defense with Chinese characteristics."
Behind those 100,000 signatures "stand the interests of 200 million new urban migrants," Xu's closing statement reads. The real story on Sunday was not the verdict delivered inside the courtroom, but the one directly outside of it, where the parents of all the children Xu had helped gathered. Whether from Ningbo or Shandong, they carried placards and newspaper headlines with Xu's name. "Of course we know him," one told a reporter. "He gives us hope!"
Inside the courtroom, Xu was cut off by the judge before he could finish his closing statement, but the words have continued to circulate online:
If you insist on persecuting the conscience of a people, I openly accept that destiny and the glory that accompanies it. But do not for a second think you can terminate the New Citizens' Movement by throwing me in jail. Ours is an era in which modern civilization prevails, and in which growing numbers of Chinese inevitably take their citizenship and civic responsibilities seriously.

The New Citizens are a cultural movement, not an alternative to party rule. But in rejecting Xu's call for incremental reform, the party has once more raised the stakes in the battle over the future of the "Chinese Dream." Xu's strategy of action, no matter how moderate in its methods, may be radical in its consequences.
---
Nicholas Cavell is a writer and translator living in Providence.