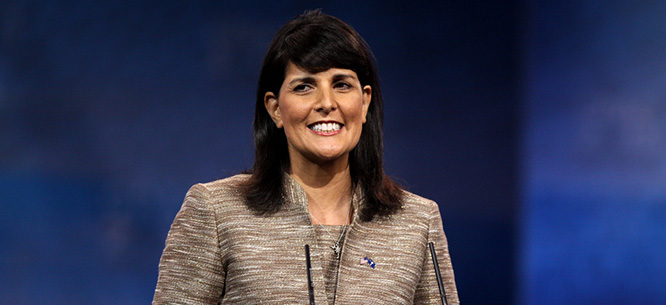 In Chattanooga, Tennessee last week, we nearly witnessed what would have been a rare occurrence in U.S. labor relations: a fair and democratic National Labor Relations Board election. Volkswagen management had vowed to remain neutral and allow its 1,550 hourly paid employees to make the decision on unionization (whereas in the overwhelming majority of organizing campaigns, it is hostile employers and their consultants who choose whether the workplace gets a union). But a free election in the South was too much for right-wing activists and conservative politicians to countenance. In an unprecedented external campaign of intimidation and disinformation, they successfully swayed a slim majority of Volkswagen's Chattanooga workforce to reject unionization at the last moment.
In the weeks leading up to the election, several national anti-union organizations descended upon Chattanooga. These groups included the laughably misnamed Workforce Fairness Institute, Worker Freedom Institute, and Center for Worker Freedom, a special project of anti-tax activist Grover Norquist's Americans For Tax Reform. For several weeks before the vote, Volkswagen workers were subjected to anti-union ads on billboards, in local newspapers, and on the radio, complemented by op-eds, town hall meetings, and anti-union websites. The anti-union groups argued that, if workers voted for unionization, the UAW would turn Chattanooga into "another Detroit" and that it would "take your guns." These groups have declined to say how much they spent on the campaign or where the money came from, but one thing is clear: in this case, lavish funds and talk of "worker freedom" weren't enough to turn the vote in their favor. It took outrageous lies, too.
The activities of these groups caused MSNBC to ask, "Why has Grover Norquist entered the union-busting business?" In reality, Norquist and other conservative funders such as the Koch Brothers entered the "union-busting business" long ago. Since the 1990s, Norquist's Alliance for Worker Freedom and the Koch-funded ALEC (American Legislative Exchange Council) have been among the principal right-wing backers of state-level "paycheck protection" initiatives—legislation that restricts unions' ability to raise and spend money on politics. Norquist has stated that this type of legislation will enable conservatives to "break the unions" and "crush labor unions as a political entity." Pennsylvania and Missouri are currently considering paycheck measures, both based on model legislation drafted by ALEC. However, the Volkswagen campaign in Chattanooga marked the first time that these organizations have descended en masse on one community to attack a specific union in a NLRB election, and their impact was decisive.
GOP politicians in the South also have a long history of assisting efforts to keep unions out of their states. Days after the Chattanooga election, South Carolina governor Nikki Haley—whose record of brazen anti-union statements is extensive—commented that while she embraced non-union BMW, Boeing, and Michelin jobs, unionized auto companies were most definitely not welcome in the state: "we're kicking them every day, and we'll continue to kick them."
In the Chattanooga election, anti-union intervention by GOP politicians may have crossed the line into illegal terrain. Several state lawmakers, including the Tennessee house leader and three state senators, threatened Volkswagen with economic retribution—the withholding of tax incentives—if workers voted for unionization. This would have encouraged Volkswagen to expand production in Pueblo, Mexico rather than in in Chattanooga. Moreover, according to Harvard law professor Ben Sacks, conditioning Volkswagen's future state tax incentives on the outcome of its union vote would most likely be "preempted by federal labor law, and therefore illegal."
Most damaging to the prospects for a free election in Chattanooga, however, was the conduct of Tennessee Senator Bob Corker. After vowing to stay out of the vote, Corker returned to Tennessee to claim, on the first day of the three-day election, that he had been assured that Volkswagen would manufacture a new SUV in Chattanooga if the workers rejected the union. The head of Volkswagen's Chattanooga plant, Frank Fischer, immediately refuted his remarks, but, unperturbed by this denial, Corker accused Fischer of speaking from "old talking points" and implied that his information had come directly from the company's real decision-makers—presumably meaning Volkswagen executives in Germany.
Corker's coercive remarks made a fair election near impossible and did much to turn the tight vote against the union. Moreover, according to Volkswagen management, they had no basis in reality. In fact, explained Bernd Osterloh, the head of Volkswagen's Global Works Council, the outside anti-union interference would discourage the company from further investment in the American South. And Volkswagen management has stated that it still wants a European-style works council in Chattanooga.
Corker's calculated comments raise important legal questions. If Volkswagen's German executives did hint that a vote against unionization would mean more jobs—which seems unlikely given the company's respect for labor rights internationally—Corker could be found to have been acting as an agent for the company when he made his coercive remarks, which could be grounds for the invalidation of the election results. If they did not, it appears that Corker invented this story in order to pressure Volkswagen workers to vote against the union. While third parties are held to lesser standards in NLRB elections than the parties directly involved—allowing Corker to make comments that might be ruled illegal if made by management or the union—the NLRB can set aside elections because of third-party interference in exceptional circumstances such as these. Corker's remarks cannot form the basis of a unfair labor practice (ULP) complaint—only the parties to the election can commit ULPs—but third-party comments can be the grounds for an "objection to an election," which could result in the NLRB setting aside the result. On Friday the UAW announced that it had filed an appeal with the NLRB related to the coercive interference by Republican politicians and outside anti-union organizations. It called on the NLRB to "set aside an election based on third-party misconduct when the misconduct created 'a general atmosphere of fear or reprisal rendering a free election impossible.'"
Beyond Chattanooga: The UAW's Prospects in the South
The UAW is currently involved in organizing campaigns at Nissan plants in Canton, Mississippi and Smyrna, Tennessee and at a Mercedes-Benz plant in Vance, Alabama. There's no doubt that a victory in Chattanooga would have given a significant boost to those campaigns. In several European countries, works councils have been key features of employment relations systems for decades; the establishment of such a council at Volkswagen might have pressured Mercedes to follow suit in Alabama and maybe even have led to similar developments at the BMW plant in Spartanburg, South Carolina. Instead, we are left with the perverse situation where every single major Volkswagen facility outside of China has an enterprise-level works council (and representation on the company's Global Works Council) except for the plant in Chattanooga. U.S. companies such as General Motors, meanwhile, have established works councils at their plants in the European Union, as required under an EU directive.
A union victory at Volkswagen might also have strengthened the campaign in Canton, where Nissan management has fought aggressively against the UAW. The union has assembled an impressive international campaign at the Mississippi plant, with backing from unions and dealerships in Japan, South Africa, Australia, England, and especially Brazil. The union campaign has also enjoyed support from student, environmental, and civil rights organizations. But like any hostile employer with significant resources, Nissan has enormous advantages under U.S. labor law when it comes to fighting the union, including exclusive access to workers in the workplace and the right to force workers to attend mandatory anti-union meetings—even one-on-one meetings between supervisors and employees. Nissan was always going to be a tougher campaign than Volkswagen, but a UAW victory in Chattanooga would have been a welcome boost.
---
The same organizations that helped defeat the UAW in Chattanooga are now bringing their anti-union roadshow to Tuscaloosa County, Alabama, where—in response to the organizing drive at a Mercedes-Benz plant—they have set up meetings with business leaders and "community organizations." The state's senior Republican politicians have announced that, like Corker and others in Tennessee, they will actively oppose any effort to form a union at the Mercedes plant. If they did not, Alabama Senator Richard Shelby has explained, "we'd be failing our people." It seems that in Alabama, as in Tennessee, pro-union autoworkers will be confronted with vigorous opposition from out-of-state anti-union organizations and Republican politicians.
This would likely have happened regardless of the outcome of the Volkswagen vote. But union opponents have drawn some strategies directly from their successful campaign in Chattanooga. For example, anti-union groups are using the Volkswagen result to attack card check recognition. The UAW had collected cards requesting union representation from a majority of employees by October 2013. Volkswagen may have recognized the union on the basis of these authorization cards had it not been for the activities of anti-union groups and Republican politicians, who pushed for an election that would allow outside interference. According to the National Right to Work Committee and others, the result shows that card check recognition is unreliable. Ignoring the key role played by Tennessee's GOP establishment and outside agitators, the Chamber of Commerce stated that the election had demonstrated the "fallacy of a card check as a true means of getting workers' view."
Still, we should keep the Volkswagen vote in perspective. Regardless of the outcome in Tennessee, much would have remained the same for the UAW and for the rest of the labor movement. Nissan would have fought unionization in Mississippi and Tennessee, just like it did in 2001, when management allegedly threatened pro-union workers with dismissal, a loss of pay and benefits, and the relocation of the plant to Mexico. Many difficult organizing campaigns would still have taken more than one attempt before succeeding, especially in the right-to-work South. GOP politicians such as Nikki Haley would have continued to use the bully pulpit of their office to intimidate pro-union workers. And the overwhelming majority of employers in the South would have continued to fight aggressively against unionization, just as most employers do in the rest of the country.
Despite the defeat in Chattanooga, moreover, the South will remain a priority for organized labor. Albeit slow, union membership increases in Tennessee, Alabama, and Georgia last year were among the highest in the nation. Unions have won some important victories in the South, especially among predominantly Latino and African-American workforces, and states like Texas and Florida could provide fertile organizing territory. Over the past three years, National Nurses United has organized 7,000 registered nurses in these two states alone, while other unions in Texas have organized hotel workers, taxi drivers, and retail workers, to name a few.
---
In the wake of the Chattanooga defeat, various commentators have blamed the outcome on the specifics of the UAW's neutrality agreement with Volkswagen, its recent bargaining record with the Big Three auto companies, its low-key community campaign, or its reluctance to respond aggressively to the external attacks. Anti-union groups tried to turn Volkswagen's neutrality into a liability for the UAW, but whatever vulnerabilities the neutrality agreement created were more than compensated for by the protections it provided for employee free choice. Low-key community campaigns make sense in the South, especially in the context of employer neutrality. Volkswagen management attempted to neutralize the impact of Corker's misleading comments, but his timing made an effective response near impossible. And while the message of outside organizations was predictable, few commentators anticipated the intensity of their campaign or the dirty tricks committed by GOP legislators, which did much to turn the vote against unionization at the last minute.
What the Chattanooga election really shows is that in extraordinary cases such as this—which may increasingly become the norm in the South, absent an effective legal challenge at Volkswagen—even employer neutrality is not sufficient to guarantee that workers get a free choice on unionization.
---
John Logan is Professor and Director of Labor and Employment Studies at San Francisco State University and a visiting fellow at the University of California-Berkeley Labor Center.
Correction: This article previously referred to "Workplace Fairness Institute" where it should have referred to the "Workforce Fairness Institute." The Workforce Fairness Institute is an anti-union U.S. lobby group. The Workplace Fairness Institute is a Canadian organization that "supports the value of unions in the workplace." The text has been corrected. We regret the error.