A look at our most-read articles this year.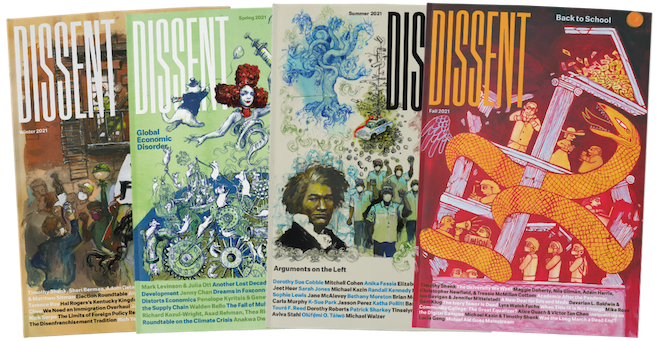 It's been a year of ups and downs—of raised expectations and sweeping disappointments. In 2021, we tried to explain how we got here, and how we can get somewhere else.
Some of our most-read articles challenged standard political assumptions. Simon Brown explained how conservative intellectual institutions used the rhetoric of "common sense" to cast themselves and their beliefs as anti-elitist. Michael C. Behrent revisited what Foucault—a renewed fixation on both the left and the right—actually taught. Vanessa Williamson looked at how the cult of the "taxpayer" has provided a veneer for racist attacks on democracy. Gabriel Winant pushed back on the idea that social conservatism always lies latent within working-class culture.
Other writers provided us with sources of inspiration. Lovia Gyarkye argued that Stuart Hall's writing offers a guide to building an anti-racist politics that goes beyond representation. Kate Redburn reviewed Christopher Chitty's Sexual Hegemony, which makes clear that gay history is still unfolding. Trevor Jackson found radical possibilities in the history of money. Adom Getachew explored the incipient internationalism of the Movement for Black Lives.
Dissent contributors also engaged in a number of arguments on the left: Katha Pollitt on free speech; Humberto Beck, Carlos Bravo Regidor, and Patrick Iber on AMLO's presidency; Jan Dutkiewicz and Gabriel N. Rosenberg on the limits of a "small is beautiful" food system; and Dorothy Roberts on the injustices of family policing.
Those are just some of the most popular Dissent articles in 2021. If you enjoyed reading them, or listening to the Dissent podcasts that offer some of the best coverage of the labor movement (Belabored) and the American right (Know Your Enemy), you can subscribe or donate to support the magazine.

Dissent's most-read articles in 2021: