Touted by Republicans as a case study in reviving U.S. manufacturing, Foxconn's new factory in Wisconsin only reveals the failings of the GOP agenda. To defeat Scott Walker in November, Democrats will have to show there's a better way to create good jobs.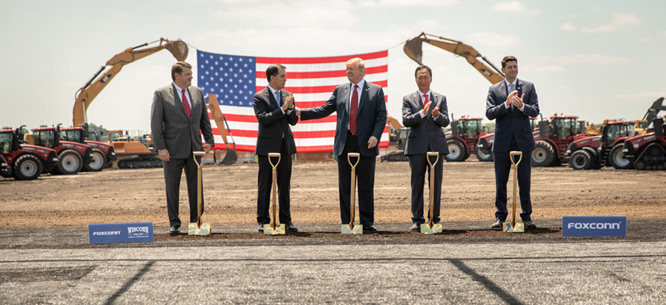 This June, Foxconn Technology Group broke ground for a new flat-screen plant in Mount Pleasant, Wisconsin. The Taiwanese company plans to invest $10 billion there, but the state will give it tax credits of as much as $4 billion, by far the largest corporate subsidy in Wisconsin history. It will also be the biggest handout in American history to a corporation based outside the United States. Governor Scott Walker, who is running for a third term, and President Trump have both praised the deal as clear evidence that Republicans have brought manufacturing back. For state Democrats, the Foxconn plant represents a challenge: how to come up with a more compelling way to create good jobs, both to defeat Walker this fall and in order to provide a sustainable alternative to the corporate-driven one Republicans offer.
For Walker, the stakes of the Foxconn deal are high. When he first ran for governor in 2010, he promised to unleash economic prosperity by cutting taxes and making government smaller. Central to his pitch was the audacious claim that these moves would create 250,000 new private-sector jobs in just four years. Walker then undertook a scorched-earth policy to eliminate workers' rights. First, he signed into law Act 10 in 2011, which did away with meaningful collective bargaining for most public employees while forcing their unions to hold costly annual elections to maintain exclusive representation. Then, in his second term, Walker broke a promise to those few unions that endorsed him and signed a law making the private sector "right to work."
Unsurprisingly, Walker did not come close to fulfilling his promise on jobs. Indeed, neighboring Minnesota under Democrat Mark Dayton created more jobs and had significantly higher wage growth than Wisconsin during the same period. But Foxconn allows Walker to claim that his policies are indeed bearing fruit. At least in the short term, he may be right: Foxconn plans to employ 13,000 people, and almost $100 million in capital investment has already gone to Wisconsin-based contractors. The governor's goal is for 70 percent of the jobs to construct the Foxconn facility to go to Wisconsinites.
But the deal will cost the state a lot more than it will be worth. First, there is the outrageous cost: $3 billion in state tax credits, $1.5 billion of which is tied to the number of jobs paying above $30,000 a year created and maintained through 2032. Walker and the Republican legislature, however, have already cut the tax rate to almost zero for manufacturers in Wisconsin, so almost all of the "credit" will be direct payments to Foxconn—a giant subsidy that taxpayers will take on for the next decade and a half. Meanwhile, the governor and the legislature cut more than $2 billion from public education during his first five years in office.
It gets worse: the task of negotiating the details went to the Wisconsin Economic Development Corporation (WEDC), which is basically a black box of cronyism and wasted money. To get the credits, Foxconn's jobs must average about $54,000 a year. Walker and WEDC initially wanted the ceiling for computing the mean salary to be $100,000. Under pressure to get the deal done, however, they relented to Foxconn's demands, raising the ceiling to $400,000. Thus, for every employee making the latter figure, the company could hire another fifteen making $30,000 a year and still max out the payments.
If the company's deplorable record elsewhere is any indication, Foxconn workers will likely find it difficult to unionize—which will suppress wages and likely reduce worker safety and job security. Indeed, one can imagine that Walker's singular hostility to unions probably factored into the decision of billionaire Foxconn chairperson Terry Gou's decision to do business in Wisconsin. It is too early to gauge the impact of right-to-work on building trade unions, but the state's percentage of union workers continued its decline after the law was passed in 2015.
There is also no guarantee Foxconn workers will keep their jobs for long: the company's stated goal—at least in its China factories—is to completely automate its workforce. With billions invested in new robotic technology, Gou might very well seek to automate much of the Wisconsin facility, too. Thus, Foxconn could conceivably employ 13,000 workers until 2032 when the tax incentives expire and then replace most of them with robots. Even if the jobs are worth the current investment, environmentalists have pointed to the plant's deleterious impact on the environment, and authorities in Southeast Wisconsin are abusing eminent domain to dispossess residents of their houses to make way for it.
Despite his broken promises, Walker has proven himself to be an adept politician. He has won three straight elections (one defeating a recall attempt) by employing divisive tactics similar to Trump's. In 2010, he used the higher unionization rates and better job security enjoyed by public employees to pit them against other workers who no longer had either following decades of deindustrialization and the Great Recession. Indeed, on the campaign trail, Walker famously cast public employees as the "haves" and other workers as "have-nots." Further, Walker has also exploited what the political scientist Katherine Cramer has called the "politics of resentment" by pitting rural people against urban in a perceived zero-sum game for resources.
In November, Walker will face Tony Evers and should be vulnerable: the first poll after the August primary showed the Democrat with a modest lead. In addition to Walker's failure to bring widespread economic prosperity, public schools in Wisconsin have been hit hard by Republican disinvestment since 2011. Districts have had to tax themselves to maintain decent schools, and teacher turnover—a consequence of Act 10—has harmed instruction. Rural schools—unable or unwilling to raise taxes—have been particular victims of Walker's policies. But Democrats have been favorites to defeat the governor at this stage in other campaigns. And right-wing funders like the Kochs will savage Evers and undoubtedly make the Foxconn deal a centerpiece of their pitch for Walker.
Evers and his progressive allies need to have a forceful and visionary response. Many on the left have opposed the Foxconn deal, and Evers has charged that the firm took advantage of Walker, calling it "the worst deal on record" and arguing that "Scott Walker sold the farm" in allowing Foxconn to sidestep environmental regulations. The Wisconsin AFL-CIO also unveiled a list of principles to which the deal should adhere in order to "work" for Wisconsin wage-earners. But without a compelling alternative, the jobs Foxconn creates will likely trump the left's criticisms.
We should have learned a hard lesson when corporate disinvestment and capital flight began eviscerating the middle class back in the 1970s: relying on the whims of global corporations to ensure everyone has a decent livelihood is a losing proposition. The outlandishness of the giveaway to Foxconn, coupled with the lack of a long-term guarantee of security for the workers there, gives Democrats an opportunity to present a far better agenda for the people of Wisconsin.
Indeed, Foxconn's $4 billion price tag gives the lie to the notion that fiscal realities constrain us from advancing bold ideas. Though Evers supports some progressive economic positions—a gradual increase of the minimum wage to $15 an hour, expanding access to healthcare, and reducing college tuition in the University of Wisconsin system without compromising quality—he should advance even bigger ideas if he wants to forge a compelling alternative to the Foxconn deal. Evers and other Democrats should promise to limit the subsidies to Foxconn and require the state's wealthiest employers to pay their fair share. But they should also promise a job for all Wisconsinites at a living wage.
The notion of a federal jobs guarantee has a long history in the United States, manifested most dramatically in the grand vision of Franklin Roosevelt's call for a "Second Bill of Rights" in 1944. Some politicians and activists have taken the promise seriously: in 1945–46, when Congress debated full employment legislation; in A. Philip Randolph and Bayard Rustin's Freedom Budget in 1966; and as recently as 1978, when Congress legislated a set of employment goals and authorized (though didn't require) the federal government to establish public-sector jobs to meet them in the Humphrey Hawkins Act. A jobs guarantee is once again attracting interest on the left, and versions have been proposed by Bernie Sanders, Cory Booker, Kirsten Gillibrand, and others.
Of course, a vision is a long-term goal, and Wisconsin almost certainly could not construct a comprehensive jobs plan without some federal assistance. But pointing out that the $4 billion spent on Foxconn could instead represent a down payment on a "Wisconsin Jobs Guarantee" would allow Democrats to advance a true alternative. There are many better ways to create good, sustainable jobs instead of paying Foxconn: by constructing environmentally sound infrastructure that can mitigate the impact of climate change; establishing a capital fund for workers to start businesses where they retain cooperative ownership; and providing universal childcare, which would not only create jobs but also ensure that women have equal opportunity in the workplace. In any of these cases, tax expenditures would remain in Wisconsin and ripple throughout the state.
Walker and Trump make an argument about jobs: it's a sad, uninspiring vision of a world in which we keep making billionaires richer so that a slightly larger number of Americans have a prayer of earning a decent wage. The exorbitant price of Foxconn gives the left and the Democrats a chance to advance a bold alternative: the guarantee of sustainable jobs that will appeal to people not just in the state of badgers and cheeseheads but all over the United States.
---
Jon Shelton is associate professor of democracy and justice studies at the University of Wisconsin-Green Bay. He is the author of Teacher Strike! Public Education and the Making of a New American Political Order (University of Illinois Press, 2017).