After weathering decades of disappointment, Hong Kongers understand that there is no tomorrow waiting. The future is not guaranteed, but must be won.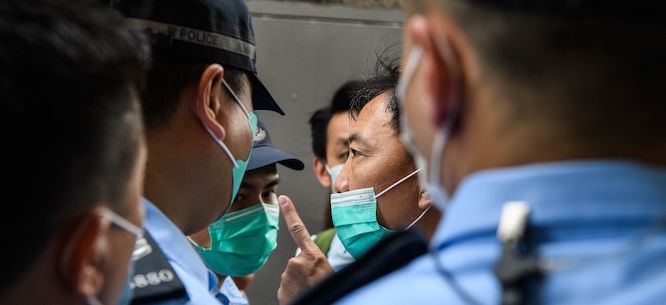 This essay is part of a special section on the pandemic in the Summer 2020 issue. It was written in late May, before Beijing's introduction of a new national security law in Hong Kong.
The West was still congratulating itself on the "end of history" when Hong Kong, one of Great Britain's last colonial holdings, was handed over to the People's Republic of China in 1997. The event was seen as a denouement to the age of colonialism, heralding the arrival of a new capitalist modernity unifying East and West. There was ample reason to believe China's government—then negotiating its membership in the World Trade Organization—would before long become a steward of the liberal world order.
Hong Kongers thought they would lead the way. It was not only the city's capitalists who saw "One Country, Two Systems" as an opportunity. Beijing agreed to preserve Hong Kong's way of life for at least "fifty years without change" and pledged to implement universal suffrage for the city's leader. Progressives saw a chance to spearhead democracy in China.
Twenty-three years later, the disillusionment of Hong Kong's idealists is stark. Tidal waves of new wealth from China have failed to raise most residents' wages, instead creating record inequality. And mainland elites' enthusiasm for using Hong Kong as a conduit for their ballooning capital—aided by the city's Beijing-backed bureaucrats—is equaled by their contempt for free elections. Hong Kong's new "national security" law, recently passed unilaterally by the Chinese Communist Party, has essentially outlawed dissent, slamming the door shut on any hope of universal suffrage and ushering in a new era of repression.
The city's postcolonial constitution, the Basic Law, explicitly requires the local government to "safeguard the free flow of capital." By contrast, the protest slogan "If we burn, you burn" describes a strategy of seeking leverage by damaging Hong Kong's business operations, in defiance of the territory's postcolonial compact. Protesters have smashed and even set fire to the symbols of the enemy: branches of the Bank of China, Xiaomi retailers, train stations run by the mega-landlord MTR. Recent surveys show the Hong Kong public continues to support the movement by a ratio of two-to-one even amid the pandemic, suggesting a broad acknowledgement that the city cannot be saved without forms of strategic destruction.
The collapse of liberal optimism has birthed a powerful insurgent mutuality—a necessary condition for surviving in an increasingly apocalyptic world. It is no stretch to argue that Hong Kongers' battle-tested resistance has made them uniquely prepared for the coronavirus. Painfully aware of authorities' efforts to cover up the SARS epidemic in 2003, and deeply distrustful of the Hong Kong government's obsequiousness to Beijing, Hong Kongers have pulled off what may be the world's most effective community response to the pandemic so far. In late January, despite Chief Executive Carrie Lam's initial calls for civil servants to not wear masks and her refusal to halt arrivals at the borders, Hong Kongers mobilized grassroots efforts to ensure the vast majority of the city's nearly 8 million residents had masks within a matter of days. Meanwhile, organizers shared testimonies from Wuhan's whistleblowers, and hospital workers unionized and led strikes for better protections. Experts credit these efforts—and the attention they generated—with keeping the city's COVID-19 death toll to just four people.
With no one to turn to, Hong Kongers have learned to fight shoulder-to-shoulder for collective safety. Ironically, this has made them an international role model. Hong Kong protesters' tactics against police are now imitated by activists everywhere. But our mutual aid, too, is crossing borders. Whereas last fall some protesters waved foreign flags in desperate appeals for help, Hong Kongers now line up to mail crates of face masks to relatives in those same countries, whose governments have utterly deserted them. I am part of one of these DIY supply chains; every week a couple hundred masks from Hong Kong arrive in my New York City apartment to be distributed to frontline workers. We do this because New York's mobilization has been traumatically slow: it was late March before anyone from the city government reacted, and less than two months later more than 20,000 residents, the majority of them nonwhite and concentrated in the city's most neglected neighborhoods, are dead. In the face of this wretchedness, many progressive U.S. leaders and a disturbing share of their constituents are barely able to contain their frustration that all this trauma—disproportionately borne by people of color, poor people, immigrants, hourly workers, prisoners—has disrupted their usual lifestyle and put capitalism on hold. This callousness should be a further reminder to Hong Kongers that the West will never truly have their back.
I have come to believe Hong Kongers' defining strength is not organizing prowess but something more existential. After weathering decades of disappointment, Hong Kongers understand at last that there is no tomorrow waiting; that the future is not guaranteed, but must be won. I find a similar, grim clarity undergirding other movements of 2019: from the student-led uprisings in Chile against neoliberal cruelty, to the furious protests in Lebanon against austerity, to the thundering marches in Puerto Rico against corruption, to the ongoing struggle in Kashmir for basic dignity. In each of these places, the odds are not favorable: already, authoritarian elites and disaster capitalists are seizing this crisis to shore up their power. The people know they must struggle together or vanish.
As I write this in the final week of May, protesters across dozens of U.S. cities are rising up against police brutality—showing none of us can afford to return to "normal," that normal was never enough to begin with. That the state violence they face feels so familiar is no coincidence, but merely a reminder of what oppressed people already know. The violence has never stopped; the "world" has already ended; history is alive. All that's left to do is fight.
---
Wilfred Chan is a contributing writer to The Nation and a freelance journalist based in New York City.