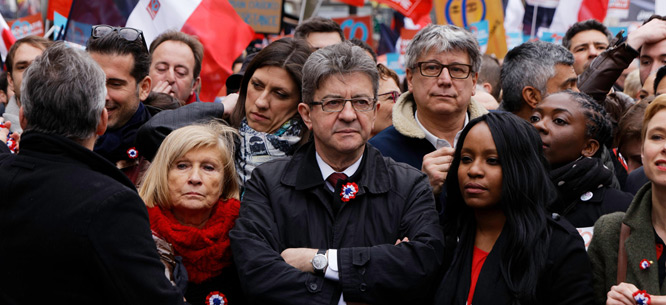 Last December, François Ruffin mounted the pulpit of France's National Assembly and removed his shirt, revealing an ill-fitting green soccer goalie's jersey underneath. A muckraking left-wing journalist—one might call him the Michael Moore of Picardy—Ruffin has a history of causing trouble with his brazen fashion choices. In one scene of his award-winning documentary Merci Patron!, for example, he dons a white T-shirt emblazoned with the face of the CEO of the luxury-brand conglomerate LVMH before crashing the group's annual shareholder meeting. But this time, at the National Assembly, no guards came to escort him off the premises. Several months prior, Ruffin had been elected as a deputy to France's main legislative body on the ticket of Jean-Luc Mélenchon's insurgent movement La France Insoumise. The floor was his to speak.
As Ruffin explained to his colleagues, the jersey was that of an amateur soccer team from a village in his district near Amiens. Though the state spends extravagant sums subsidizing professional teams in the name of "competitiveness," he claimed, ordinary people buy and wash their jerseys at their own expense, and sacrifice precious time and money to keep their friends and children on the field. He concluded his speech with a call to end the dominance of "elites" in the world of sports, by redistributing funds from big-league matches to the thousands of local clubs scattered across the country.
For this seemingly innocent stunt, Ruffin was officially sanctioned and forced to pay a fine by the president of the National Assembly for violating parliamentary decorum—a small price to pay, he later claimed, for standing up for the average Joes of France's amateur teams. "Up until now, nobody paid attention to what was going on in the Assembly," he explained in a radio interview, but through theatrics like these, shared millions of times on social media, he believed the legislature could become "a tribune for the people."
Amateur soccer might not seem a likely priority for La France Insoumise, the movement that now boasts that it is the dominant force on the French left. One year after Mélenchon and his allies upstaged the Parti Socialiste in the country's presidential election, however, Ruffin's performance captures something essential about the movement's populist political strategy. The term "populism" has most often been used by critics of La France Insoumise as an epithet, a synonym for extremism. Understood more fully, it is in fact an apt description of Mélenchon's plan to reshape French democracy—and it is a badge he wears with pride. Seeking to engage disaffected voters by rallying "the people" against "the elites," La France Insoumise believes it can build an unconventional but durable coalition for a twenty-first-ce...
Online Only

For just $19.95 a year, get access to new issues and decades' worth of archives on our site.

Print + Online

For $29.95 a year, get new issues delivered to your door and access to our full online archives.
Already a subscriber? Log in: