By ignoring demands to release incarcerated people during the pandemic, prison administrators and elected officials relegate them to mass death under the fatal logic of public safety.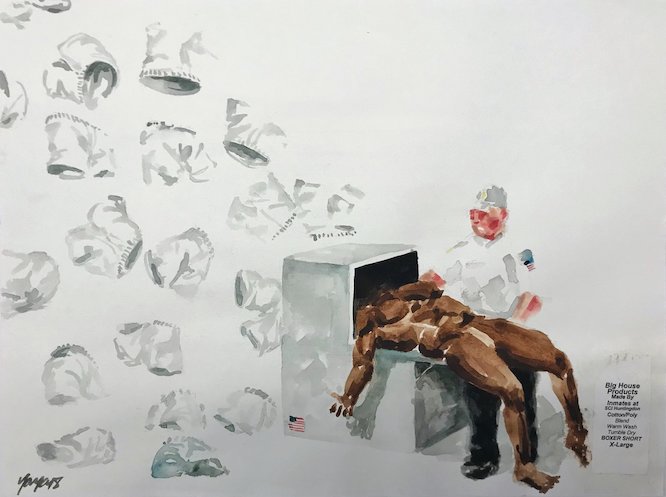 In this watercolor by James Hough—who was imprisoned for twenty-seven years—the lifeless body of a black man fuels the prison economy in which incarcerated people are paid a pittance to produce boxers that are then sold back to them. The Big House Products label is attached to all the commodities they produce. Hough created the work while incarcerated in Pennsylvania to critique the extractive practices of prisons: the removal of people from their communities, the warehousing and exploitation of their labor, and the diminishing of their lives.
Amid the COVID-19 pandemic, Hough and others are advocating for people to be released from facilities without social distancing, protective equipment, routine handwashing, and adequate healthcare. By ignoring these demands, prison administrators and elected officials relegate people to mass death under the fatal logic of public safety.
In Ohio, one of the first states where cases were reported, Governor Mike DeWine ordered that the entire state prison population be tested. After over 80 percent tested positive in two prisons, Ohio abruptly stopped mass testing—because accounting for the number of cases would force officials to acknowledge the system's investment in the disposability of human life, laying bare larger truths about America's economy. Those most susceptible to the violence of carceral capitalism—frontline workers, undocumented laborers, people held in prison cells—get sick and receive little or no care. Like the body in Hough's painting, their labor produces goods and fuels economies, while their lives and deaths are unaccounted for.
---
Nicole R. Fleetwood is Professor of American Studies and Art History at Rutgers University. Her new book, Marking Time: Art in the Age of Mass Incarceration, is available now. An exhibit she curated by the same name is on view at MoMA PS1 through April 4, 2021.