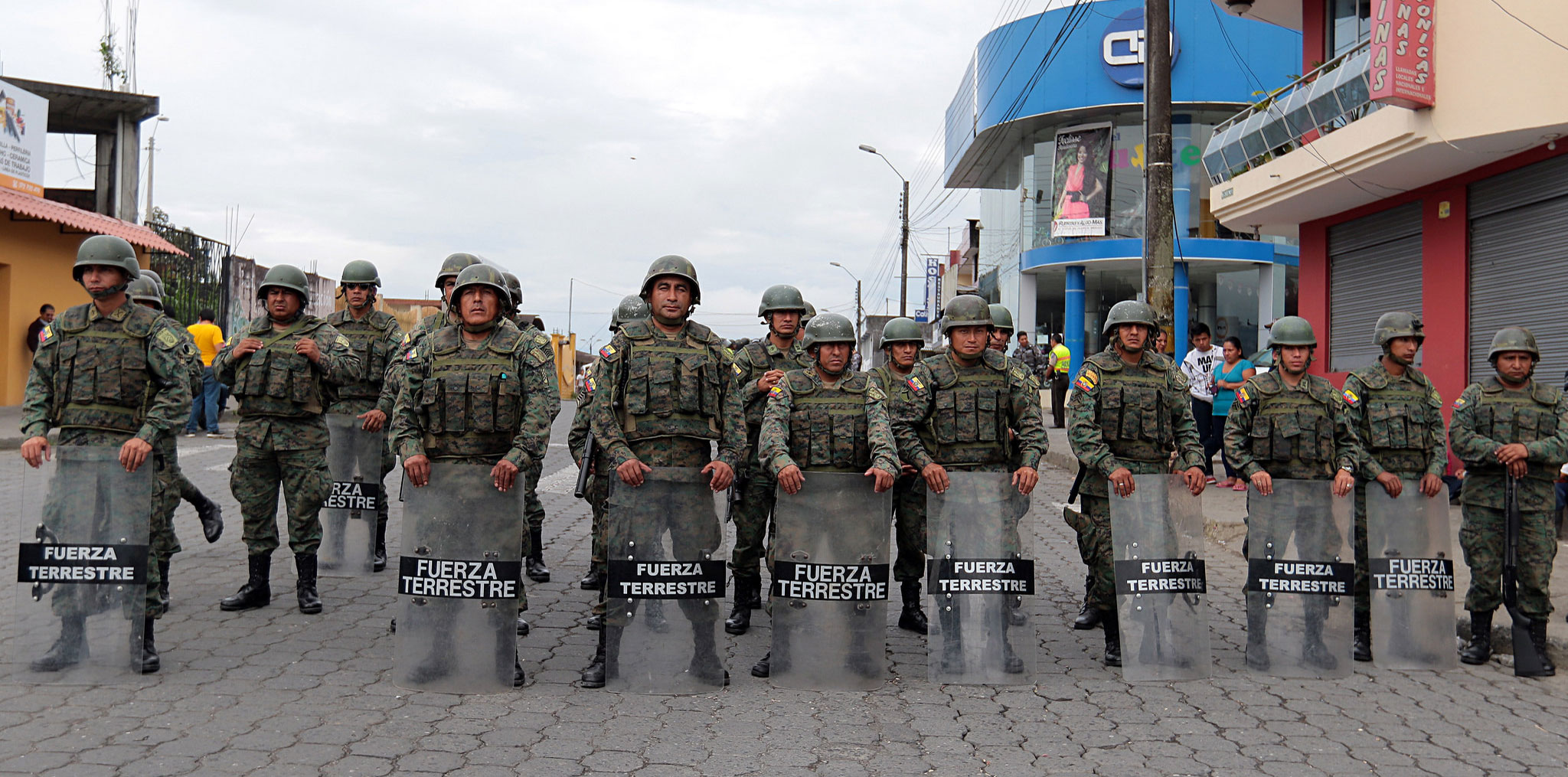 On December 14, 2016, leftist President Rafael Correa declared a state of emergency in the province of Morona Santiago in the Amazonian region of Ecuador, deploying hundreds of troops and national police. This marked the culmination of years of clashes at the site of an open-pit copper mine in the area of San Carlos, which indigenous Shuar activists had occupied in protest against the expansion of mining and the threat posed to their territory and livelihoods. Between 2009 and 2015, three Shuar were violently killed by state forces while either protesting mining or defending their water rights. The months leading up to the 2016 state of emergency saw military raids and the violent dispossession of Shuar villages, leaving homes, tools, and agricultural plots destroyed. In mid-December, the conflict reached its peak in a clash that left a policeman dead, prompting Correa to call in the military.
The state of emergency officially lasted three months. But as of late 2017, there were ongoing reports of checkpoints, harassment, and criminalization, and the mining camp was still a militarized zone. Correa continued to verbally attack the Shuar in his weekly public addresses, and Shuar communities continued to protest.
This contentious episode occurred during Correa's last year of ten in office. His Pink Tide administration coincided with a commodity boom that dramatically increased oil revenues. Resource rents underwrote an expansion of social spending and across-the-board reductions in poverty and inequality, and improvements in a host of human development indicators, from sanitation to nutrition. But those resource rents depended on an extractive model of accumulation predicated on the violent forms of dispossession related above. The growth of extractive industries—and the razing of Amazon rainforest that often went with it—also contributed to climate change.
Resource rents proved economically precarious, as the commodity boom went bust. In the fall of 2015, Ecuador plunged into a recession. The next budget slashed social spending, reducing state pensions and the number of people eligible for the administration's successful cash welfare program. The cuts, along with increases on import taxes, still didn't close the budget gap. Meanwhile, Ecuador was now billions of dollars in debt to China, which controlled 90 percent of oil shipments due to a loans-for-oil arrangement. Chinese firms are also behind many of the country's largest metal-mining operations, including the San Carlos project.
In this respect, Ecuador, where I conducted fieldwork between 2011 and 2016, is an exemplary case of the inspiring and tragic arc of the Pink Tide. For all its important achievements, the promise of transformation devolved into austerity, debt, and dependency—not to mention outright conflict between social movements and a leftist government. What went wrong?
For the first decade and a half of this millennium, Latin A...
Online Only

For just $19.95 a year, get access to new issues and decades' worth of archives on our site.

Print + Online

For $29.95 a year, get new issues delivered to your door and access to our full online archives.
Already a subscriber? Log in: