The pandemic has revealed how the rapid urbanization fueling India's economic ascent is rooted in migrant labor.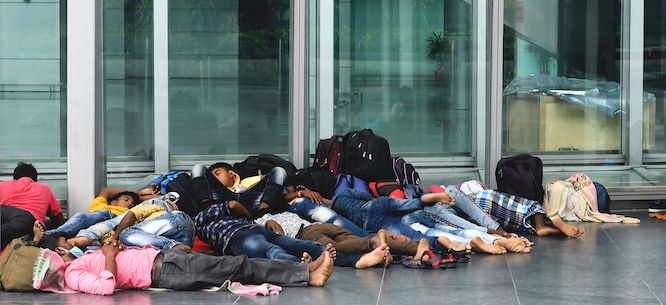 Making the Modern Slum: The Power of Capital in Colonial Bombay
by Sheetal Chhabria
University of Washington Press, 2019, 256 pp.
The Coolie's Great War: Indian Labour in a Global Conflict, 1914–1921
by Radhika Singha
Oxford University Press, 2020, 256 pp.
Last May, a five-minute BBC Hindi video went viral in India. In the clip, the journalist Salman Ravi interviews a group of migrant workers walking back to their home villages during the Indian government's nationwide COVID-19 lockdown. Fighting back tears, one of the men recalls being beaten by police along the route. His two young children, groggy from hunger and the heat, sit on a broken bicycle attached to a cart that holds the family's possessions. When another man, barely in his twenties and holding a sleeping toddler, admits that he is barefoot because his sandals had broken, Ravi gives him the sneakers off his feet.
The journey from Ambala in Haryana, where the migrants in the video set out, to their home villages in Chhatarpur district, Madhya Pradesh, is over 460 miles—roughly the distance from Washington, D.C. to Boston. It takes approximately two weeks to cover on foot. Without food, water, or adequate footwear, it would take much longer.
Images of migrant workers trekking home defined India's coronavirus response. The government instated the lockdown order on March 24 with only four hours' notice. To avoid starvation in the cities, hundreds of thousands of migrants packed up and left. Railways were closed, so their only option was to walk in the punishing heat, carrying children and their possessions, their blue surgical masks often the only new item of clothing they wore. While repatriation flights were chartered for migrants abroad, including some of the 8.5 million Indian workers in the Persian Gulf, it took more than a month to set up special rail services for domestic migrant workers, and many were charged full-price fares—a cruel joke to those who had already exhausted their savings to survive. When the villagers reached home, they faced harassment as potential carriers of disease as well as a stagnant rural economy, with the promise of relief work under the National Rural Employment Guarantee Act curtailed by the lockdown.
Two days after the lockdown began, the Modi government introduced a $22.6 billion relief package to provide food, cash, and cooking gas to low-income Indians. The stimulus plan was designed to supplement by 50 percent the existing food grain rations handed out under the Public Distribution System (PDS). Meanwhile, the Food Corporation of India's excess grain stocks continued to grow, reaching 87.8 million metric tons by May 2020, almost four times the required level of reserves. The Food Corporation is subsidized by the central government; because this subsidy only appears in the budget once the stocks are released, t...
Online Only

For just $19.95 a year, get access to new issues and decades' worth of archives on our site.

Print + Online

For $29.95 a year, get new issues delivered to your door and access to our full online archives.
Already a subscriber? Log in: