A Small World is a self-consciously exclusive social network aimed at a certain class of internationals—referred to interchangeably as "global nomads," "citizens of the world," or, more frequently, the "global elite." The site reveals that modern cosmopolitanism has been a largely market-driven phenomenon, designed for capital, not citizens, to become "of the world."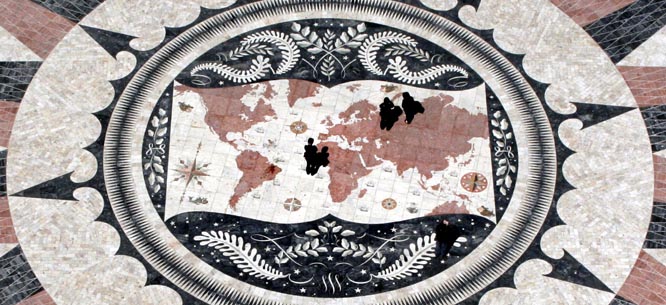 Patrick Liotard-Vogt is the type of person who doesn't live anywhere year round. Instead, he's "based" places: Zurich, New York, St. Kitts and Nevis, with pit stops in Paris, Mumbai, and London. His favorite beach destination is St. Barths. His favorite hotel is a converted convent in Puglia, Italy, lauded by the society pages and run by a former treasurer of the British Conservative Party under Margaret Thatcher.
Vogt's high-class mobility is on full display on A Small World, the self-consciously exclusive social network that he has invested in and now chairs. ASW has tried for years to become the go to site for young global professionals who are, or are in the process of becoming, very rich. It works under the assumption that rather than confining itself to one country or geographic region, a certain class of internationals—referred to interchangeably as "global nomads," "citizens of the world," or, more frequently, the "global elite"—shares certain migratory patterns, like an exotic flock of birds whose tastes and consumption habits matter much more than the shape of their nests or the color of their feathers. There's the New York-Dubai-Zurich banking circuit; the Paris-Milan-Tokyo fashion circuit; the perhaps less visible but equally lucrative Basel-Boston pharma belt; and the Geneva-Vienna-New York-Nairobi diplomatic circuit. Spend enough time in this world and you'll notice there are no countries—only cities.
Vogt's vision extends beyond the success of his startup. He's trying to create a real-life "small world," and he's populating it by invitation, reflecting back the image jet-setters have of themselves, and their sense of who belongs. A hierarchy emerges in Vogt's targets for inclusion: there are the heirs and heiresses and socialites; the bankers, lawyers, and up-and-coming entrepreneurs; the models and actors; and miscellaneous hangers-on who may or may not have attended Swiss private schools.
Vogt, an heir to the Nestlé processed food fortune, is himself the product of Institut le Rosey, a boarding school in Switzerland that routinely ranks among the most expensive in the world. With alumni like the last Shah of Iran, Princess Diana's paramour Dodi al Fayed, two daughters of Australian mining magnate Gina Rinehart, and Julian Casablancas, the lead singer of the Strokes, le Rosey is the community that ASW seems to most closely model itself on. As is to be expected, Vogt has fond memories of high school. In a 2009 Huffington Post interview with Sabine Heller, a "journalist" who turned out to be an ASW employee, Vogt recounted a fieldtrip to Paris as a highlight of his time at le Rosey. "I escaped from my hotel room on the 4th floor by tying bed sheets together and climbing down. We then went clubbing at Les Bain Douche, and of course, it was hard to get in," Vogt told her.
---
When Vogt bought into ASW in 2009, the site was the subject ...
Online Only

For just $19.95 a year, get access to new issues and decades' worth of archives on our site.

Print + Online

For $35 a year, get new issues delivered to your door and access to our full online archives.
Already a subscriber? Log in: