Many rural communities feel a contempt for the status quo that persists regardless of the party in power. Organizers are helping them build their own political power, in service of their own needs.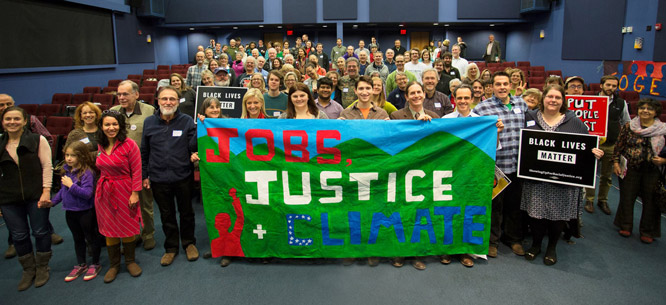 "Most of us are one step away from disaster," says Kathleen Oliver, a semi-retired social welfare professional who lives in the small town of Marlborough, New Hampshire. At seventy-four, Oliver stopped working full-time some years back, but with only her monthly Social Security check to get by on and various family members to take care of, she was coming up short. She sold her house, then picked up a couple of part-time jobs. "I can see how the elderly become depressed," Kathleen acknowledges, though she does not share the same feeling of resignation. "I probably won't be among the depressed. I'll be among the pissed off."
Nearly 20 percent of people in the United States live in communities classified as rural. In whatever region of the country they find themselves—New England or the Midwest, the Deep South or the Mountain West—they tend to share Oliver's sense that disaster is knocking at their door. Many continue to suffer the aftereffects of the Great Recession, which followed decades of economic decline in rural America. And many, like Kathleen, are pissed off.
As organizers with extensive experience working in these kinds of communities, we often confront a familiar set of challenges when trying to build grassroots organizations that can sustain a progressive movement in rural America: change takes time, and that means resources to fund staff and the kind of community organizing that unpacks decades of trauma, alienation, and anger and turns that energy into solutions that are empowering and equitable. Much more than bastions of Trump-loving conservatism, rural communities are home to people who feel a contempt for the status quo that transcends the results of national elections and persists regardless of the party in power.
That reality comes with its own difficulties. But it also presents opportunities. When Rights & Democracy (RAD) New Hampshire conducted a survey with nearly 1,000 Granite Staters in 2018—some of whom had voted for Barack Obama in 2012, and some of whom had voted for Donald Trump in 2016—the results we found were telling. (Full disclosure: we are both staffers at RAD.) Regardless of political preference, there was broad agreement among our respondents about the most pressing needs confronting the region. Roughly 80 percent of those we spoke with identified the major problems facing their communities as the lack of access to affordable healthcare, the overdose crisis, poor schools, low-paying jobs, and land and water pollution. They also agreed on solutions: making healthcare affordable for everyone, creating good-paying jobs through government investment and much-needed infrastructure and environmental clean-up projects, and spending more on struggling public schools. Survey respondents were more split on issues of race and immigration....
Online Only

For just $19.95 a year, get access to new issues and decades' worth of archives on our site.

Print + Online

For $29.95 a year, get new issues delivered to your door and access to our full online archives.
Already a subscriber? Log in: