Social movements are winning in the arena of public opinion. Now they need champions in places of power who can fight for their demands.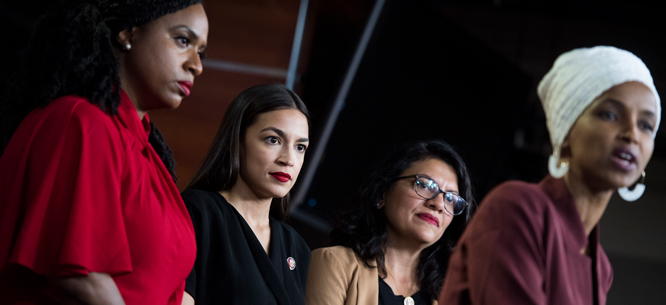 It wasn't long after the 2018 midterm elections that talk of a "blue wave" was replaced by rumblings about a war within the Democratic Party. Among the new class of Democratic House members were the four women of color who have come to be known as "the Squad"—Ayanna Pressley, Ilhan Omar, Rashida Tlaib, and Alexandria Ocasio-Cortez. They gave voice to a bold progressive politics, including support for the Green New Deal and Medicare for All. They also brought a new willingness to fight, not just against Trump but with their fellow Democrats—even, or perhaps especially, the party's leaders. Ocasio-Cortez had defeated the ten-term incumbent Joe Crowley, then the fourth-ranking House Democrat and a rumored successor to House Speaker Nancy Pelosi, in the primary that June. In a move that in many ways set the tone for the relationship between the Democratic Party's insurgent wing and its centrist leadership, Ocasio-Cortez joined a sit-in protest, organized by the Sunrise Movement to push for a Green New Deal, in Pelosi's office before she had even been sworn in.
The members of the Squad are backed by an emerging infrastructure of progressive organizations that are working to translate the energy of movements like Occupy Wall Street, Black Lives Matter, and the Fight for $15 into electoral gains. One of those groups is Justice Democrats, which recruited and backed Ocasio-Cortez, Omar, and Pressley in 2018. As of now, the group's 2020 candidates include Jessica Cisneros, an immigration attorney who is challenging conservative Democrat Henry Cuellar for his House seat in south Texas, and Jamaal Bowman, a middle school principal from the Bronx who is challenging Eliot Engel, a hawkish sixteen-term incumbent who leads the House Foreign Affairs Committee. Justice Democrats is also backing the incumbent members of the Squad, as well as Raúl Grijalva, Ro Khanna, and Pramila Jayapal. The party establishment is not happy about any of this. In April 2019, the Democratic Congressional Campaign Committee threatened to blacklist any firm or political strategist that supports primary challengers to incumbent House Democrats.
In October, I spoke with Justice Democrats communications director Waleed Shahid about the relationship between social movements and electoral work, the idea of realignment, and his vision for transforming U.S. politics. Shahid is a pragmatic thinker who sees the limits of the U.S. electoral system while maintaining that progressive political transformation requires working within it. The social movements of the past decade have put forward demands that are broadly popular; what they need now, he argues, are ...
Online Only

For just $19.95 a year, get access to new issues and decades' worth of archives on our site.

Print + Online

For $29.95 a year, get new issues delivered to your door and access to our full online archives.
Already a subscriber? Log in: