A dialogue between two veteran immigrant rights advocates who have watched the movement grow, diversify, and sometimes contradict itself over the past three decades.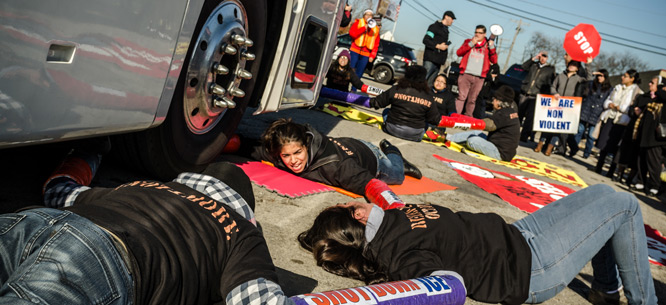 The immigrant rights movement in the United States has moved in many directions over the years, evolving across generations and pivoting across the political spectrum from radical border resistance to inside the Beltway. In this forum, Michelle Chen moderates a dialogue between two veteran immigrant rights advocates who have watched the movement grow, diversify, and sometimes contradict itself over the past three decades: longtime organizer, author, and state senator Alfredo Gutierrez and immigrant organizer with the #Not1More anti-deportation campaign Marisa Franco.
MICHELLE CHEN: How do you feel about Obama's recent executive action on immigration, which would offer a temporary deportation reprieve for up to 5 million undocumented immigrants, primarily parents of citizens and permanent residents?
ALFREDO GUTIERREZ: Lifting the fear of deportation for 5 million people is not insignificant. President  Obama's executive actions—both his earlier, more modest initiative offering provisional status to undocumented students who were brought here as children, the Dreamers, and his more recent deportation reprieve—should be applauded as major steps forward. We should not forget, however, that it was unrelenting pressure from activists throughout America that ultimately forced President Obama's hand. When the demands for executive action began, the president denied he had the authority to do so, although legal scholars and community organizers remained unpersuaded. Actions on the streets escalated until he reconsidered and relented.
There is now a need to broaden the battle beyond individual legal status to include the whole family. Additionally, Obama's order provides 5 million migrants the right to stay but denies them health care and every other federal benefit. The children of the undocumented find themselves in a public school system that is deteriorating and on the verge of bankruptcy. That prized right to work is too often the right to subsist in minimum-wage poverty.
MARISA FRANCO: The president could have and should have gone further, but his actions were determined by politics, rather than the law. Millions stand to be protected from deportation, but millions more have been excluded. President Obama's horrible talking point of "felons not families" foreshadows a dividing line in our communities that we must unequivocally reject. After years of criminalization, the one thing we should know is that what is criminal in this situation is a system that has unjustly and relentlessly sought to hunt, detain, incarcerate, and deport our people. This is not solely a problem for migrant communities; it is a crisis in communities of color and for poor people alike. With a well-funded deportation machine still intact, we must not leave those in our communities who are excluded or criminalized behind.
CHEN: The past few years have seen both a resurgence and a diversification of the immigrants' rights movement in the United States. We have traditional reform groups in Washington focused on policymaking and elections, and we have a more grassroots wing that is largely driven by frustrated youth and families who are feeling the brunt of the deportation crisis. Do you see a diversifying of the movement, or maybe a fractionalization of it?
FRANCO: Since 2010 and leading up to the Dream Act's failure in Congress—when undocumented youth were accused of being "selfish" for proposing changes in strategy—there have been many differences of opinion within the movement on how to advance immigrant rights. More recently, as protests over deportations grew in the fall of 2013, Angela Kelley of the Center for American Progress (CAP) characterized activists as unrealistic and "tone-deaf." Where would we be if undocumented youth had listened to those who strongly advised them against coming out of the shadows? Where would we be as a movement if we had kept faith that somehow legislation was going to pass, instead of continuing to fight for an end to all deportations?
I see these developments neither as creating diversity within the movement nor fracturing it. Social movements should be composed of an ecosystem of groups and political forces that each play different roles. Tension is part of the growth of a social movement; so is a divergence of ideas. To build on our recent successes, there will need to be new tensions and controversies—not because we like drama, but because it means that we are developing new strategies and tactics.
As immigrant groups pressured the White House for various reforms, I believe it was harmful to have a few organizations such as the National Immigration Forum and the Center for American Progress viewed as the representatives of the immigrant rights movement within the White House, considering that they were not directly accountable to immigrants or their families, nor did they heed calls to allow undocumented people to participate in the process. Additionally, several organizations released a letter in June 2014 urging the president to delay action until all options for legislation were exhausted, and so they chose to direct their criticism only at Republicans, rather than including the Obama administration.
If it wasn't clear then, it surely is by now: the White House used these meetings with less radical immigrant rights organizations—or Washington "insiders"—to placate the broader movement, which was demanding that the president address urgent immigration issues immediately. Moving forward, there could be better coordination between—and accountability of—the different groups pushing for change.
GUTIERREZ: Advocates for immigrant rights inside Washington have access to funding, enjoy national media exposure, and even have the special attention of the president. But none of this has served either the president or the insiders well. These groups were herded into the White House periodically, where they were promised action on immigration and encouraged to solely blame the Republicans. The insiders dutifully conveyed this message. Far removed from the reality of immigrant lives, they did not witness the deportations, the destruction of families, the pain of children left behind, the incarceration of immigrants, and the simmering anger of immigrant communities outside Washington.
The persistent efforts of the #Not1More campaign and the Dreamers were instrumental in pressuring the president into the recent executive action halting deportation.
The insiders are now but one interest in what Marisa describes as an "ecosystem of groups and political forces." Admittedly, groups like America's Voice and National Council of La Raza are big, wealthy, and accustomed to their privileged position. They still need to learn to accept that they exist in the same pond as immigrant advocacy groups in the field, and that the latter groups' insight and understanding of the nuances of public policy are as valuable as theirs.
CHEN: Can you contextualize today's immigrant rights/anti-deportation movements in the arc of social movement history over the past several decades? Does this have to do with the changing demographics, both of the nation as a whole, and within the immigrant population (which now includes more Asians and other groups, alongside Latin American immigrants)? Or is this maybe due to the influence of other movements advocating for LGBTQ equality, labor rights, feminism, or such as Occupy Wall Street?
FRANCO: Activists and organizers have long battled raids by La Migra, deportations, and the unjust treatment of immigrants. Organizing today is a continuation of those efforts. At the same time, because of the growth of the mass deportation system, we are dealing with an entirely different beast. We can expect continued migration (both to the United States and to other countries around the globe) spurred by climate change, extreme poverty, and various political and economic crises. Now immigrant rights groups also have to focus their demands on addressing more extreme anti-immigrant initiatives at the state and federal level, such as sharing personal information about migrants between government agencies, collaboration between local police and the ICE to identify and detain immigrants, and expansion of public and private detention centers. All these measures are accompanied by the criminalization of both undocumented immigrants and those with legal status, not only because of the U.S. system of mass incarceration, but also because the war on drugs primarily affects communities of color.
It seems to me that today, the public understanding of who immigrants are has shifted. Growing up, I saw immigrants as farm workers and other adults who were portrayed as having come to the United States only to work. That's not necessarily the case today. That's where I see the parallel between the impact of "coming out of the closet" and "coming out of the shadows." The visibility of immigrants today has begun to challenge the general public's idea of who is undocumented. We can now see that immigrants are not one ethnic or racial group, they're not all adults; they include people who do all types of labor, not all of whom are straight or cisgendered. This development has been positive and necessary. It also presents new contradictions and challenges. The reality is that by coming out, some people are viewed as deserving of inclusion while others are viewed as undeserving, disposable, and a priority for removal from our community.
GUTIERREZ: President Carter's immigration reform proposal unveiled in 1977 was met with anger. That a Democratic president would include employer sanctions that would surely entice employers to discriminate against long established Mexican Americans could not be tolerated. Within a month the National Council of La Raza, the League of United Latin American Citizens, the G.I. Forum, and others convened a summit in San Antonio. Virtually every Latino organization and elected official in the country attended. Carter's impudence and his bill were unanimously condemned. Confusion and enlightenment simultaneously and unexpectedly struck when Bert Corona and Soledad Alatorre of the Mexican American Political Association argued that undocumented workers were our brothers and sisters, and that no one had sacrificed or contributed more to this country. We must embrace them, they said. In 1977, this was a radical notion. The organized labor representatives were apoplectic, but the seeds of compassion had been planted, and they thrived and grew strong. This was the moment the movement was born.
Rhetoric still divides us. The old established groups sermonize that immigrants do "the work no else will do," to which young activists are prone to answer "my mother did not come here to clean your toilet. She may be forced to do so in order to survive but be warned she won't like it and it won't be for long." Centrist advocates like America's Voice often emphasize that the undocumented are honest, hard-working people trying to survive. Adhering to the Obama administration's rhetoric about deporting "felons, not families," they proclaim that the "criminals" amongst them should be deported immediately, thus appeasing the majority. They ignore the fact that crushing poverty often forces bad decisions. Exceptional Dreamers are paraded about as models for the community, when in fact most are as diverse as their documented counterparts.
The old established organizations are missionaries saving deserving souls and condemning the heathen. The new activists—young Latinos, Asians, and self-identified, unafraid queers—unencumbered by the burden of a lifetime of obedience and subservience, reject paternalism and fight for the imperfect, the incarcerated, and the exceptional too.
CHEN: Can you think of one major event or political action that you've witnessed (or participated in) in the past year that you think really captures the current politics of immigration?
FRANCO: There are many, but here's one. In August 2014 a group of people including an undocumented transgender Latina woman, three undocumented gay Latino men, and two documented queer women, one black and one Latina, walked into the offices of the LGBTQ Equality Caucus in Washington, D.C. and staged a sit-in. They asked that the Equality Caucus stand with undocumented people and demand that President Obama stop deportations and include LGBTQ communities in any forthcoming executive action. It was politically risky because, in the grand scheme of things, the members of the Equality Caucus are viewed as allies. But it was also politically necessary because the group decided they needed the Caucus to be their champions and to take action on their behalf. The Caucus had taken no public stance on the issue, despite the fact that there are as many as 267,000 undocumented LGBTQ people, and many of our brothers and sisters in detention suffer intolerable abuses and are tortured with solitary confinement because of their gender identity.
This action demonstrated the risks that people of color, trans and undocumented migrants have been willing to take to advance the goals of the broader campaign. This action continued a shift in strategy that broadened our targets, not focusing only on those actors pushing an extreme anti-immigrant agenda (and who are certainly worthy of pressure), but also targeting those who have said they support us but who haven't translated that support into concrete action. The action was also possible because our organizing combined the leadership, members, strategies and wisdom of the #Not1More campaign team with LGBTQ groups like Familia TQLM and Southerners On New Ground (SONG).
By the end of that week the co-chairs of the Equality Caucus wrote a letter to the president echoing the demands to include LGBTQ people and to allow participation of directly affected people in the process of reforming immigration policy. The president's actions didn't go far enough for anyone in our community, including LGBTQ people. However, without actions like this by people like this, I don't think we would have achieved what we did. And we will move forward and keep fighting together to leave no one behind.
GUTIERREZ: On the day of the president's announcement about the executive order, there were perhaps 300 folks packed into the main hall of the Phoenix-based advocacy group, Puente. The overflow crowd spilled out amongst television trucks and reporters conducting interviews, while what seemed like a hundred kids played and ran raucously through the grounds. Before the president appeared on the huge rented television screen that sat at the front of the room, the celebratory atmosphere was fueled by palpable anticipation. The room abruptly went quiet when the president appeared on the screen to begin his speech. Many of the activists present already knew the details so we awaited the sadness that would soon descend. Immediately after the president's remarks, Carlos Garcia (with Puente Arizona) and Marisa carefully explained the details of the executive action. The young Dreamers had yielded their seats to their families and leaned against the walls, they were the first to cry, some softly, others moaning and holding on to one another. Slowly, others comprehended that the parents of Dreamers would not be eligible for the reprieve, and they realized that many more sitting in the room were also going to be excluded. The president's plan offered relief to perhaps 5 million of an estimated 11 million undocumented. Even in this room, most would be ineligible.
There was silence when the first person approached the open mic. It was a well-known mother of Dreamers, who sold gorditas on the weekends and donated all of the proceeds to the Dream Action Coalition. Her first words were "I am very angry . . . " She spoke through her tears and pledged that she and her daughters would continue their battle to stay together in the United States. For about two hours, mothers and children told their stories, embraced and cried, but all committed themselves to fight on. Interspersed amongst the excluded were a few who rose to say they would be eligible, their joy mitigated by the tears around them. A mother and daughter appeared together holding hands tightly. The latter, a Dreamer, sobbed quietly as she described her mother's sacrifices so that she could have an education. For her, the night was bittersweet. As her voice turned to steel, she swore that she would not rest until her mother could live without fear. I cried with her.
---
Alfredo Gutierrez is a former majority leader of the Arizona state senate, an immigration activist, and author of To Sin Against Hope.
Marisa Franco is an organizer, strategist, and writer who most recently led the #Not1More Deportation Campaign at the National Day Laborer Organizing Network.
Michelle Chen is a contributing editor at Dissent and co-host of its Belabored podcast.