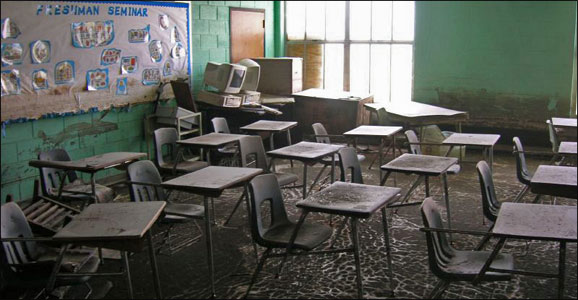 New Orleans, June 2006. Photo: Paul Baker
WHEN HURRICANE KATRINA (or, more accurately, the failure of the levees) washed away the New Orleans Public Schools (NOPS) at the end of August 2005, there was relief in many quarters. Within days of the storm, the acting public school superintendent, Ora Watson, declared that the "fiscal crisis of the New Orleans Public Schools" was now over. In hastily assembled meetings, members of the State Board of Elementary and Secondary Education (BESE), state and local politicians, and leaders of the state's education bureaucracy convened to examine the situation. Representatives of the charter school movement, as well as providers of ancillary education services and materials, also convened. The chance to recreate public education in New Orleans from the ground up was an irresistible consequence of Katrina, as well as a dream come true. Before the first waves of refugees began returning to the drowned city, these newly energized social engineers had decided that no public school would reopen (though public schools did open relatively quickly in the neighboring parishes of Jefferson and St. Bernard); that all 7,500 employees of the system (the majority of them teachers) would be terminated; and that whatever schools did open would be charter schools, operating under the aegis of either BESE or NOPS, depending on the type or timing of the charter application.
But that goal proved problematic on many counts, necessitating the creation of something called the Recovery School District (RSD), an arrangement by which the state took direct responsibility for running the 107 (far fewer were actually reopened and run)—out of approximately 120—schools deemed to have been "failing" at the end of the last testing period. The Recovery School District would wind up being the educator of last resort, an infant stepchild of the new order.
Some Background
Many elements came together to create the crisis that everyone agrees embroiled the public schools in the years leading up to Katrina. Lacking aggressive oversight and consistent leadership, the administration of the public schools seemed unable to do its job on many levels. (And one would have to return to the bad faith, racist politics, and failures of sense and civility that surrounded the racial "integration" of the schools in the 1960s to begin the story of their demise.)
Even in the public schools that everyone has agreed to call "failed" (though the catastrophe was system-wide), some teachers taught well, working beyond their pay grades, providing supplies out of their own pockets (to make up, ultimately, for what was being stolen at the administrative end), refusing to allow those students whom they could reach to fail. Some principals displayed heroic character in stan...
Online Only

For just $19.95 a year, get access to new issues and decades' worth of archives on our site.

Print + Online

For $29.95 a year, get new issues delivered to your door and access to our full online archives.
Already a subscriber? Log in: