Prison development becomes an attractive proposition in the face of high levels of poverty and few sources of private or public investment. To fight mass incarceration, we need different avenues for rural economic development.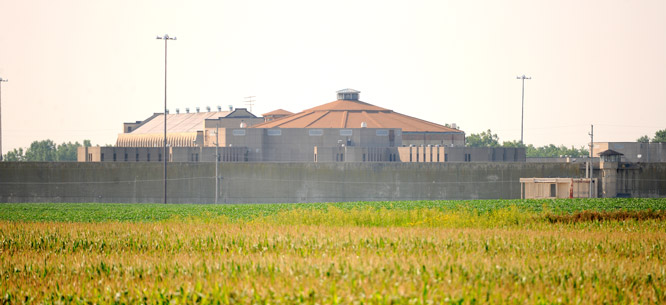 Many believe prisons are the ultimate form of racial and economic exploitation. Yet in the rural communities where most of the nation's prisons are located, even people of color can end up on the other side of the national debate about incarceration. I learned this after meeting folks like Coach Cecil Twilley, a pioneer in Forrest City, Arkansas, and the Mississippi Delta. Coach, as he is affectionately known in this Southern rural town of about 14,000, integrated the local school board and administration; he was the first black member of the local country club, the first black head coach after desegregation of the public schools, and the last local high school football coach to win the Arkansas state championship nearly fifty years ago. This feat is the reason for his enduring nickname.
Forrest City is also home to an estimated 2,100 incarcerated people, with more than 1,800 detained at the Federal Correctional Institution, Forrest City (FCI Forrest City), which was constructed in 1997. Coach supports the presence of the prison in town. When asked to explain why he welcomed such a stigmatized institution, he answered: "I don't want my town to end up like Gary."
Like Gary, Indiana, and countless other American communities struck by the twin forces of disinvestment and segregation, Forrest City was afflicted by structural racism and underdevelopment. Recalling life before the building of the prison facility, one Forrest City resident noted that several plants and other major employers had closed or moved away. Conditions in the city, he said, were "Tough! Tough! Tough!" Coach's comparison of Forrest City to Gary indicates the town's downward trajectory and the rise of the rural ghetto—areas marked by a form of concentrated black poverty that recalls the more familiar racial ghettos of urban America.
Coach's quip also offers a counterintuitive insight about why rural communities that once responded to prison construction proposals with resistance sometimes now embrace prisons as rare opportunities for public investment. He was not the only one who expected the expansion of the carceral state to help the town's economic fortunes. Larry Bryant, the future mayor (then city councilor) of Forrest City and former president of the local NAACP chapter, also supported the prison development when it was first proposed.
When asked why he supported the prison, another black community leader, Andre Stephens, Executive Director of Saint Francis County Community Development Corporation, exclaimed, "A prison beats the hell out of a paper mill." Similar "site fights," or debates over community opposition and support of facilities with harmful environmental effects, have been documented by scholars such as Robert Bullard, a leading campaign...
Online Only

For just $19.95 a year, get access to new issues and decades' worth of archives on our site.

Print + Online

For $29.95 a year, get new issues delivered to your door and access to our full online archives.
Already a subscriber? Log in: