By positioning itself as an expert partner in international climate efforts, GE gains access to developing economies, propping up a system that pushes countries deeper into debt and increases their reliance on unsustainable fuels.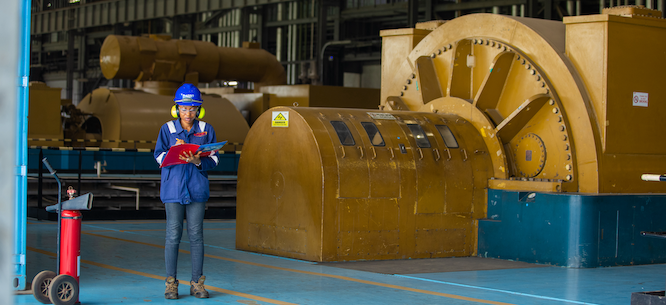 Last February, when President Joe Biden's Build Back Better plan looked all but dead, General Electric joined twenty-six other U.S. companies to call on Congress to salvage a climate deal. On its website, GE stressed that tax credits and grants to boost clean energy would advance U.S. interests in the global energy transition, generating domestic jobs in the wind industry. Filings compiled by the watchdog group OpenSecrets show that the negotiated successor to BBB, the Inflation Reduction Act, was the biggest target of GE's lobbying efforts in 2022. These efforts paid off. In August, Biden signed the IRA, securing exactly the kinds of lucrative tax credits GE had trumpeted. Yet less than two months later, the company laid off 20 percent of its U.S. onshore wind workers.
If GE's commitment to U.S. jobs is tenuous, its commitment to international climate action is only more so. In 2020, GE rebranded itself as a climate-friendly company, citing its investments in wind turbines. But as its renewables portfolio has clocked up more and more losses, GE has looked to dirtier forms of energy generation to offset the costs. Developing economies offer the company new pastures to profit from fossil fuel exploration. While GE was lobbying the U.S. government to pass incentives for renewable energy, it was building the first oil refinery in Uganda and opening the first brown coal power plant in Pakistan.
By GE's own account, the company is responsible for a third of the world's electricity; almost 90 percent of power transmission utilities are equipped with its technology, and it leads the global gas turbine market. As such, it has enormous influence over energy policy—and changing the way we generate electricity is key to reaching global climate goals. When a company like GE enters a country with an appetite for fossil fuels, it can turn back the clock on decarbonization efforts. For example, while GE partners with the U.S. government to supply turbines for Vietnam's first wind farm, it also supplies turbines for the country's first private and foreign-owned power plant, which will run on liquefied natural gas.
By positioning itself as an expert partner in international climate efforts, GE gains access to developing economies, thereby propping up a system that pushes these countries deeper into debt and increases their reliance on unsustainable fuels. Activists who focus their attention on oil and gas giants like Shell and ExxonMobil should also put energy equipment companies like GE in their crosshairs—because as long as there are power plants running on fossil fuels, fossil fuel exploration will continue.

Profit Over Climate in Foreign Aid
Since 1949, when President Harry Truman embarked on a "bold new program" to make American "scientific advances and industrial progress available for the improvement and growth of underdeveloped areas" of the world, U.S. international aid has been contingent on creating new markets for the private sector. This dynamic escalated with Obama's "trade not aid" approach, which was designed to shift short-term philanthropic support into long-term structural transformation, particularly across Africa. Obama-era programs like Power Africa and the Electrify Africa Act made it easier for U.S. corporations to enter developing countries on the premise that they would increase access to electricity, improving standards of living and creating new sources of profit.
Of the $7 billion initially committed for Power Africa, $5 billion was earmarked to support U.S. exports, and GE was one of the major beneficiaries of these funds. When Power Africa was launched in 2013, the introduction of GE technologies was a key component of its efforts to double access to power in sub-Saharan Africa. By 2020, however, electricity access had barely increased by 10 percent, with more than half of the population still without electricity. Even so, GE's equipment has been purchased for Power Africa projects in Ghana, Tanzania,  Mozambique, Kenya, and other countries, and GE remains a key partner of the initiative.
The money for electrification projects and projects intended to fight climate change flows through the same channels. For example, through Power Africa, the U.S. government committed $230 million to Kenya's second-largest wind farm, which came into operation in July 2021. GE signed a $155 million contract to supply and service the wind turbines for the farm, which funneled a large part of the international aid right back to a U.S. company. More recently, the Biden administration has committed funding to help developing countries transition to clean energy. However, Biden's foreign aid policies, like those of presidents before him, are limited by their reliance on creating markets for U.S. corporations.
GE's approach to the climate is often contradictory. In 2021, the company pledged to reach net zero by 2050, a goal that was overwhelmingly supported by its shareholders. At the same time, it announced plans to build a new manufacturing plant for its gas turbines. The company has been a key proponent of expanding the use of natural gas, especially in Africa. GE has funded the Energy for Growth think tank, a proponent of "gas-to-power" solutions. GE representatives frequently show up at high-profile events pushing for coal-to-gas transition.
GE's investment in gas-powered plants is an investment in a future that does not match its own climate goals. As per the International Energy Agency, to achieve net-zero targets by 2050, use of natural gas for electricity generation will have to be reduced by 97 percent by 2040. Moreover, a growing body of scientific research rejects the claim that natural gas can serve as a low-carbon "bridge fuel" to ease the transition to renewables. Experts point out that new gas infrastructure will lock in decades of emissions, and the burning of already exploited gas reserves alone can blow the carbon budget. A 2019 report by the pro-renewable group Global Energy Monitor found that if planned liquid natural gas projects go ahead, they could play as big a role in fueling the climate crisis as coal. Despite the mounting evidence, GE has doubled down on gas; in a 2021 report on accelerating energy transitions, it stressed that gas will "not just be a backup fuel" but the "destination fuel" in South Africa.
Citizens of countries concerned about climate change have little recourse to reject GE's approach. In exchange for aid, U.S. government policies force countries to open their power markets, buy GE equipment, and establish a model that prioritizes profit. This approach has proved to be financially and environmentally unsustainable; in several African countries, governments have been coerced into financially unviable deals with the private sector that push them into debt and exacerbate poverty.

The Privatization of the Power Sector
The starkest example of this process took place in Nigeria, which was part of Power Africa from the start. In 2013, Nigeria privatized its energy sector, breaking up the state electricity company into eighteen separate business units and handing them over to investors. This was supposed to light the homes of the poor and middle class and cut costs for businesses. "Better days are coming," then-President Goodluck Jonathan promised Nigerians as the process was finalized.
The United States Agency for International Development (USAID) and Power Africa provided financial, technical, and legal assistance for the privatization process. Yet in the years that followed, Nigerians' access to electricity barely budged. In 2020, almost half of the population still lacked access, according to the World Bank. That amounts to nearly 92 million people, the largest number of people without access to electricity in any country in the world. Recent investigations revealed that the Nigerian government pumped 1.7 trillion naira (around $4.4 billion) into the electricity sector between 2017 and 2020, but Nigerians are still waiting for their "better days."
The arrangement, however, has been rewarding for GE and for the private owners of Nigeria's power companies. The richest man in Africa, Aliko Dangote, has partnered with GE on oil, gas, and power distribution projects in Nigeria. Another long and profitable partnership has been with the business mogul Tony Elumelu, who coined the term "Africapitalism." One of the biggest investors in Power Africa, Elumelu has partnered with GE through his nonprofit foundation as well as through the conglomerate he chairs, Transcorp, which owns two power plants. In 2020, when Transcorp's bid to purchase a power plant was accepted, the company insisted that the Nigerian government first pay the debt of $130 million that it owed GE before finalizing the transaction. Power Africa negotiated with all parties involved to ensure that GE got its money and Transcorp got the GE turbines it wanted.
This wasn't the only project that prioritized private financial gain over services for the public. The Azura-Edo Power Station, like other gas-powered plants in Nigeria, relied on funding from U.S. agencies. USAID supplied lawyers who gave critical input on the agreement between the government and the plant's new private owners. This contract included a stipulation that if the deal is terminated early for any reason, the government will be mandated to buy the plant at a set price. The arrangement was applauded as "innovative" and upheld as a template for other power projects in the country. The deal was completed despite criticism from environmental groups, who argued that the project failed to consider renewable energy options.
Eight years later, the failings of this project are clear. Recent revelations show that the Nigerian government has been paying Azura a whopping $33 million per month—despite the fact that the plant has never delivered the quota of electricity it had agreed to supply. If the government decides to exit this financially draining agreement, it will have to pay Azura $1.2 billion, thanks to the contract USAID negotiated.
In other cases, privatization has produced not shortages, but costly oversupply. In 2014, the United States signed a memorandum of understanding with the Ghanaian government that committed more than $500 million to developing the country's electric infrastructure, power sector, and economy. This funding encouraged changing laws and regulations to make it easier and less risky for U.S. and African companies to enter into power-purchase agreements with Ghana.
By 2018, Ghana's energy shortage crisis "was quickly replaced with one of overabundance," in the words of one energy researcher. The "take or pay" deals that the U.S. government oversaw forced the Ghanaian government to pay private companies for electricity that was not needed or used. The government's energy budget now faces a projected annual deficit of over $1 billion until 2024. The International Monetary Fund estimated that, by the end of 2018, the sector had accumulated debts of $2.75 billion, roughly a third of which were owed to the private sector. As one of the core partners of the U.S. government in Ghana's energy transformation, GE has directly benefited from this crisis.
Whether in Ghana, Iraq, Pakistan, Vietnam, Egypt, or Mozambique, the U.S. government has made critical aid and technical assistance for electric infrastructure conditional on the purchase of equipment and services from U.S. corporations. The U.S. government plays a key role in enabling this flow of funds from some of the poorest countries in the world to some of the richest companies, overseeing the removal of checks and balances meant to protect countries from the excesses of the market. Risks are transferred from the private sector to the government, pushing countries toward debt and financial instability.

The Privatization Model Is Not Working
GE has exacerbated inequality in the countries in which it does business. That includes the United States. Data compiled by the watchdog Good Jobs First show that GE has received more than $2 billion in federal, state, and local funds in the United States since 2000. During the same period, three out of four GE jobs in the country have disappeared.
Similar patterns hold true in other countries that welcome GE with open arms. In Nigeria, between 2011 and 2021, the average income or wealth of the bottom 50 percent rose by just 5 percent; during the same period, the average income or wealth of the top 1 percent rose by 20 percent. For the rich, oil and gas have been lucrative industries. A 2017 Oxfam report noted that Nigeria's taxation policies are fueling the country's inequalities: every year, Nigeria loses $2.9 billion to tax incentives in sectors like power, gas, agriculture, and aviation. GE has benefited from these policies in Nigeria, just as it has benefited from public funding in the United States.
While GE tries to brand itself as climate friendly, it works with the U.S. government to push developing economies into accepting a privatized approach to energy generation guided by market forces. The short-term profiteering pursued by private companies drives countries to extreme financial and political insecurity and delays their transition to renewables. This is not just bad for developing countries. The environmental repercussions have implications for all of us. As GE's example shows, global climate goals are not always aligned with the interests of corporate America. It is time to channel U.S. foreign aid and energy transition funds away from multinational corporations and toward truly innovative and local solutions that prioritize the long-term interests of people and the planet.
---
Saheli Khastagir is a writer, painter, and international development consultant from India, based in Washington, D.C. She is one of Dissent's 2022 Emerging Writers.