In this photograph of Barbara and Beverly Smith of the Combahee River Collective, the framed pictures reflect an endless cascade of black women's intellectual labor and political action.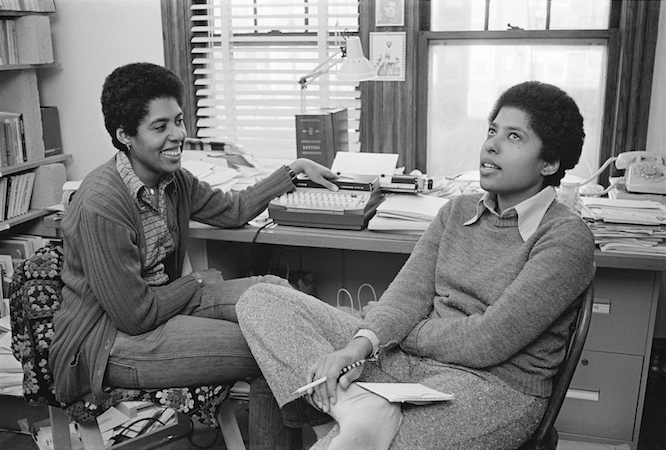 In 1978, photographer and self-described propagandist Joan E. Biren, better known as JEB, took a photo of Barbara and Beverly Smith, two of the founders of the Boston-based Combahee River Collective (CRC). Barbara gazes softly at her twin Beverly, while Beverly looks up, maybe mid-thought, with some papers in her lap. Her hand curls around her ankle, a double-sided pencil braided through her fingers. Her socks are loose and worn at the heel. She's ready to write, not run.
Since 1974 these twins, along with a host of their non-biological sisters in the CRC, had theorized about the material specificities of black women's conditions. Their statement, which shook up feminism forever the year before this photograph was taken, coined the phrase "identity politics" and argued that racism, sexism, capitalism, homophobia, and imperialism could not be understood as separate issues.
This black-and-white photograph captures the accessories of a life of activism and study: books, stacks of documents, a rotary telephone, a reading lamp, file cabinets. Further into the horizon, pinned onto the wall, two portraits reflect an endless cascade of black women's intellectual labor and political action. Up top is the journalist Ida B. Wells, and just below her is Harriet Tubman, who led the 1863 raid on the Combahee River in South Carolina that freed 750 enslaved people, and after which the CRC is named. It is easy to imagine the walls of present and future activists adorned with this very photo of the Smiths.
---
Tiana Reid is a Postdoctoral Research Associate in the Department of English at Brown University and a former editor of the New Inquiry and Pinko.