Since the sex wars, women have become more visible as producers and consumers of pornography, but many debates about working conditions and content remain stuck in the past. How should feminists, both within and outside the industry, engage with pornography today?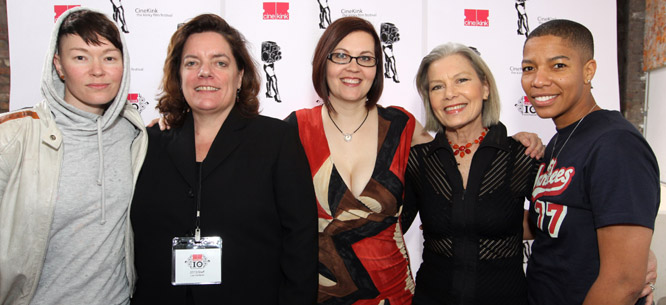 This February, prompted by the AIDS Healthcare Foundation (AHF), California's Division of Occupational Safety and Health (Cal/OSHA) heard over five hours of testimony from actors, writers, and filmmakers from the pornography industry about proposed regulations that would force them to treat clothes, fluids, sex toys, and other items as medical waste. California law already mandates condom use (AHF claims it is not enforced), but the proposed new regulations would have required performers to wear dental dams and goggles when filming some sex scenes. Although the industry standard is to test performers regularly, AHF asserted that the twenty-one pages of proposed regulations were vital to worker safety. The Free Speech Coalition, a trade association for the adult industry, vigorously disagreed, mobilizing almost a hundred performers and producers from across the country to oppose rules that, if enforced, might regulate pornography out of business.
In fact the FSC, which does support safer sex practices like regular testing, would jettison the condom law too. While some might say that condoms undermine the sexual fantasies pornography is promoting, FSC argues that it is performers themselves who should make decisions about safety on set. Adult industry professionals "should have effective and industry appropriate choices," chosen by the performers, the petition promoted by FSC read. "While condoms are one option, adult performers should have the ability to choose for themselves the method or methods of effective STI prevention that best suits them individually." The rules proposed by Cal/OSHA were "patronizing, cluttered with stereotypes and a sexist approach that strips performers of their reproductive rights and personal and professional medical privacy," said executive director of FSC, Eric Leue. They did not pass.
This wasn't the first time that an ideological battle over pornography has portrayed the industry as inherently dangerous, nor is it the first time that sex workers have faced the possibility of being put out of business because of "protection" they did not choose. That began back in the 1970s, when pornography had just become legal and radical feminists believed that shutting it down was essential to fighting violence against women.
Pornography transformed women into "adult toys," wrote feminist activist, journalist and Women Against Pornography (WAP) co-founder Susan Brownmiller in 1975, "dehumanized objects to be used, abused, broken and discarded." "Pornography is the theory; rape is the practice," former Ms. magazine editor Robin Morgan declared in 1977. Pornography, some argued, was a form of terror: women "will know that we are free when the pornography no longer exists," wrote Andrea Dworkin, one of the most well-known advocates of anti-porn feminism, in 1981. In 1996, legal scholar Catharine MacKinnon argued against the idea that pornography was a creative practice entitled to First Amendment protection. While pornography itself was not responsible for sexual assaults against women, wrote MacKinnon, "men who are made, changed and impelled by" porn were.
Yet porn also had its defenders: politicians, media figures, and civil libertarians who had historically sought to free sexuality from control by the state. Even more importantly, porn was vigorously defended within feminism. Beginning with a clash between feminists at the 1982 Barnard Conference on Sexuality, the struggle came to a head when Dworkin and MacKinnon drafted an anti-pornography civil rights ordinance at the request of city officials in Minneapolis, Minnesota. Although the ordinance passed, Mayor Donald Fraser refused to sign it, prompting anti-pornography activists to take it to Indianapolis, a city whose mayor supported the legislation. Here, the Feminist Anti-Censorship Task Force (FACT), a coalition of New York academics and culture workers allied with the American Civil Liberties Union (ACLU), successfully challenged the ordinance's constitutionality. Allowing people who believed they had been harmed by porn to sue for damages, they argued, would turn all erotica and sexual materials into a potential legal liability for the seller and result in de facto censorship. In effect, this prevented enactment of the ordinance anywhere in the United States.
Defenders of porn within radical feminism did not seek to deny the reality of exploitation and sexual violence: novelist Dorothy Allison, a member of FACT, wrote freely about having been subjected to cruel, sexualized beatings and incestuous rape as a child. But feminists who called themselves "pro-sex" objected to the idea that consuming or making porn was categorically harmful. Journalist Ellen Willis asked in 1979: "Is there any objective criterion for healthy or satisfying sex, and if so what is it?" In the same vein, others pointed out that the charges against pornography could be made against most erotic art. As former sex worker and lesbian feminist activist Amber Hollibaugh wrote in 1980, she "could make a strong argument for the potential violence of Harlequin romances" because of their depictions of heterosexual relationships. Gay historian and longtime feminist activist John D'Emilio saw violence against women on television and in mainstream films as a greater danger than porn, "since the mass media pose as real life."
Why, in other words, single out pornography as the sole culprit for the sexist oppression of women? What, ultimately, counted as porn—and who would decide? In 1993 queer anthropologist and activist Gayle Rubin proposed that feminists stop playing defense and go on the attack. Ending sexism and misogynist violence in commercial sexual culture could and should be addressed, not by getting women out of porn, she argued, but by getting them into it "as producers, writers and directors."
Can there be such a thing as feminist pornography? Many still say no. Echoing decades of anti-pornography feminist literature, Gail Dines told the Daily Beast in 2012 that "anyone willing to feed off women's bodies and use them as raw materials to make a profit has no right to call themselves feminists." But many feminists, including those who make porn, disagree. Despite decades of efforts to suppress it, porn is reaching larger audiences than ever. Making porn more politically progressive for those who consume it and making sets safer for performers are critical issues for feminist intervention—and feminist pornographers have chosen to take on both.
A Brief History of Feminist Pornography
It was October 1984. The MacKinnon-Dworkin ordinance had been signed by the mayor of Indianapolis and was heading to federal court. Lisa Duggan, a graduate student in American history and a member of FACT, had just published a front-page story in the Village Voice that would strike a blow to anti-pornography feminism and everyone associated with it by insinuating that these longstanding leftists had become right-wing censors. Soon, the appeals court agreed that the ordinance amounted to censorship. The Supreme Court upheld this ruling without comment.
That same year, a late-career porn star named Candice Vadala wondered if there wasn't a market for a different kind of porn. Like pro-pornography feminists, she imagined that sex films could celebrate women's sexuality and teach men how to be better lovers. A successful actress in adult film and video for over a decade as "Candida Royalle," Vadala was thirty-four and nearly "shot out"—an industry term that means a performer has been seen too many times and is losing value. It was time for her to make her next move. Building on changes in the genre that now emphasized feature-length productions, plot, lush settings, and dialogue, as well as a new home-video market catering to couples, she founded Femme Productions in 1984.
Vadala called her alternative vision for porn "positive sexual role modeling." It employed ideas developed by members of Club 90, a sex workers collective founded in 1983 that met regularly to discuss the industry. Vadala decided that her sets would be clean, respectful, and put women in control of their own images. Her films would include performers of color, dramatically underrepresented in the industry, and older actresses. Most importantly, she was inspired to change how women were represented in pornographic films: "These movies are sold based on the women," Vadala told German feminist erotic filmmaker Petra Joy in 2008, "but our sexuality was completely ignored in them."
While Vadala quickly found another woman interested in directing, and persuaded her ex-husband to back her financially, distributors balked. Ironically, they echoed anti-pornography feminist criticisms: porn was for men, not for women. "Until then the concept of couples movies was unheard of," Vadala later wrote. In 1987, in response to difficulty distributing her films, Vadala founded Femme Distribution.
The decade that followed changed the porn industry, in part because of the growth of erotica stores like Adam & Eve in North Carolina, once a sexual health clinic. These entrepreneurs served a growing middle-class market for sex toys, films, and other products; they presented sex as something that could be both enjoyed and learned. While the feminist sex wars raged, Vadala became a pornography innovator. Beginning with her first film, Femme (1984), she created woman-centered narratives that countered predictable, sexist story lines. Although they had rudimentary plots, the average porn feature typically rushed through a narrative setup and a crummy script to get to the "money shot," a visible male orgasm splattered over an actress's body and face. Men dominated the action, teaching women lessons about their own bodies. The cult classic Deep Throat (1972) features a male doctor who discovers what is "wrong" with his patient: her clitoris is in her throat, and she can only receive pleasure by swallowing his penis, finally stimulating the clitoris she cannot touch on her own. Although porn star Linda Boreman's throat claims the title, Harry Reems's penis is the star of the show. The movie culminates in Boreman's first, explosive orgasm, depicted by a series of rockets, fireworks, and explosions that entirely eliminate her body from the scene.
By contrast, Vadala's stories led the viewer through lush, sensual settings depicting women's pleasure in seduction and foreplay as well as intercourse. Rites of Passion (1988), for example, features men and women discovering mutual pleasure through Tantric sex. In Three Daughters (1986), sisters explore their sexuality; their middle-aged parents also rediscover their own erotic relationship. The Femme Chocolat series (2007) puts black women at the center of the action in settings that range from vacation beaches to the music business. As important, Vadala also introduced new workplace ethics that protected female performers' physical safety, gave them the power and status to make their own creative decisions on the set, and eventually, provided the opportunity to direct their own films.
By 2006 so many producers and directors had followed Vadala's lead that Toronto's Good for Her adult store established the annual Feminist Porn Awards (FPAs), which set criteria for what constituted feminist pornography. To qualify for an award, a film had to use erotic narratives to challenge stereotypes. In porn, this includes featuring performers of color, trans*, fat, older, or disabled performers, who are typically stereotyped or relegated to the fetish market in mainstream porn. To qualify as feminist pornography, the director had to put the actor's pleasure and agency at the center of the story, ask for actors' consent for any sexual act, permit actors to revoke consent, and provide clean and safe working conditions.
Before she died of ovarian cancer in September 2015, Vadala had become a pornography legend. She had produced eighteen films, directing and writing most of them. An almost unexplored figure in the histories of sexuality and feminism, Vadala led the way for today's feminist porn entrepreneurs, women and queers who view themselves not just as pornographers, but as educators, writers, activists, artists, and intellectuals. Most of all, Vadala set a precedent: she responded to feminist critiques of porn by making feminist porn of her own. Her movies were "more about the quality of the sex rather than how outrageous and violating it can be," she wrote on her website. "Women tend to thank me for creating movies that are sensitive to what they want to see, that encompass class and taste, and make them feel good about themselves and their sexuality. Men thank me for creating movies that they can share with their woman."
The Labor of Pornography
There is no doubt, however, that feminist porn is still a niche market in a booming, profit-driven industry largely oriented toward male viewers. Although it is difficult to document the size of a business that ranges from homemade videos to glossy magazines, an NBC report estimated that pornography was a $97 billion global industry in 2014. (Facebook, by contrast, reported $12.47 billion in revenues, and Time Warner $27.4 billion that year.) Porn's profits may also be significantly underreported. Major corporations like AT&T, Hilton, Time Warner, Rupert Murdoch's News Corp, and others derive enormous profits from distributing adult films, even though they barely market them and, as the New York Times reported in 2000, "they are not mentioned in annual reports except in the vaguest of euphemisms."
The industry is also less regulated than it has ever been. Pornography ranges from products made at home and distributed independently over the internet, to feminist porn promoted by progressive sex shops like Seattle's Babeland, to vertically integrated companies selling "alt-porn" like the California-based Vivid Entertainment. Although federal obscenity laws still exist, they are rarely enforced except when sexual materials feature, or are distributed to, legal minors.
What this means for adult performers is that porn is an expanding industry that can offer full-time, if brief, careers, or part-time work to pay the bills. In addition to the money, some performers see making porn as an opportunity to explore their sexuality, which makes the work personally meaningful to them. As Jill Nagle argued in Whores and Other Feminists (1997), artists, writers, paralegals, businesswomen, public-health workers, and graduate students were, as self-defined feminist sex workers, "fucking their way to broader conceptual horizons."
Like other forms of entertainment expanding into a "women's market" (such as the NFL), commercial porn has been putting more women in leadership roles for several decades. Christie Hefner, for instance, was promoted to Chairman of the Board and CEO of her father's Playboy Enterprises in 1988; in 2012, twenty-nine-year-old feminist sex-educator Lux Alptraum purchased Fleshbot from Gawker Media and became its CEO. Alptraum told Salon that her career was made possible by internet market segmentation: much like Amazon or Hulu, Big Porn can serve different sexualities, desires, and ages, which allows women who have a keen sense for a portion of that market to prosper. Alptraum remarked, "It's not so much of a top-down dictation thing any more."
The audience for straight pornography—traditionally, men expecting to watch heterosexual or girl-on-girl sex—is also changing. More women are watching. A 2012 study done by the Institut français d'opinion publique (IFOP) found that 82 percent of French women watched porn, up from 23 percent in 1992. In the United States those numbers, according to a 2013 Pew study, are far—and, as Slate's Amanda Hess wrote, suspiciously—lower, with 8 percent of women and 25 percent of men admitting to having used porn at least once. Yet the size of the female audience had still quadrupled since 2010.
This provokes the question: if porn is not going away; if its production and consumption is becoming more female; if, as Candice Vadala had hoped, women in porn are gaining more independence and power, how should feminists, both within and outside the industry, be engaging with pornography?
The ideological polarization of the "sex wars" continues to color the conversations we have about pornography today. Feminist pornographers agree that mainstream porn is stubbornly discriminatory, usually exploitative, and rarely scrutinized for abuses on the set. Although these inequalities are not unique to the pornography workplace, contemporary pro-porn feminists, in their zeal to defend pornography's sex-positive potential and debunk the stereotype that all sex workers are exploited, tend to sidestep such issues. So does FSC, which primarily defends the right of performers to work in porn and has created a system of self-regulation to keep producers on the right side of the law. On the other hand, the national feminist organizations that opposed porn back in the 1980s continue to conduct little research on women in the industry except when they are victims of sex trafficking. Discussions of "protection" in the industry are therefore ideologically skewed depending on which side of the sex wars you're on—sex workers are either "empowered" (erasing abuse in the industry or making workers hesitate to speak out) or by definition "exploited" (socially vulnerable, controlled by men, and unable to speak for themselves). Few advocates on either side are currently listening to what performers themselves have to say about the working conditions in the porn industry, and what they want and need to do their jobs without fear.
Pro-porn feminists first asserted that sex work is no different from other kinds of work during the fight against the MacKinnon-Dworkin ordinance, an argument that is especially important because it then follows that the porn set, like any other workplace, should be safe, regulated, and free from discrimination. Defending the sexual workplace has broader significance, too. "The issues for women in erotic films mirror the issues of women in general," civil rights attorney Mary Dorman told me. A longtime feminist, Dorman has numerous clients in sex work: what they, and all women need, she believes, is freedom from discrimination, regardless of how they make a living.
Although it is difficult to get accurate statistics of how men and women are paid in porn, it is widely believed that pornography is one of the few industries where women are better paid than men. According to porn agent Mark Spiegler, a few female performers make up to $350,00 a year—three times what most of the top-earning men make. The majority of performers, male and female, of course make far less than these top earners, but the gap in earnings applies across the board. The Daily Beast reported in 2013, for instance, that a female performer might do an oral sex scene for $250, while a man might do the same scene for as little as $50.
The industry relies on performers' capacity to separate sex work from intimacy: unsurprisingly, higher pay in porn seems to correlate with sex acts that are more physically or psychologically demanding. Straight male stars who agree to do scenes with other men, a deal called "gay for pay," can triple their normal rates; gay porn director Brad Hammer has seen men earn up to $7,000 for a few days' work. Spiegler told Business Insider in 2012 that a woman who agrees to a double penetration scene can earn up to $4,000.
Although women may be paid better than men, feminist pornographer Tristan Taormino notes that women are "on set potentially twice as long as men because they have hair and makeup, they have to show up with a bunch of their own wardrobe." Women also can't do the highest paid work, penetrative sex, every day. "There's got to be some time off to rest," Taormino points out. "It takes a toll on your body."
Additionally, women also have to spend money to make money. As feminist historian Mireille Miller-Young notes in A Taste for Brown Sugar: Black Women in Pornography (2014), the highest-earning female porn stars are paid for their work on set but not for the unpaid labor of maintaining their appearance. In contrast to the clothes Hollywood stars are loaned or given by designers, and the squads of makeup artists and hairdressers employed by a mainstream media production, a porn star's glamor comes out of her own pocket, and more is expected of women than men. Women are expected to arrive on the set with hair and nails done, all the clothes they will need for a scene, their bodies appropriately trimmed, tanned and plucked. "All of that prep for a shoot is unpaid and unreimbursed," Taormino told me, as are the robust social media presences actresses are expected to maintain.
If mainstream porn makes women hyper-visible, the industry goes to great lengths to make the conditions of their labor invisible—work on porn sets is usually self-regulated, non-unionized, and without benefits or enforceable industry standards for wages and intellectual property—conditions that can contribute to exploitation. Although anti-pornography feminism did not end porn, it did expose many of the abuses in a sexist, male-dominated industry. In her 1980 book Ordeal, Linda Boreman revealed that she had been forced to do Deep Throat "by a violent and abusive husband" who had beaten and raped her, threatened to kill her parents, and pimped her out to Hollywood stars. "Boreman had tried to escape three times, only to be tracked down and returned to her former state of sexual servitude," media scholar Carolyn Bronstein wrote in her book Battling Pornography (2011).
The generation of producers that followed Candice Vadala—feminist pornographers like Taormino, Courtney Trouble, and Erika Lust—are attempting to take the economic, physical, and social vulnerability of performers seriously. Making explicit agreements with performers about what will, and will not, happen in each scene is a major change that characterizes a feminist set, as is the director's guarantee that what has been consented to will be carried out. Good directors acquire a reputation for taking care of performers' bodies; they also make money by presenting authentic sexual scenarios that viewers can reproduce at home without hurting each other. Although these practices may not be observed across the industry as a whole, it is significant that FSC members are expected to adhere to a code of ethics that includes written service contracts, teaching performers to perform a scene safely, advising them of any physical risks involved, and enforcing professional behavior on the set.
Feminist producers also made a women's market visible to the industry, and courting these consumers has created an incentive for mainstream porn to be seen as explicitly respectful of female performers. Because of that, an accusation of sexual violence can have ramifications for those who are found to be abusive. Recently, the porn actress Stoya accused her former partner, James Deen, an actor popular with female porn audiences, of rape and assault off the set. Deen's image as porn's "Boy Next Door" crumbled when eight other women subsequently came forward with allegations that Deen had sexually assaulted them both on screen and off. Although charges have not been filed against Deen, trade associations, Deen's employer Kink.com, and an entertainment site, the Frisky, cut their ties with him. In doing so, feminist journalist Laurie Penny noted, porn "became the first professional community to respond to allegations of serial sexual violence by actually believing women from the start."
Self-identified feminist pornographers like Taormino also favor employment nondiscrimination policies that expand the market for their products and address inequalities in mainstream porn, criteria that are stated explicitly on the FPA website. "Part of our mission as feminists is to say we are going to treat performers fairly," Taormino says. "For me, as a feminist, that also means employing performers of color, and paying them the same amount as their white counterparts, which mostly isn't happening—the same as in Hollywood. And I'm going to make it a safe environment." According to Taormino, feminist pornographers are "concerned with safer sex, with consent and with making sure that people are working reasonable hours. Setting basic standards and being held accountable for them is really important." Following the Deen allegations, for example, Kink also revised its "model bill of rights" to try to strengthen protection of performers while filming and has introduced "model expected behavior guidelines" to clarify issues like consent, both on and off set. In fact, such practices, first established on Vadala's sets in the 1980s, are even appearing on mainstream Hollywood sets: in September 2015, the Hollywood Reporter noted that SAG-AFTRA was scrutinizing the shoot of a new HBO series to ensure that actors understood and consented to every act in every scene that involved nudity.
Much also remains to be done to address the stigma that lingers long after a performer may leave the industry. Linda Boreman left sex work repeatedly only to return to it because neither she or her husband were able to hold a job for longer than it took an employer or neighbor to recognize her. The internet exacerbates that problem for an actress: "Everyone knows she is a porn star, so even if she would be a good retail worker, no one is going to hire her," Taormino explained. An effort by feminist organizations to destigmatize sex work and pornography would support female performers by making the industry safer and better, but also expand the economic choices of those who spend any part of their working lives in porn.
Although porn is not technically an underground industry, lack of scrutiny of the porn workplace, either by the consumer public or organized labor, makes basic safety, hours, and wages matters that are adjudicated on the set, putting performers without an agent at a disadvantage. The stigma about pornography perpetuated by its critics also makes it difficult for people who are exploited to speak up. As a result, when performers are harmed or go unpaid, they are caught between a self-regulated industry and a justice system that does not recognize that sex crimes or economic exploitation can occur on a porn set. As Melissa Gira Grant noted in her account of Stoya's case in the Guardian last December, the actress's choice to broadcast the details of Deen's alleged assault on Twitter not only broke the silence around abuse by an influential performer, but also challenged the entrenched notion that "sex workers are by definition unrapeable." Another performer noted that although Deen's power in the industry had constrained women from reporting the assaults, they were also reluctant to feed the stereotype that all sex workers and performers in pornography are coerced, abused, and in need of rescue. In fact, like any other women in any other workplace, they simply need to feel safe doing the work they do.
Of course some feminists do, and always have, cared about porn. The almost exclusively feminist study of porn and sexual cultures is today well established in universities, mostly located in interdisciplinary fields like media, critical race, cultural, and queer studies. In 2014 pornography acquired its own academic journal, Porn Studies, whose editorial board includes scholars and activists like Taormino, Violet Blue, and Marty Klein who, as Miller-Young points out, "have important claims to make about feminism, the uses of sexuality, and the possibilities for sex work as a site of sexual dissent as well as labor."
Yet although porn has changed dramatically over the last thirty years, public knowledge about the industry hasn't. As a result, efforts to intervene still spawn arguments about censorship and public health rather than useful research about the exploitation of performers by a highly profitable and unregulated industry and how to address it.
Feminists working in the pornography industry are trying to change that. As radical feminists understood in the early years of women's liberation, sex is a site of both power and vulnerability. Contemporary feminist pornographers believe that the stories they tell about sex matter, not just because they give form to our fantasies, but because they can help us question and remold the real-world inequalities that replicate themselves as sexual fantasies. They believe that, because of its popularity as well as its intimate nature, porn offers valuable opportunities for challenging racism, sexism, ableism, classism, and exploitation; for disseminating feminist ideas about women, the body, and sex; and for teaching the art of human intimacy. "If your mind records a pornographic image . . . that may stay with you the rest of your life," warned state senator Todd Weiler who has called for Utah to declare pornography a "public health emergency." But if that were an image produced by a feminist pornographer, starring well-paid and protected sex workers demonstrating how sex can be fun, respectful, and safe—couldn't that be a powerful thing?
---
Claire Potter is Professor of History and Director of the Digital Humanities Initiative at the New School. She is currently writing a history of the feminist anti-pornography movement, Beyond Pornography: Radical Feminism and the Campaign to End Violence Against Women.