Spirit is a power only by looking the negative in the face and living with it.
Living with it is the magic power that converts the negative into being.
—Hegel, Preface to The Phenomenology of the Spirit, 1807
My city's in ruins / My city's in ruins
Come on rise up! / Come on rise up! / Rise up
—Bruce Springsteen, "My City of Ruins" from The Rising, 2002
WHEN I was a child, about sixty years ago, the city's publicly owned radio station, WNYC, had a wonderful announcement that it would transmit every hour on the hour: "This is Station WNYC, New York City, where seven million people"—at some point in the early 1960s it became eight million—"live in peace and harmony, and enjoy the benefits of democracy." I was thrilled by this language; I can see now that it formed my first idea of New York.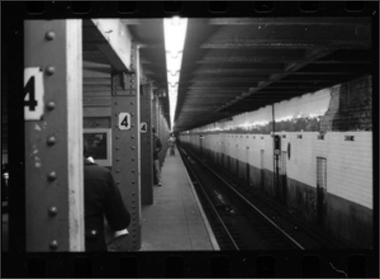 My parents were too poor to have gone to college, but their talk was rich in ideas. We spent many weekends exploring New York's grand material structures—the Harbor (still thriving all through my childhood), the Statue of Liberty, great buildings, Times Square, Penn and Grand Central Stations, Central Park, the Brooklyn Bridge. We learned to love them, but also to see their human costs. From the deck of a ferry or a skyscraper, we would exclaim, "Wow!" Then my mother would say something like, "Isn't it beautiful? And don't forget, you can get here on the subway." And my father would say something like, "And don't forget who built this." Who? I would ask. Before long I knew the answer: "People we never heard of, who worked themselves to death." It was only later on that I realized they meant people like them, who worked themselves to death. But they were proud of the city that anonymous, exploited people like them had built. The bad deals they had got in their lives were mitigated by their pride in being part of "the greatest city in the world." The message on the air was a melody they could dance to. The New York they hoped to pass on to us was a real community, a place where the sadness of individual lives—and there was plenty—could be overcome by the glory and harmony of the whole.
When I left New York at the start of the 1960s to go to graduate school in England, I could hear the message till my ship, the S.S. United States, was well out on the sea. When I came back at the end of the 1960s to teach at City College and the City University of New York Graduate School, my message was gone. No one could remember when it went, or why. Nothing could bring it back.
I had no idea then how far my city of dreams had unraveled, and how much more it was still going to come apart. But in fact, day after day, year after year, for thirty years and more, we were bombarded by visions of our city coming apart and falling down. "The disintegration of New York" became a m...
Online Only

For just $19.95 a year, get access to new issues and decades' worth of archives on our site.

Print + Online

For $29.95 a year, get new issues delivered to your door and access to our full online archives.
Already a subscriber? Log in: