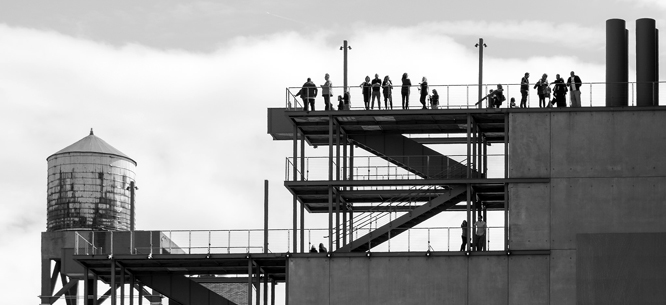 Until this spring, New York's Whitney Museum of American Art existed as the Metropolitan Museum of Art's poor cousin. In any other city, Marcel Breuer's 1966 Whitney on Madison Avenue (an inverted ziggurat museumgoers entered by crossing a small moat) would have been treated as a rare gem. But in New York, the old Whitney could not compete with the Met, which in addition to its unparalleled collection, has four blocks on Fifth Avenue all to itself and Central Park behind it.
Now all that has changed. The new Whitney on 99 Gansevoort Street, in the heart of New York's fashionable Meatpacking District still occupies tight quarters, but it has ceased being the Met's poor cousin. The new Whitney is a 28,000 ton heavyweight with eight stories of galleries and offices and incredible views: the Statue of Liberty in the southwest and the Empire State to the northeast. The new Whitney and the nearby Highline (the park built on an abandoned rail line) now share a billboard on which art is featured. Its other close neighbor, the Polshek Partners' Standard Hotel, was used by Madonna as the locale for her recent video, "Bitch I'm Madonna."
This Whitney is the work of the Italian-born, Paris-based architect Renzo Piano, who first achieved international fame in 1977 when he and Richard Rodgers (his partner at the time) completed the Centre Pompidou in Paris. They astonished the architecture world by displaying the internal workings of the Pompidou—pipes, air conditioning, elevators—on its outside, rather than concealing them within its interior.
What makes Piano's Whitney still more formidable is that it represents a growing trend by museums to increase their popularity by creating dazzling buildings to house their existing collections. The trend has its roots in Frank Gehry's 1997 titanium-clad Guggenheim Museum in the gritty, Spanish industrial city of Bilbao. But the new museum trend is not limited to small cities. It may be seen in the Tate Modern, which the Swiss architecture firm of Herzog & de Meuron created in 2000 by reworking London's Bankside Power Station, and in Zaha Hadid's 2011 Riverside Museum on the River Clyde in Glasgow, which features peaked windows and a zigzag roof suggestive of waves on water.
What lies behind this trend is the implicit belief by museum directors that they are in competition for the cultural dollar. They not only have to be more appealing than rival museums, but also beat out symphonies and theaters for the arts' audience that will support them in the future.
In the case of the Whitney, Piano has gone out of his way to captivate visitors, though how well he has succeeded remains to be seen. When the new Whitney opened to the public this May, it titled its inaugural exhibition "America is Hard to See." The title comes from a Robert Frost poem about the difficulty of knowing America, ...
Online Only

For just $19.95 a year, get access to new issues and decades' worth of archives on our site.

Print + Online

For $29.95 a year, get new issues delivered to your door and access to our full online archives.
Already a subscriber? Log in: