In a twisted parallel to the country's long tradition of masked luchadors, Mexico's cartel leaders have carved out their own traditions of anonymity.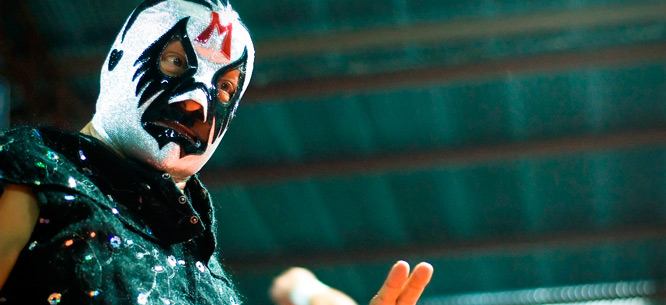 It was April 2013 and the FBI had a unique lineup on their hands. Working with local SWAT officers and an air support helicopter from the Texas Department of Public Safety, agents stormed the Cine El Rey, a historic downtown theater. Making their way to the dressing rooms, they arrested six luchadors—masked wrestlers of the Mexican sport of lucha libre—who had come north to perform in a showcase.
Officially, the FBI was there in support of Immigration and Customs Enforcement (ICE) to apprehend an individual wanted on an "immigration violation." But as the overwhelming show of force suggested, the raid had bigger stakes. ICE denied involvement, forcing an FBI spokesperson to blame the initial version of the story on a miscommunication within the Bureau. As it happened, the reason was not a cross-border immigration infraction but the ongoing war against Mexican drug cartels. That evening, the FBI's target had been a drug trafficker who moonlighted as a luchador, hidden by his mask and the stage name Imagen III. Eventually, the FBI confirmed that its target had not even been at the theater that night.
In the end, the operation boiled down to a case of mistaken identity. There had been a wrestler who went by Imagen at Cine El Rey, but his name was Imagen II, a name he says he took in honor of his deceased brother. This Imagen slipped out just before the raid, later surfacing to speak to the Monitor, a south Texas newspaper, to clear his name. Identifying himself only by the initials R.C., he said he was a truck driver from the Mexican border city of Reynosa, and had never been a gangster. "I work an honest job and I wrestle because it is my passion," he told the paper. "I have been wrestling for twenty years under this name. It is a family tradition. Why do I have to change it because another person uses a name like it?"
The wrestler R.C. was mistaken for, Imagen III, was actually Jesús Alejandro Leal Flores. Known in the underworld as Comandante Simple or El Metro 24, Flores was believed to be a leader of the powerful Gulf Cartel, which operates throughout much of northeastern Mexico. Like R.C., he is from Reynosa, but as the head of the Los Metros faction of the Gulf Cartel, he's anything but a humble working man. It is believed that he got his start under Armando González, one of the founders of the Zetas. Originally comprised of defectors from the Mexican special forces, the Zetas were hired to provide armed support for the Gulf Cartel's narcotics operations before they split off on their own in 2010.
Lucha libre has been nothing more than a side project for Leal Flores. In a country where narcos launder their money through soccer teams and commission bands to write narcocorridos that celebrate their bloody accomplishments, lucha libre has remained almost untouched by cartels. But Leal Flores's two pursuits are not entirely unconnected. When the cartel leader donned the Imagen mask, he drew together two subcultures in Mexico with traditions of anonymity.
One origin story traces the use of the mask in Mexico back to an Irishman from Boston named John "Cyclone" MacKey, who achieved notoriety in the United States for wrestling in a mask in the southern circuits. He was spotted by a lucha libre promoter, who brought him to work for the league that became the Consejo Mundial de Lucha Libre in the 1930s. As the mask gimmick was dying in the United States, in Mexico it began taking on a significance that now dwarfs the sport itself. Cotton and then spandex replaced the suffocating, uncomfortable suede, and more complex designs began to appear on the faces of the luchadors. During the golden age of lucha, three of the sport's greatest wrestlers—Blue Demon, El Santo, and Mil Máscaras, collectively known as the Big Three—wrestled in iconic designs that have since defined the look of lucha masks.
Promoters quickly realized that crowds loved the allure of the anonymous wrestler, and traditions developed in the sport to protect masked characters' true identities. To unmask a luchador during a match became shameful, an act attempted only by the lowest of rudos, lucha libre's cartoonish villains. The only exception is after a lucha de apuestas, or match of wagers, where a masked wrestler bets his mask against another's. When the bell rings and the loser is unmasked, only then do most luchadors reveal their name and birthplace.
The emphasis on anonymity that began inside the ring has carried over to life outside it. Whenever luchadors are seen in public, they are always masked. They fight in spandex briefs and attend publicity events in designer suits and ties, but their faces always remain concealed. In 2012, El Santo's son sued Marisela Peña, the head of one of the largest lucha libre promoters in Mexico, over the use of his likeness on a DVD and, of course, showed up for the first hearing in his mask. The magazine Proceso reported that El Hijo del Santo reluctantly removed his mask at the insistence of the defense. He showed the judge, the clerk and the defense lawyer his face and, turning to Peña, said "It's me, Marisela. You know it's me, El Hijo del Santo." The judge opposed the defense's request to allow a public audience or to force El Hijo del Santo to remain unmasked for the proceedings.
The names and residences of most masked luchadors cannot be found on public record. The real name of Blue Demon Jr., the adopted son of Alejandro Muñoz Moreno, the first Blue Demon, is still unknown after twenty-nine years as a luchador. "Many people believe I don't exist," he once said in an interview. The man behind the mask is essentially a nobody, as El Santo's luchador son once put it to ESPN. "When I put on the mask, I transform. I become El Santo," El Hijo del Santo said. "The mask gives me strength. The mask gives me fame. When I take off the mask, I'm a normal human being who can walk by you without you even saying 'goodbye.' Without the mask I'm a normal human being like everyone else who has problems, who cries, who suffers."
In a twisted parallel to the luchadors, cartel members have carved out their own traditions of anonymity, not through colorful masks but with acid and lead. Leal Flores did not need the mask of Imagen to conceal his identity; his reputation for violence was enough. While Leal Flores stayed with the Gulf Cartel after the split with the Zetas, he did not go soft. As he rose through the Gulf Cartel, he and other leaders in Reynosa became noted for the use of pozolear, the practice of dismembering bodies and "boiling" them in lye.
The tactic is most often used for members of rival cartels—five Zetas were said to have been executed and "boiled" personally by Leal Flores's cousin, Cherrys. But police and journalists who don't follow the cartel's rules are punished as well. Reporters in conflict-ridden border towns like Reynosa have been beaten to death or disappeared for reporting on cartel violence. The environment becomes especially dangerous during periods of infighting or turf wars between two cartels.
In 2010 the power struggle between the Zetas and the Gulf Cartel erupted in public. A high-ranking member of the Gulf Cartel, Samuel Flores Borrego, ordered the execution of Sergio Peña Mendoza, known as Concord 3. The Zetas demanded that Borrego be turned over. The Gulf Cartel's refusal triggered the kidnapping and killing of sixteen of their members and sparked a blood feud between the former allies. Violence in Reynosa exploded.
The secrecy of the cartels, combined with a certain fog of war that descended with the violence made it difficult to tell who was actually working with the cartels. As the military looked for ways to assert itself over an anarchic summer of violence in 2010, yet another masked wrestler named Imagen got caught up in the violence. Jorge Armando Cantú, a beloved rudo wrestling in local promotions under the name Imagen I, was riding in a pickup truck with two other passengers when they were confronted by a detachment from the Mexican army. The military later insisted that the three men had fired first, and photos from after the confrontation showed weapons scattered on the pavement near the truck. But Cantú's sister, who had been riding behind the truck, insisted she saw him and his companions throw their hands up before the army sprayed them with bullets. Cantú died there on the road, along with a worker from the state oil company, Petróleos Mexicanos, and a third, unidentified male. Other witnesses later saw soldiers approach journalists who had taken photographs of the crime scene being told by soldiers to delete them. The signs hinted at an unjust killing that the army was hastily trying to cover up.
On the website of the lucha libre podcast Bajo Las Capuchas, a small photo memorial to Cantú sprang up. Soon, anonymous comments noted that the luchador was also connected to the cartels. In November 2011, a narcocorrido by Los Ahijados de Nuevo Leon memorializing the death of Comandante Imagen was posted to YouTube. Years later, Cantú's son posted a photo to Facebook of a man in a balaclava, inscribed with the name Imagen I. In his hand he carried a radio and slung around his neck was an Armalite battle rifle. He wore a baseball cap monogrammed with the initials C.D.G., referring to the Gulf Cartel. Though law enforcement never publicly linked Cantú to drug trafficking, it seemed he had hidden ties to the cartel.
The same year Cantú was killed, Ciro Gómez Leyva, then news director of Mexico City news network Milenio, declared: "Journalism is dead in Reynosa." The threats and killings were suffocating. Gómez had sent a reporter and a cameraman to document the violence in the town, only to have them picked up by narcos, who beat them and ordered them out of Reynosa. Local journalists were beaten to death or simply disappeared. The fear and silence created by this violence was replicating itself throughout the industry. In Reynosa, journalism professors began pushing students to cover politics or sports—or if they must cover crime, to avoid picking sides in the drug wars.
Why are men with such big guns bothered by a little information? The narcos take their privacy as seriously as a luchador defending his mask from the grabby hands of a rudo. In late October 2011, a message, supposedly from a faction of the hacking collective Anonymous, announced the launch of #OpCartel against the Zetas. The story goes that someone in Mexico with an affinity to Anonymous had been kidnapped following a student protest in Veracruz, and the group threatened to "dox," or release the personal information—names, home addresses, places of business—of individuals connected to the Zetas. Other members rushed to publish messages denying their involvement and advocated for the cartel operation to be aborted in order to prevent individuals on the fringes from being targeted by other cartels. In a place like Reynosa, choosing to work with the cartels is sometimes just choosing to run away from a greater danger. Anonymous hesitated, and in the meantime, narcos left a beheaded body at an intersection in a wealthy part of Nuevo Laredo, a border town northwest of Reynosa. They claimed it was a blogger, known only as El Rascatripas. On the body, the Zetas hung a sign saying, "I'm Rascatripas and this happened to me for not understanding that I shouldn't report things on social media websites." Whatever was left of #OpCartel stopped.
But even narcos sometimes overshare on social media. Leal Flores's cousin Cherrys became known not only for his brutality, but for showing his face in photos with his victims. In images that appeared on social media accounts dedicated to the world of narco-trafficking, such as Victorio's and Blog del Narco, Cherrys openly shows his face while he prepares to pozolear a body. One photo shows his arm reaching into a split-open chest cavity. In another, he sits on a curb, his eyes sleepy and stoned behind thick frames, while holding up a mutilated arm and leg.
Cartels on Mexico's west coast seem to enjoy the limelight even more. A soldier from the Knights Templar cartel who goes by the name Broly Banderas—and looks every inch a bad boy with a soft side—turned into a sensation outside the narco beat when he posted a stream of selfies with blood or bandages framing his pouting face. One shot in the front seat of the car even offers a glimpse of Broly's gagged victim in the back.
But Broly is the exception to the rule. In an interview with the blog Narco Noticias, Broly complains that others have begun tagging him in statuses containing threats against other narcos or talking about criminal acts. "Because of them the bosses already threaten me to stop that bullshit or they are going to kill me," he said. "They just tell me to come to whatever place and me without question will go and they will kill me there." For Broly's garishness as much as his questionable morals, people want him dead, and every few months or so, a YouTube video appears claiming he's been killed. As of April 2014, Broly lives.
Leal Flores maintained his anonymity. A Tamaulipas law-enforcement officer once described him as a "soapy fish" for his ability to blend in with crowds and evade capture. No photos of his face are public. The only image you'll find is a video of him accepting the honor of "most charismatic wrestler" in Juba Promotions, in the mask that each version of Imagen wears. His chin and lips protrude out from under the black mask, studded with the design of an eagle on the forehead and an open wing around each eye. Never fully hidden, never too exposed.
Until, in 2014, he finally was. On April 1, Mexican authorities caught Leal Flores after a day of heavy drinking in the Jardines Colonial blocks of Reynosa. The Monitor reported that Leal Flores and his personal guards, known as his "30s," were too wasted to resist being taken into custody, but some members of Leal Flores's entourage were able to call in backup. A gunfight ensued between state authorities and the Metros, and a Federal Police officer was killed. As the police retreated with their bounty, cartel members started blockading streets and firing on officers; but it was in vain. On Wednesday, Mexico's attorney general confirmed Leal Flores was in custody and being transported on a plane from Reynosa.
But as the drug war grinds on and cartel leaders are killed and captured, Leal Flores's arrest only brings more uncertainty. Months after his arrest, an online search for Leal Flores still only turns up the still of Imagen III. Normally, an operation like his arrest would yield a photo op—federal agents, wearing balaclavas for their own protection, holding out their bounty like a trophy. Cartel leaders escape custody all the time, a feat the famed narco El Chapo performed in 2001 when he fled a maximum-security prison in a laundry cart. Perhaps Leal Flores is simply waiting for his chance to slip back under the mask once more.
---
Peter D'Amato writes weird stories about sports, politics, crime, and human rights in the Americas.