Global climate institutions have embraced the primacy of capital, private firms, and markets—and in so doing have fatally undermined their own efficacy.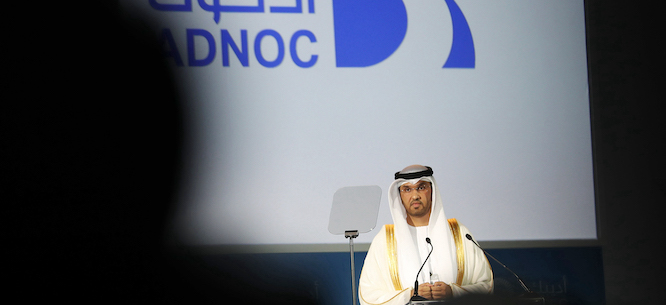 In early January, the United Arab Emirates named Sultan Al Jaber president of COP28, the twenty-eighth meeting of the Conference of the Parties to the United Nations Framework Convention on Climate Change (UNFCCC). Al Jaber is CEO of the UAE's state-owned oil company, Abu Dhabi National Oil Company (ADNOC), and chair of the board of Masdar, the state-owned renewable energy corporation. He has announced his commitment to bring the private sector's "business mindset" to bear on "a pragmatic, realistic and solutions-oriented approach that delivers transformative progress for climate and for low-carbon economic growth." Meanwhile, ADNOC is currently planning to increase production from 4.3 to 5.1 million barrels of oil per day by 2027, and potentially to 6 million or more by 2030—the very same year COP21's Paris Agreement set as the deadline for a 43 percent reduction in global emissions.
The fact that COP28 is being led by an oil company boss is the logical outcome of a distorted and defanged framework. Corporations and several states—the United States most prominently—have worked to undermine the UNFCCC: the negotiation process is cumbersome and manipulable, commitments are easily diluted, objectives remain voluntary, and enforcement is not even on the table.
In 2018, Joel Wainwright and I published a book in which we argued that the COP meetings were one of several signals of a phenomenon we called "Climate Leviathan"—an inchoate but emerging set of institutions with the global reach to address climate change, which also aimed to protect capital and existing distributions of wealth and power. Those who currently sit atop the global hierarchy, we wrote, would attempt to deal with climate change in a way that reinforced that hierarchy. We suggested this effort would lead toward some form of planetary governance—a means of coordination or domination that set climate rules to save the capitalist planet. Not only would this development result in further injustice; it wouldn't work, even on its own terms.
Five years on, there is perhaps less reason to expect further consolidation of planetary capitalist governance than we thought—at least in the short term. What is clear is that whatever those strolling the halls of corporate and state power are currently doing about climate change, it is inadequate to the task. The assumptions that underwrite the promises of the future—models that jauntily project 2 percent global growth rates propped up by stable political-economic regimes 100 years from now, or green tech's dreams of electric airplanes and carbon-sink capitalism—are fantasies.
It still appears that global-scale arrangements may ultimately play a crucial role in adapting politics and governance to the needs of capital on a hotter planet; the March 2023 publication of the Sixth Assessment Report of the Intergovernmental Panel ...
Online Only

For just $19.95 a year, get access to new issues and decades' worth of archives on our site.

Print + Online

For $35 a year, get new issues delivered to your door and access to our full online archives.
Already a subscriber? Log in: