Only worker power can make good on the promises of the Biden administration.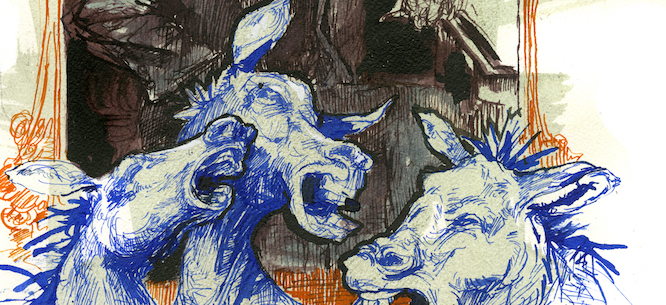 This article is one in a series of arguments on elections and coalitions in our summer issue.
Employers in the United States and many other countries are awash in cash. In 2020 alone, workers' labor produced one new billionaire every three days in the United States. While that number is eye-popping, China bested it by producing one billionaire every thirty-six hours. And Sweden was second only to Russia in the percentage of GDP gobbled up by the superrich. Sweden! Global billionaire wealth increased by $5 trillion to $13 trillion in just twelve months, while essential workers—and their families in overcrowded homes—were getting sick and dying. The pandemic has generated many horrifying statistics, but topping the list are the outrageous, unacceptable deaths among people of color, the poor, and the elderly.
Despite staggering wealth and income inequality in the United States, President Biden is bargaining against himself on his already way-too-small proposal to tax the rich, and far too many Democrats oppose the measure. While disappointing, that's to be expected. But what's now becoming absurd in the race to the death of the working class and our unions is the lack of strikes or any serious effort to build the power required so workers can reverse fifty years of nonstop abuse. If unions don't run left now and challenge the administration over who wins in this economy, who will? Isn't it finally time for unions to raise expectations—not just to say that workers deserve more but to use every tool in the shed to win?
A street protest here and there, symbolic demonstrations against fast-food and retail giants—which aren't strikes despite being labeled as such—and pouring workers' money into public relations and political donations to highly compromised Democratic candidates are grossly insufficient to the task. It's incredibly inexpensive and easy for any administration to make labor and other progressive leaders feel important by appointing them to a task force or inviting them to White House meetings and cocktail parties. But playing the "inside" game has no chance of winning when there's not a concurrent and even more serious "outside" strategy.
Biden has fired a few offensive officials from the Trump years and made pro-union statements. Despite Biden's probably being the most pro-labor president ever—if we remove Lincoln from the list—unions are already experiencing the familiar sentiment that they need to be patient. Absent a real outside game, including mobilizing for strike activity the likes of which have not seen in decades, we will fail. Thinking about the consequences of that failure is unbearable.
An outside strategy would have looked like a "100 days rally" on April 30 in Washington, D.C., with over a million workers demanding that the pie available gets way bigger and they get a much bigger portion of it, too. An outside strategy would mean issuing a report card on the new administration and reinforcing our demands on the street, over strong objections and warnings not to do so by senior administration officials, and despite turf wars and petty—or even substantial—differences among union leaders.
We are out of time. The climate crisis is already killing the same people as the pandemic and the police, in grossly unequal numbers. If unions blow it now, we will restore an overt white nationalist to the White House in 2024 by losing the House or Senate or both in 2022. We know the right's game plan, now in full view: suppress a huge number of votes by any means necessary, be willing to seat "alternate electors" (who are willing to steal an election), and use raw violence as needed.
So, what's our side's plan to win? To have close relationships with the White House? The ability to phone people in power and have them answer your call is very important—no quibbling about that fact. But why they pick up the phone and what happens as a result of the call matters enormously. When our side wins elections, all we win is the right to fight with different people—hopefully ones that don't call out the military to shoot us. But to think we must stop fighting is to surrender to a bleak future.
The federal government's budget is our budget. It belongs to the people. But we have to build the power to own it by taking it from the ultra-rich. That's extremely unlikely to happen if the new administration's various task forces take as long to come up with recommendations as is typical; the 2022 midterms will be over before any legislation has passed. It definitely won't happen if armchair revolutionaries call for unions to do the work but don't make a deliberate, strategic plan to force it.
The New Deal era teaches us that strategic strikes in key labor markets are as essential to our future as workers are to everyone having food on their tables during this pandemic. We must make this government work. That takes power, not patience.
In May, one local union showed the way forward: 5,000 nursing home and group-home workers took strike votes as part of the plan by District 1199 New England (part of SEIU but a local union with a long independent streak) to set a new national standard for their pay and benefits. Because the union regularly exercises its strike muscle and therefore can deliver credible strike threats, and because it runs the kind of political program urgently needed across the country—one in which nobody gets confused because we keep fighting after the election even when "our guy" wins—the nursing home workers set a new national standard: $20 an hour for certified nursing assistants, $18.50 for housekeepers and cooks, and additional funding for pension plans.
Imagine what could happen if unions took the District 1199NE approach national. Winning a new New Deal will require the same level of power to create a real crisis for the elite in 2021 and 2022—just as workers did from 1933 to 1935. Only worker power, exercised through collective strike actions and then rolling strike-ready mobilization into the voting booth, can make good on the promises of the Biden administration.
---
Jane McAlevey is an organizer, author, and scholar. She is currently a Senior Policy Fellow at the University of California at Berkeley's Labor Center, part of the Institute for Labor & Employment Relations. Her most recent book is A Collective Bargain: Unions, Organizing, and the Fight for Democracy.