The labor movement is an ongoing fight for our lives and our humanity.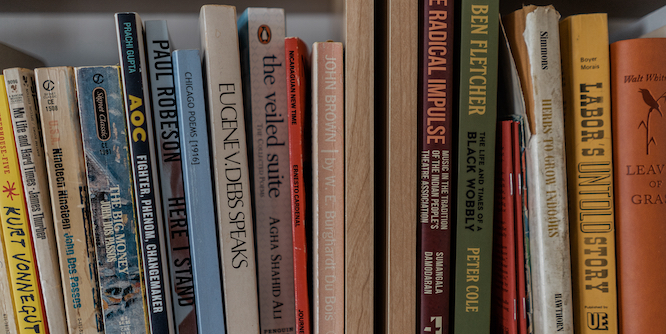 The following is part of a series of essays, "Why I'm (Still) a Socialist," in our Fall 2022 issue.

I became a socialist at age sixteen, thanks to a lucky Google search and my first experience of wage labor.
The Panera Bread in Alcoa, Tennessee, deserves much of the credit. Long days on my feet—toting ice, brewing coffee, and washing dishes crusted with broccoli cheddar soup—took a physical toll. I encountered the condescension of customers toward service industry workers and the harsh tactics bosses used in the workplace, from refusing to train me on other positions because of my limited availability to preventing a coworker from going home to check on her sick child. 
Eugene Debs put words to these feelings.
I learned about him through a deep dive into the history of freethinking. At eleven, my parents threatened to kick me out of the house if I refused to say I believed in God and Jesus. By fourteen, they had split—making it safer to come out as an atheist, as well as dramatically changing our family's financial situation. I developed a deep interest in and feeling of kinship with freethinkers who had faced familial or societal ostracism for their lack of belief.
I became fascinated with the Scopes Monkey Trial, which had occurred about eighty miles from where we lived. I learned everything I could about legendary lawyer Clarence Darrow, who had defended intellectual freedom in the Scopes case, checking his autobiography out of our local library. In it, he discussed representing Debs during the 1894 Pullman Strike. "There may have lived some time, some where, a kindlier, gentler, more generous man than Eugene V. Debs, but I have never known him," Darrow wrote. "Nor have I ever read or heard of another."
From Debs, I learned about solidarity, wage slavery, and the possibility of a world without class. I read and reread his Labor and Freedom, along with the Autobiography of Mother Jones and the Wobblies' Little Red Songbook. At the time, I thought union organizing was something you read about. When I got to the University of Mississippi, Joe Atkins, a brilliant and dedicated journalism professor, taught me it was something you did.
During my freshman year, Atkins scheduled a meeting on campus for students and faculty to come together to support Nissan workers attempting to unionize their factory in Canton. He invited me to meet the United Auto Workers' organizer, Richard Bensinger, beforehand in his office. In many ways, Bensinger seemed like a reincarnation of Debs: tireless and passionate, he had dedicated his entire life to the movement and still saw the joy and beauty in it. He introduced me to the Nissan organizing committee, whose courageous members, like Morris Mock and Travis Parks, were fighting to organize the mile-long factory and facing a union-busting onslaught from Nissan and its law firm, Littler Mendelson.
I sorted through workers' statements about health and safety, which made the urgent need for a union clear. After management brushed off one worker's health concerns, he collapsed on the assembly line and died. A supervisor ordered another worker to override safety shutoffs so that production would continue; in the process, that worker was exposed to toxic levels of formaldehyde, causing him to become epileptic. Still others developed carpal tunnel syndrome from the repetitive motions their jobs required; many were subsequently fired after a brief medical leave. These laid-off workers, with injuries that made it difficult to find other employment, were struggling to survive.
Reading these accounts, Debs's words became even more real to me. The labor movement was not merely a historical phenomenon, but an ongoing fight for our lives and our humanity.
Two years later, I helped organize workers at SPoT Coffee, a café chain in Buffalo, New York, that competed with Starbucks. Afterward, a SPoT worker arranged a meeting between myself and a Starbucks worker to discuss organizing their workplace; not long after that meeting, their bosses caught on, and the Starbucks worker was fired. When I returned to Buffalo after a brief stint at grad school, I got a job at Starbucks so I could work in the industry I was organizing and help avenge the firing of my friend.
I quickly learned that Starbucks workers were overwhelmingly receptive to the idea of unionizing. Many, like Lexi Rizzo, had been in favor of it for years. For others, forming a union made intuitive sense: of course they wanted a say in the workplace and to be able to advocate for better pay and conditions. In August 2021, eight months after I'd started with the company, fifty of us came together from stores across Buffalo and launched the Starbucks Workers United campaign.
Up until that point, our employer had been masquerading as a progressive company, touting themselves as supportive of Black Lives Matter, as a safe space for LGBTQ+ workers, and as leaders in sustainability. While they might not welcome the union, we thought, surely they couldn't openly fight it?
We were wrong. Starbucks flew in over a hundred corporate executives and managers to try to fight our union, stationing them in our stores and pulling us into anti-union meetings, including one where former CEO Howard Schultz (who reclaimed the position in March) made inappropriate Holocaust comparisons to try to convince us not to unionize. Despite corporate's best efforts, my store became the first unionized Starbucks in the United States in December 2021. As of this writing, over 235 stores have joined us across the country.
Our organizing victories do have the ability to improve our material conditions and introduce democratic structures into previously dictatorial environments. But our overarching goal is larger than that. We want to fundamentally change power dynamics—to create a society based on solidarity and equality rather than on class and hierarchy.
I believe that unions are the only place where we as workers can build power independent of the state and capital. Only unions can derive power solely from members' solidarity and strength. Other institutions, like media, nonprofits, and political parties, need backing from donors or from the government. Not surprisingly, the majority of Democratic politicians have yet to lend their support to Starbucks Workers United. Even fewer (Bernie Sanders being a notable exception) have gone beyond photo ops and actually called on Starbucks to end its union-busting or face the consequences. Many of them actually support Schultz's brand of "progressive" capitalism, which sees no role for unions. In fact, Hillary Clinton had shortlisted Schultz to become Secretary of Labor during her 2016 campaign.
In order to upend our unjust social order, we must have a strong and widespread labor movement. Union organizing is the only way to achieve independence from the very institutions that preserve inequality and injustice and to finally build the socialist society that Debs fought for: a society based on true democracy and solidarity.
---
Jaz Brisack is a union organizer and barista based in Buffalo, New York, and a founding member of Starbucks Workers United. She was the University of Mississippi's first woman Rhodes Scholar and was a Pink House Defender at the state's last abortion clinic, in Jackson.