The left tends to dismiss corporate pandering to identity politics as insincere and inconsequential. It does so at its peril.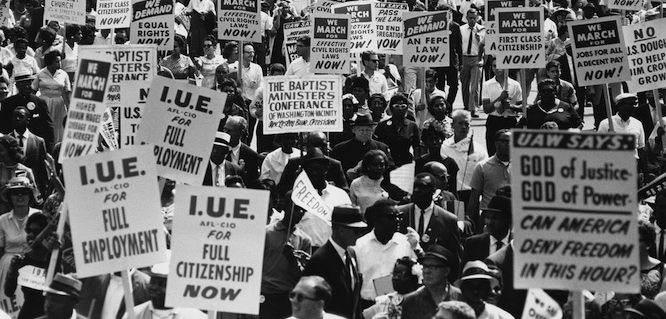 Corporate America appears newly awakened to the cause of social justice. Major companies have mobilized in defense of electoral democracy and express support for racial equality and the rights of women and sexual minorities. Some businesses not only fill the airwaves with clever commercials and editorial statements about these issues but also put their money where their mouths are. As early as 2015, corporate opposition forced Republicans in Indiana and North Carolina to back off anti-gay and anti-transgender legislation. More recently, Coca-Cola and Delta have criticized voter-suppression laws and have been punished for their troubles (Georgia, for instance, threatened to revoke state tax credits for Delta's jet fuel). In 2019 over 180 CEOs posted a full-page ad in the New York Times to say restrictions on abortion were bad for business. A year later Goldman Sachs established a $10 million fund to promote racial equality to "honor the legacy of George Floyd, Breonna Taylor, and Ahmaud Arbery." The investment bank was hardly alone; money for racial-justice organizations poured in from Walmart, Amazon, Google, and Spotify. And, after the January 6 fiasco, more than fifty companies said they would no longer contribute to the eight Republican senators who objected to certifying the presidential election.
In response, conservatives have taken to condemning what they call "woke capital." High-tech companies such as Amazon, Facebook, and Apple; pretty much all of Hollywood; the lion's share of the Fortune 500, including Starbucks, Nike, GM, Bank of America, and even BlackRock, the asset-management firm with $9 trillion under its direction—according to the right, all are meddling where they shouldn't. In National Review, Kevin D. Williamson attacked the "stampeding herd of grievance professionals who think that reserving a locker room for the ladies is more or less the same thing as apartheid." Senate hopeful J.D. Vance warned that "woke" foundations are "destroying our country." A conservative dark-money group has even launched an ad campaign targeting woke capital's real vulnerabilities: American Airlines for its CEO's high pay amid layoffs and bailouts, Coca-Cola for its contribution to the obesity epidemic, and Nike for its forced labor in China. Senator Mitch McConnell has threatened serious consequences for companies that are "dabbling in behaving like a 'woke' parallel government."
Criticisms like McConnell's amount to transparent hypocrisy. Business has been knee-deep in politics as long as we've had politics to be knee-deep in. The Republican Party, which has operated on the assumption that the business world was its natural constituency, feels aggrieved and abandoned. Corporate alliances with the Democratic Party are nothing new, however. Wall Street, for example, held a core position in both the Clinton and Obama administrations. Dating...
Online Only

For just $19.95 a year, get access to new issues and decades' worth of archives on our site.

Print + Online

For $29.95 a year, get new issues delivered to your door and access to our full online archives.
Already a subscriber? Log in: