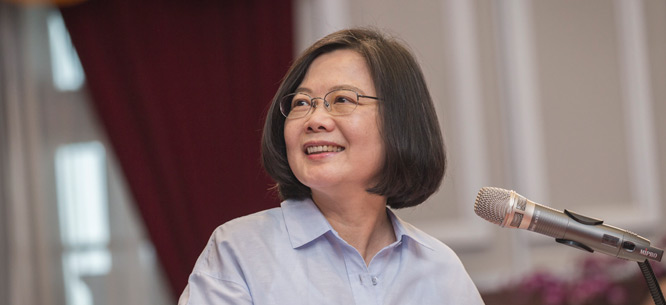 Imagine a small, peaceful, progressive island in Asia about the size of Maryland. Ruled until the Cold War's very end by a military dictatorship, it is now a robust democracy, although it endures incessant hostility from its giant neighbor. Its people treasure their hard-fought equality, free press, and vibrant civil society.
Forty-three out of its 113 lawmakers are female, which, in proportion, is almost double that of the U.S. Congress. With a modern, efficient single-payer healthcare system like Canada's, it provides comprehensive insurance coverage for every citizen at the cost of just around 6.2 percent of its GDP per year. A bill granting aboriginal languages official status was passed in May 2017 as part of a wider endeavor to uphold the rights of its indigenous communities after they received a formal government apology earlier for centuries of "pain and mistreatment." The landmark decree by its highest court that same month is paving the way for it to become the continent's first nation to legalize same-sex marriage. It is also striving to meet an ambitious goal to phase out nuclear power by 2025 and ensure that one-fifth of its total energy output is renewable.
Its sixty-two-year-old leader, Tsai Ing-wen, is a woman with no kinship or marriage ties to a political dynasty, unlike any of her Asian counterparts before her. A former professor of international law, she made her debut in public service in the 1990s as a trade negotiator, before working her own way up in the male-dominated world of politics, serving as a cabinet member, lawmaker, vice premier, Democratic Progressive Party (DPP) chairwoman, and now president. She swept to a landslide victory in January 2016 by gaining 56.1 percent of all ballots cast in a three-way race. Her pan-Green coalition—a broad alliance consisting of groups that favor a greater degree of democracy and self-determination—concurrently won a majority in the parliament, called the Legislative Yuan, for the very first time.
Of course, the country is real; it is Taiwan.
Many Americans may be unfamiliar with it, which is a consequence of its isolation on the global stage. It is barred from belonging to the UN and dozens of other intergovernmental organizations. As of this fall, only seventeen countries—down from twenty just months earlier—recognize it at all. None have diplomatic relations with Beijing.
Boasting the world's largest standing army and an expansionist outlook, the People's Republic of China deems Taiwan a "renegade province" that must be "reunified" in due course. And because the Chinese claim the island as part of their territory, they go out of their way to block its international participation. Essentially, they have made befriending Taiwan a zero-sum game for anyone who dares to do so, and the rules are simple: Engage with us and we will reward you; engage with them and we will punish yo...
Online Only

For just $19.95 a year, get access to new issues and decades' worth of archives on our site.

Print + Online

For $29.95 a year, get new issues delivered to your door and access to our full online archives.
Already a subscriber? Log in: