In late October 2012, twenty-one activists calling themselves "No Dash for Gas" scrambled up a power station to hold a sit-in three hundred feet up in the sky. Their actions put them at risk of becoming the first British climate activists to be sent to jail. It also revealed troubling collusion between energy companies and the police.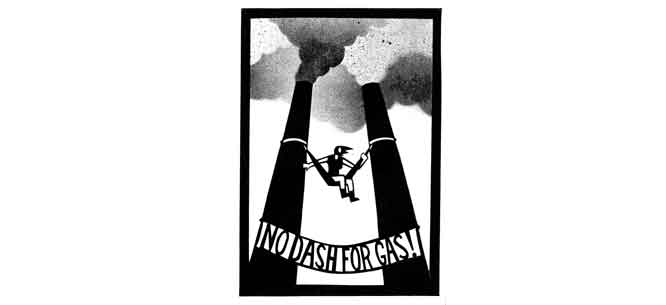 Last year, the British chancellor of the exchequer, George Osborne, announced that a "dash for gas" was the solution to British energy needs. In late October, twenty-one activists calling themselves "No Dash for Gas" scrambled up a power station to hold a sit-in three hundred feet up in the sky. The targeted plant, West Burton, a combined cycle gas turbine under construction in Nottinghamshire, is owned by the British energy provider EDF Energy (subsidiary of the French energy giant Électricité de France, the world's largest producer of energy). It is one of the first of twenty new gas-fired power stations planned to be built in the United Kingdom by 2030. At full capacity, it will emit approximately 4.5 million tons of CO2 annually, more than the annual emissions of Paraguay. Like many new gas stations, it will be exempt from British emissions regulations.
Using ropes and climbing gear, sixteen No Dash for Gas activists descended into the stacks and dangled precariously between two chimney flues. The week they were up there, they stopped approximately 2,800 metric tons of carbon emissions each day. The images were extraordinary. It was the perfect story, except that no one really noticed. Compared to the way the climate movement flooded the media at its height in the late 2000s (when such a protest would have at least been met with hostility), there was not even a ripple. The government's "green-washing"—the ubiquitous but empty rhetoric about climate change that pervades public discourse—has made climate activism appear at best innocuous.
Three months after No Dash for Gas came back down to earth, all that changed. In February 2013, EDF sued the activists for £5 million in damages. Public outcry ensued, and the following month, EDF was forced to drop the civil case. Despite their having to plead guilty to "aggravated trespass" charges, the climb-down is a major victory for No Dash for Gas, but the action and its aftermath have implications for environmentalism in Britain, and for British radical movements in general.
During the 2000s, the climate movement was very good at getting the attention of the nation: people didn't always care, but they always noticed. Other protesters, from student and anti-austerity campaigners in the United Kingdom to Occupiers in the United States, mimicked the tactics of environmentalists. Their kind of direct action—combining imaginative, news-grabbing stunts with more traditional methods of interfering with production and consumption processes—is now conventional on the British Left.
The lack of attention received by the No Dash for Gas protest spoke to public weariness about climate change in the face of austerity measures and a failing economy.
But in a country where protests against government cuts occur weekly, and where public interest in climate change is at a record low, imagination isn't always enough. Compared to the United States, where even getting climate change on the political agenda remains controversial, Britain seems pretty progressive. But while the language of climate change is everywhere, action is nowhere. David Cameron's Tories once claimed to be the "greenest government ever," but have since shown that to be anything but its true colors. In a recent, exemplary policy, the government announced that it would remove climate change from the existing national curriculum taught in secondary schools; the latest energy policies, which No Dash for Gas targeted, make a mockery of British carbon-reduction targets. Other campaigns—against the cuts to public services, for example, or on issues like squatting and housing—have become focal points for movement building, while the public presence of climate activism waxes and wanes. The lack of attention received by the No Dash for Gas protest spoke to public weariness about climate change in the face of austerity measures and a failing economy.
EDF's damages claim unintentionally crystallized a message that activists have long been attempting to make: linking concerns about climate change with ordinary economic worries. £5 million may be a drop in the ocean for EDF, but it's enough to put twenty-one activists in debt for the rest of their lives. The repayment conditions would force the few homeowners among them to sell their houses and others to tithe a percentage of their income to EDF until a personal debt of £238,000 is paid back.
A week after the suit was announced, 60,000 people had signed a petition against EDF. Environmentalists around Britain sprang into action, staging local anti-EDF protests and creating new websites urging consumers to move their money to energy providers with greener credentials. Nongovernmental organizations, charities, and campaigners—from Greenpeace to Friends of the Earth to UK Uncut—claimed EDF's actions represented a new and dangerous way of crushing dissent that, if successful, would transform the face of protest across Britain. Every news outlet covered the story. No Dash for Gas went on daytime TV. Hundreds of apparent customers announced on the company's Facebook page that they were leaving EDF. The hashtag #iamnodashforgas went viral on Twitter. Even financial and business commentators usually unsympathetic to radical environmentalists thought that EDF had made a big mistake.
In March, EDF offered to withdraw the civil claim if the activists would agree to an injunction not to enter EDF power stations in the future—a pretty nominal concession, given that the suit would most likely have resulted in something along these lines anyway. An EDF press release said the company had "listened carefully to the debate around this issue, including conversations on social media." But what precisely was EDF doing when it launched the civil case in the first place? To answer that question, we need to understand how its damages claim relates to the criminal charges the activists face, and how the company relates to the third interest group in this episode: the police.
---
Climate activists in Britain tend to play by the rules when criminal charges are brought against them. They appear in court under their own names, they cooperate and accept charges and bail conditions. Even when their acceptance of punishment is merely strategic, they tend to pass the "liberal" civil disobedience test: they break the law but appeal to the sense of justice of the democratic majority. In recent cases where climate activists have been sent to the Crown Court (the highest criminal court in England and Wales) and tried by a jury, they have pleaded not guilty by appealing to a "necessity defense." In 2008, Greenpeace activists were cleared of causing criminal damage at Kingsnorth, a coal-fired power station: using expert witnesses, including climate scientist James Hansen, they successfully made the case that their illegal activity was in the name of a greater moral good that required urgent action to force the issue into parliamentary politics. While American courts have yet to accept this line of defense, the Kingsnorth case showed that English courts are in principle prepared to excuse criminal property damage on grounds that it is necessary to prevent greater damage to property from climate change.
There is evidence to suggest that the move to file a civil claim and less-severe criminal charges is a deliberate ploy by the police, who have learned that juries tend to look kindly on activists.
The No Dash for Gas protesters might have presented a similar argument. However, they have not been charged with criminal damage but with the minor offense of "aggravated trespass"—a catch-all legal category introduced in 1994 in part to police the "rave culture" and free party scene of 1990s Britain, and now used to police protest. The low charge carries less severe penalties, but it also means the activists will be tried in a magistrates' court, rather than before a jury. Knowing higher charges are likely to backfire, EDF appears to have turned to more reliable means to ensure that harsh penalties are imposed on activists: a civil claim. The activists have all pled guilty to aggravated trespass to avoid wasting their resources being in legal battles. When they eventually appear in court, some may receive custodial sentences, making them the first British climate activists to be sent to jail.
There is evidence to suggest that the move to file a civil claim and less-severe criminal charges is a deliberate ploy by the police, who have learned that juries tend to look kindly on activists. The same police force that arrested the activists helped EDF serve the activists with legal papers, even though they should not be involved in this sort of civil claim. One activist was chased down the street by a police officer who claimed to be serving the papers "as a courtesy to EDF." The police also supplied EDF with names and addresses of activists. There are even signs of a cover-up: the activists' lawyer requested to see CCTV footage of what went on in the police station after the arrests but was told that the footage had been deleted—even though police footage of an incident is supposed to be preserved for three months and the request came well before that window had closed. Information obtained under the Freedom of Information Act shows discussion between police and EDF about the bail conditions imposed on the activists. These conditions banned the activists from associating with each other and subjected them to house arrest from 9 p.m. to 7 a.m. The conditions were lifted only when EDF began its civil case.
---
It has been suggested that this collusion between EDF and the police was the tip of the iceberg, but in Britain in 2013, bad police behavior isn't submerged. The last two years have been a period of revelation about the monitoring of dissent. Over the last three decades, undercover police, using identities taken from dead children, have embedded themselves in protest movements and acted as agents provocateurs and, in certain cases, had long-term sexual relationships with women activists (some have even had children). In 2011, the press revealed the story of Mark Kennedy, a Metropolitan Police Officer undercover in the environmental movement for seven years who had sexual relations with multiple women. The revelations have resulted in formal investigations and a parliamentary inquiry. The Home Affairs Committee's interim report on undercover policing was published a week after EDF declared its intention to sue No Dash for Gas.
Anti-police sentiment is hardly new in Britain and made headlines with the London riots in the summer of 2011. That sentiment, combined with the new report and with the David-and-Goliath narrative of EDF's civil suit, turned the public more firmly against the energy company. The police force involved with EDF, the Nottinghamshire Police, is the very same force involved in the practices that led to Mark Kennedy's unmasking. And EDF has its own history of undercover espionage. In late 2011, the company was fined €1.5 million in a French court for spying on Greenpeace. The head and deputy-head of EDF's security team, which commissioned the spying, and the head of the contracted espionage firm were given custodial sentences and large fines. Greenpeace received €500,000 in damages.
In the No Dash for Gas case, both police and government were revealed to be close to the energy companies. Past EDF employees hold posts in the Department of Energy and Climate Change. A recent Freedom of Information request showed that personnel from the department had email correspondence with EDF right from the start of No Dash for Gas's action: even before the activists had been arrested, government employees were discussing their bail conditions.
When EDF launched its damages claim, protesters brought this information to public attention. The collusion between corporate and state interests, and the stark power differentials on display, were not all that different from the murky relationships revealed by last year's phone-hacking scandal, in which the staff of British newspapers were accused of using illegal methods like phone-hacking and police bribery to gather confidential information. The public is rightly intolerant of this kind of collusion, but people are also weary of scandals. Scandals may lead to a recalibration of political relationships, as phone hacking and the subsequent official inquiry have done for relations between politicians, police, and the press. But the focus on process means that substantive issues can get lost.
However, the public response to EDF indicated that calling for yet another inquiry is not the only way to show sympathy with dissent. The Internet provides alternatives. Though there is a lot of warranted cynicism about "clicktivism," there are some things that people can do online, with speed, that make a difference. One of them is putting your money where your mouse is, and EDF's intervention reminded British consumers that they have a choice about whose energy they buy.
For the activists this isn't just a case of green consumerism but a way of connecting the issue of what kind of energy we want with the question of who owns and controls the means of producing energy. Activists have been joining the dots between fuel poverty, the economic crisis, and climate change for a long time. EDF's suit amplified this message. It made stark the contrast between the status quo, in which the big six energy companies (of which EDF is one) control British energy, and an economic and political landscape in which energy ownership is democratized and decentralized. These structural messages are not always easy to convey, however, and activists need to continue to take advantage of particular stories that play on public concerns—political corruption, police collusion, the unjust power of economic entities—to drive home these messages.
UK environmentalists may be better placed to do this than their U.S. counterparts. The former are less marginalized from mainstream political discourse and more likely to find supporters across the political spectrum—not just among anarchists and liberals, but socialists (and conservatives) too. This is partly because climate activists tend to draw a line between worries about climate change and other environmental concerns. (Hence the contrast between "climate" activists and "environmentalists": indeed, my earlier claim that No Dash for Gas may be the first climate activists to go to jail is only accurate if you accept this terminology. They won't be the first environmentalists to go to jail—anti-roads and Earth First! activists did jail time in the 1990s, just like their more radically deep green, wilderness-oriented American counterparts). This differentiation has proved a strategic move. Worries about climate change appeal to a broader coalition, especially on the socialist Left, than purely local or ecological concerns.
But recently, environmentalism has pulled in the opposite direction: with carbon pollution reaching 400 ppm, and without an international agreement in sight, it's no surprise that activists go local, looking to food and housing issues, permaculture, community resilience, and union organizing. The West Burton action renewed the possibility of a national focus. It showed that the climate movement is ready to spring into action as soon as it is called upon. In April, No Dash for Gas activists called for a return to West Burton for a summer occupation modeled on the annual "Climate Camps" of the late 2000s. The climate camps did much to tie regionally and ideologically diverse groups together under a national umbrella, and their revival could bring a new national focus to British climate activism. The victory against EDF has cleared the way for the continuation of this kind of protest. If EDF, the biggest global energy company, can't win through the civil courts, few other companies are going to try their luck.
---
Katrina Forrester is a research fellow in history and politics at the University of Cambridge.