Minority rule is a major obstacle to ensuring abortion rights.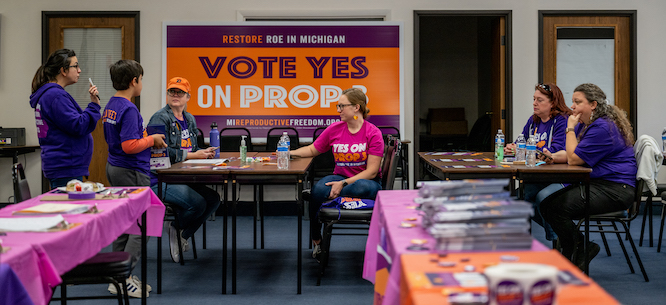 Last summer, soon after the Supreme Court overturned Roe v. Wade, Kansans turned out in record numbers to reject a ballot amendment that would have stripped the right to abortion from the state's constitution. The overwhelming "no" vote—59 to 41 percent—was followed by similarly promising results in the midterm elections. In November, voters in Michigan, California, and Vermont affirmed the right to legal abortion, and Kentuckians and Montanans rejected anti-abortion amendments. Support for abortion rights helped Democrats win up and down the ballot. Across the country, Americans asserted what advocates have known for years: if voters could decide, abortion would be legal. 
These victories have been much celebrated—and for good reason. The amendments that enshrined legal abortion are helping women and pregnant people access lifesaving healthcare. They also demonstrate that Democrats can loudly endorse abortion rights and win. The unequivocal results from Kansas, Michigan, and Kentucky should theoretically offer cautionary tales for anti-abortion politicians: you'd think it would be difficult for an elected official to criminalize abortion and keep his seat.
But the way we lost Roe illustrates the limits of such wins. Back in 2011, Mississippi voters resoundingly—58 to 42 percent—rejected a statewide ballot amendment that would have defined personhood from the moment of conception. But the Republican legislature kept discussing bills designed to ban abortion and passing laws that made it more difficult for physicians to perform the procedure. In 2018, the state legislature passed a law banning abortion after fifteen weeks. Even though lower courts uniformly decided that the ban was unconstitutional, the Supreme Court took the case, and in June last year, the new conservative majority upheld the Mississippi law and overturned Roe. Three days later, the Mississippi attorney general certified the state's trigger law, banning abortion in the state.
The implications are clear: minority rule is a major obstacle to ensuring abortion rights. 
As Lisa Corrigan, an expert on social movements and Professor of Communication and Director of the Gender Studies Program at the University of Arkansas, said last year, "There are no minority rights when the minority rules. Restrictions on voting rights and erosion of freedom of speech are essential to state rule. . . . The political minority is where the authoritarian impulses find expression." In other words, when officials can act without public approval, they can further disenfranchise people who already have less power, including women and Black voters.
Online Only

For just $19.95 a year, get access to new issues and decades' worth of archives on our site.

Print + Online

For $35 a year, get new issues delivered to your door and access to our full online archives.
Already a subscriber? Log in: