It Takes a Lot of Money to Look This Cheap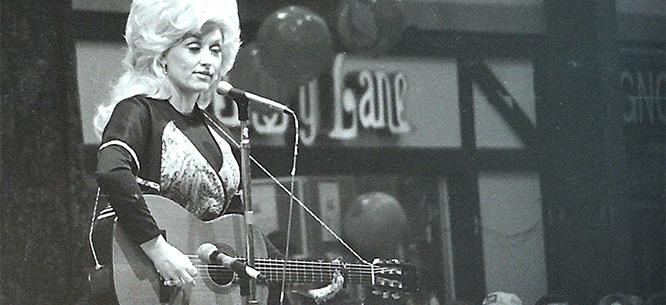 This summer, a seventy-year-old Dolly Parton took the stage at Forest Hills Stadium in Queens, her tower of blonde hair and sparkly white mini-dress at dazzling odds with the title of her latest album and tour, Pure and Simple. Parton fans from across the spectrums of age, hipness, and the Kinsey scale were represented in the audience—a testament to how thoroughly she has crossed into the mainstream from the country charts. Midway through her first set, Parton played "Coat of Many Colors," which recounts growing up so poor that her mother sewed her a winter coat from scraps and rags. Despite the ridicule her classmates hurled at her, she wore the garment proudly. "I know we had no money, but I was rich as I could be," the song ends, "in my coat of many colors my mama made for me." Upon finishing the song, Parton dissolved into giggles, remarking how nice it was that the song had made her so very much money. The banter echoed her 1994 memoir, where she wrote, "It was also a big hit, and that did a lot to help me forget that early pain. It's amazing how healing money can be."
Parton's image relies in equal measure on her obvious material success and her self-proclaimed "hillbilly, white trash background." She grew up in rural eastern Tennessee, in a mountainside shack without running water. Her mother and father married when they were fifteen and seventeen respectively, and had twelve children by the time her mother was thirty-five. Her father was a sharecropper, a situation she explains bluntly: "That means we didn't own the land we lived on. We farmed it for somebody else in return for a share of the crop. In a hard land that is stingy about giving up much of a crop, that share doesn't come to a whole lot."
Today, a life-size model of the little wooden shack stands inside Dollywood, a theme-park-cum-museum near the ridge where she grew up. Only a few visitors can fit inside at a time—each one no doubt wondering how such a large family could be created in a place affording such little privacy. Right outside, a kiosk sells giant, insulated souvenir mugs for $14.99, which can be refilled for free at soda stations around the park. That short walk from the cramped hovel to the Coca-Cola® Fill & Chill Zone is the American Dream, fizzily encapsulated.
In an election year that brought class concerns front and center, and in which Donald Trump's gilt-edged, funhouse-mirror rendition of the American Dream captured voters' imaginations (even though his story is not so much rags-to-riches as it is riches-to-Chapter-11-and-back-again), two new books examine the myth in the context of Parton's people: the white working class, particularly in the south and Appalachia. In Hillbilly Elegy: A Memoir of a Family and Culture in Crisis, J.D. Vance traces his own arc from a Rust Belt childhood marked by family chaos—his mother was an addict, his father mostly absent, his hard-workin...
Online Only

For just $18 a year, get access to new issues and decades' worth of archives on our site.

Print + Online

For $30 a year, get new issues delivered to your door and access to our online archives.
Already a subscriber? Log in: