On the vacant, vertical concrete walls of Tehran, street artists fight for free expression, and with each other.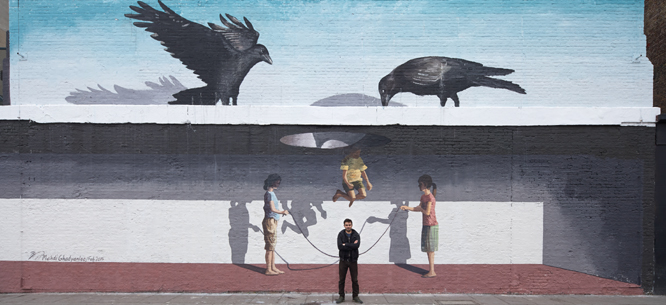 On a wall in Shoreditch, East London, two monumental crows greedily eye a young child playing jump rope. The small figure is poised mid-flight, face obscured by shadow. The crows lean in over a circular hole, one with wings unfurled, the other hunched in predatory vigilance—both eagerly waiting for the moment when the child's naïve exuberance will carry her too high and into their clutches. The mural is both grotesquely cheerful and chilling—a nursery game turned deadly.
To the left, Iranian artist Mehdi Ghadyanloo has carefully inscribed his name and the date, February 2015. Above his signature, in the harsh staccato lettering of street missives, another artist has left a withering critique: "THE WALLS OF TEHRAN ARE MY PLAYGROUND AND ITS [SIC] ON SINGLE PLAYER MODE." Tehran has many walls—an architectural quirk betraying the city's rigid separation of public and private lives—and Ghadyanloo has, by his own estimation, painted more than one hundred of them. As an artist officially commissioned by the city's Beautification Bureau now painting his first mural outside the Islamic Republic, that dominance is being furtively challenged.
In a country like Iran—whose population is relentlessly monitored for "sedition" or "indecency," where women are barred from singing alone, and artists who appear too "Western" can be denied the right to perform, where certain topics are verboten and any creative works must first be vetted by the Ministry of Culture and Islamic Guidance—making art at all, even if it's sponsored by the ruling regime, can be a political act. Whether they intend it or not, for Iranian artists, art and politics are inevitably intertwined, and exhibiting abroad is no guarantee of immunity.
​"Tehran is an incredibly ugly city," Iranian-American journalist Hooman Majd says bluntly of the city of his birth. "[K]ind of like an even uglier version of Los Angeles." Even Lonely Planet calls the "big, ugly, chaotic and dynamic beating heart" of Iran an "ugly mask of concrete, sometimes choking smog and manic streets flowing hot with machines." Ghadyanloo, charged with the beautification of this "grey city," describes it as shrouded in pollution and peopled by feverishly toiling inhabitants. "I like Tehran," he told me cheerfully in an interview from his colorful studio in the city, "because I like suffering."
Following the 1979 Iranian revolution, the country's capital, tucked into a depression in the plains abutting the Alborz Mountains, experienced unfettered urban growth. Tehran's population exploded—nearly tripling from its pre-revolution total of 5 million to the current official metropolitan count of 12 million—and utilitarian modern buildi...
Online Only

For just $19.95 a year, get access to new issues and decades' worth of archives on our site.

Print + Online

For $35 a year, get new issues delivered to your door and access to our full online archives.
Already a subscriber? Log in: