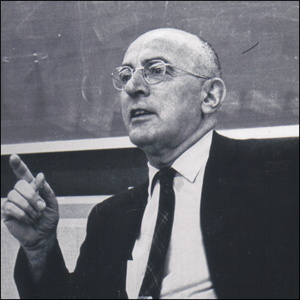 B.J. Widick recently passed away at the age of 97. His death brings to a close the rich and lengthy life of a notable figure in the trade union and socialist movements. Born in a Serbian village in 1910, Widick moved with his parents to Akron, Ohio just prior to the First World War. Upon graduating from the University of Akron, he became a journalist at the Akron Beacon-Journal. Caught up in the wave of labor strife that swept through the industrial Midwest during the 1930s, he actively participated in strikes in Toledo and Akron and played an important role in the legendary 'sit-down' strikes of 1935-1936 at the General Motor plants in Flint, Michigan and Anderson, Indiana. During this period of his life, he was a member of the newly created American Workers Party and established the research department of the United Rubber Workers.
In 1938, he was a founding member of the Socialist Workers Party (SWP), a party that was a merger of the American Workers Party and the expelled American Trotskyists faction from the Socialist Party. Later he and fellow followers of Max Shachtman broke with the SWP and formed the Independent Socialist League (ISL). He served as editor of the ISL organ, Labor Action, and was full-time director of its Chicago and Los Angeles branches.
During the Second World War, he served as a sergeant in the Army's Special Training Prog...
Online Only

For just $19.95 a year, get access to new issues and decades' worth of archives on our site.

Print + Online

For $35 a year, get new issues delivered to your door and access to our full online archives.
Already a subscriber? Log in: