Tight-knit communities where residents have access to basic resources and strong local institutions are safer places to live.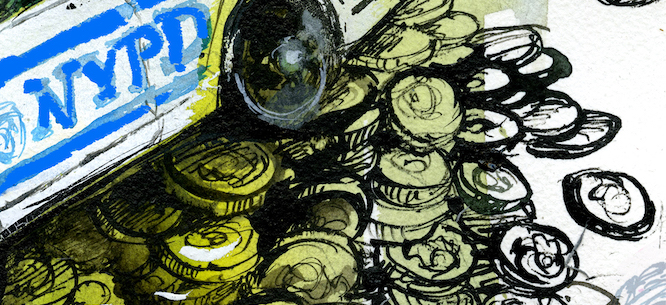 This article is one in a series of arguments on policing in our summer issue.
For five days last December, the police withdrew from the streets in Brownsville, one of New York City's poorest neighborhoods. The move was part of an agreement with the community to shift the primary power for keeping the peace to residents. Neighbors looked out for one another and relied on individuals trained to defuse disputes before they could escalate to violence. Local nonprofits and city agencies showed up with support, from job opportunities to help with homework. In a neighborhood that has led the city in shootings for decades, only one 911 call was reported—from a bus driver who mistakenly activated a distress signal.
What happened in Brownsville is important, even if it lasted just five days and covered just a few blocks of Brooklyn. After a chaotic, tumultuous, and tragic year, the role and function of law enforcement in the United States is unsettled. Americans watched George Floyd slowly killed by a Minneapolis police officer last May. In June, police responded with brute force to widespread protests against racial injustice. Later that month, Seattle's Capitol Hill Autonomous Zone, an ad hoc space of demonstration with no cops and no leadership, became the site of multiple shootings before it was shut down with little resistance. And as all of this was unfolding, a surge of gun violence took hold across U.S. cities, leading to the sharpest single-year increase in history.
As the violence rose, city leaders began to turn back to the police in response. Those five days in Brooklyn, however, provide an alternative way forward. What happened in Brownsville may seem radical, but it rests on an old principle: tight-knit communities where residents have access to basic resources and strong local institutions are safer places to live.
The idea that local organizations generate safe communities is not just folk wisdom. We have seen it happen, and rigorous research has documented its impact. In New York City, where an extensive network of community groups trained in defusing disputes is at work, shootings declined 28 percent, a rate three times as steep as comparable neighborhoods without this strategy. Other social structures, including the city's NeighborhoodStat program, bring together residents, city agencies, and community organizations to identify and address the underlying drivers of crime, from unemployment, untreated mental illness, and substance abuse to crumbling parks and playgrounds and rubbish-strewn vacant lots. And they work: a study by the John Jay College of Criminal Justice found that New York City public housing complexes implementing the Mayor's Action Plan for Neighborhood Safety saw major declines in crime. We need more of these initiatives and on a larger scale. We also need to deepen existing efforts to shrink the criminal justice system, which research shows has its own criminogenic effects, spurring cycles of recidivism that pull people further into the system. These failures further erode trust between residents and the state in disadvantaged communities.
In 2014, following Bill de Blasio's election, New York City began to rely more heavily on investments in community institutions to build stronger neighborhoods. Violence fell to historical lows, and intentional strategies were deployed to curtail and lighten the reach of the justice system into the lives of New Yorkers. The two major metrics of justice system activity were cut in half in the seven years between 2013 and 2020: arrests fell by 56 percent, and the number of people in jail fell by 49 percent. Prosecutor and probation caseloads also diminished, easing the stress on the entire apparatus of the criminal justice system. Despite this massive shrinkage in operations, however, budgets rose by 17 percent in real dollars. Per person costs also increased. From 2013 to 2020, the cost of jailing an individual rose from $93,000 to $224,000, without any significant improvement in the conditions of confinement. The cost of processing a single arrest rose 188 percent, from $12,000 to $34,000. When the costs of benefits and pension contributions are factored in, the total agency budgets rise steeply. The Department of Correction's budget, for instance, grows from $1 billion to twice that amount.
If the most safety earned per dollar were the measure of what gets funded, then an array of approaches supported by rigorous evidence would form the core of the city's public safety program, with arrest, prosecution, incarceration, and community corrections as tertiary strategies. Summer youth employment programs (SYEP), for example, would be considered as essential as police. In randomized controlled trials, the city found that SYEP reduced deaths by 18 percent and incarceration of people nineteen years old and older by 54 percent. Bundled strategically with investments such as improved lighting in public spaces (which reduced nighttime felony crime by 36 percent) and after-school sports programs accompanied by cognitive behavioral therapy (which reduced arrests for violent crime by 45 to 50 percent), New York City could make progress on multiple intersecting challenges at once, creating a virtuous cycle that would iteratively shrink the justice system and strengthen civic society.
Residents of communities like Brownsville must play a major role in this process, because they are closest to the problems and the solutions. Those five days without police in Brownsville give us a glimpse of a possible future. It is a future where law enforcement is still needed to respond to the most serious forms of gun violence, but one in which the police and the criminal justice system as a whole play a very different—and much smaller—role in the safety and well-being of communities. It is a future in which the city turns to community residents and institutions to create strong and safe neighborhoods and organizes its own civic resources with the same commitment that has long been devoted to the police and prisons.
To move confidently into that future, political leaders must focus relentlessly on investing in what really makes us safe. There's still more to discover for elected officials willing to break with convention. New York City is electing a new mayor this year; one of their first steps should be to create a deputy mayor for public safety and justice. Tasked with identifying and deploying the full spectrum of safety strategies, from creating vibrant public places to increasing job opportunities, the deputy mayor should have authority to tap and coordinate the city's many agencies and work in partnership with communities to develop and fully fund a community-based approach to public safety. It's long overdue.
---
Elizabeth Glazer is the former criminal justice policy adviser to New York City Mayor Bill de Blasio and previously served as a federal prosecutor in the U.S. Attorney's Office for the Southern District, where she led the organized crime section and founded the violent gangs section.
Patrick Sharkey (@patrick_sharkey) is a professor of sociology and public affairs at Princeton University and the author of Uneasy Peace: The Great Crime Decline, the Renewal of City Life, and the Next War on Violence.