A new documentary finally gives Pauli Murray, the trailblazing feminist and civil rights lawyer who coined the term "Jane Crow," their due.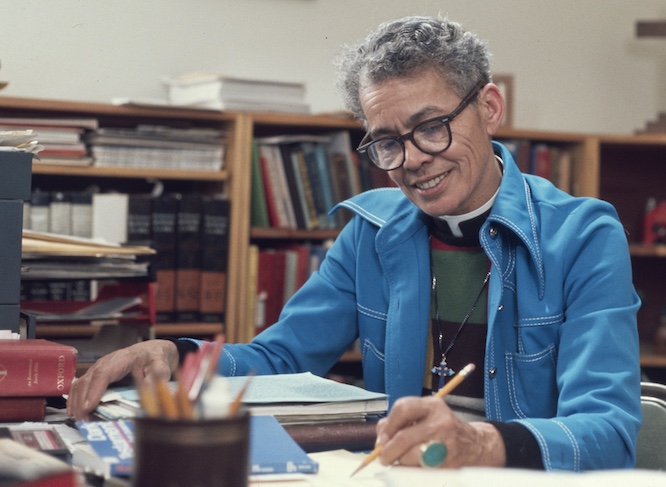 Naming something makes it knowable. No one sensed that better than Pauli Murray, a trailblazing feminist, civil rights lawyer, scholar, poet, and priest, who coined the term "Jane Crow" to explain the combination of racist and sexist discrimination facing Black women. In legal writings foundational for cases won by Ruth Bader Ginsburg and Thurgood Marshall, including Brown v. Board of Education, Murray argued that discrimination on the basis of race or sex was fundamentally at odds with the Constitution. Yet despite decades of influential work, Murray is, by and large, unknown, especially among white Americans. A new documentary from the filmmakers behind RBG, simply titled My Name Is Pauli Murray, offers an introduction. It's about time you met Pauli Murray.
As we see in the film, Jane Crow meant Murray was rarely taken seriously. What's more, Red Scare harassment led Murray—who had "past associations" with the Socialist Party—to remove all mentions of gender and relationships, significant themes in their life, from their autobiography. Murray used she/her pronouns, but their journals and their friends recount a series of relationships with women in which they expressed a desire to live as a man, and recurring efforts to seek medical treatment, including hormones. Some activists and historians today have started using they/them pronouns for Murray instead.
Loved ones say Murray was extremely driven, almost obsessively so, and impatient for change. In one moment in the film, Murray's great-niece Karen Rouse Ross says Murray spent most of their life declaring, "You will see me. You will hear me." As trans people know intimately, a name is a portal to being seen and heard. Maybe we'll finally start seeing and hearing Murray's name more often.
---
Nic Yeager (he, they, she) is a freelance writer and the culture fellow at the Texas Observer.