My book did not tell the story of the unionization effort at a KIPP school in Brooklyn in 2009 primarily from the perspective of the organization's management, as Leo Casey contends.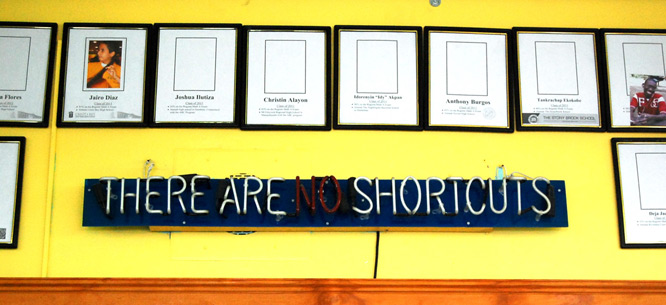 The author of Education and the Commercial Mindset replies to Leo Casey's review in our Summer issue.

In his detailed and thoughtful review of my book, Education and the Commercial Mindset, Leo Casey makes an excellent point in observing that I overlooked the connection between the philanthropic funding behind charter school management organizations such as KIPP and the war against unions. Casey is indeed correct that this relationship merits significant investigation.
For Casey's additional perspective as well as his laudatory assessment of my analysis of the rise and fall of Edison Schools, I am grateful. However, I disagree with Casey's contention that I told the story of the unionization effort at a KIPP school in Brooklyn in 2009 primarily from the perspective of the organization's management. I summarized the view of the school's principal, quoted three teachers and cited another about the school's overwhelming workload, pointed to the administration's summary dismissal of two teachers without explanation as the breaking point for the faculty, noted the battle provoked sympathetic coverage in the New York Daily News and the New York Times, and quoted one teacher and cited another about continued faculty churn year upon year after the staff voted for decertification in 2010. I did not interview anyone at the United Federation of Teachers about this clash, as Casey writes. Yet I did not interview anyone at KIPP headquarters about this topic either. My reportage was confined to activity at the school itself from 2008 to 2014 and largely reflected the sentiments of teachers.
Moreover, contrary to Casey's assertion that I merely touched on the matter of student demographics at KIPP and neglected, one, to contrast them to enrollment at district schools as well as Edison schools and, two, to address the significant influence of these differences on outcomes on standardized tests, I devoted five pages to this very issue. In the process, I cited data documenting the difference in reading and math scores for students matriculating at KIPP and neighborhood schools; the disparity in enrollment of students who had learning disabilities or were English-language learners; the divergence in patterns of student attrition and replacement; the consequent peer-group effects on student behavior and academic performance; and the failure of Roland Fryer's multimillion-dollar effort to replicate KIPP's success with the organization's model in twenty conventional public schools in Houston. I concluded that KIPP's considerable control over student enrollment goes far in distinguishing its record from that of Edison or any public school district and claimed this determination to be a key lesson regarding the organization's limitations.
Finally, two matters of fact should be addressed. First, while KIPP's traditional curriculum and strict code of conduct may compensate for the lack of experience of the organization's young teaching corps, they were not developed, as Casey maintains, for that purpose. From KIPP's founding in 1994, this approach, much akin to that of inner-city Catholic schools, was developed rather to compensate for the lack of order in the everyday lives of underprivileged children. In a 1999 New Republic article about KIPP during its infancy, entitled "Back to Basics in the Bronx," David Grann captured this intrinsic mission of the organization. The effectiveness of this strategy is open to question but not its origins—or its appeal to the conservative philanthropists who helped KIPP grow from two schools in 1999 to 200 in 2016.
Second, while KIPP depends heavily on funding from such philanthropists for its longer school day and year, strong music programs, impressive class trips, and admirable mentorship of graduates while in college, the organization does not spend 50 percent more per pupil, as reported in a 2011 study cited by Casey. That study, as I explained, was deeply flawed. The true advantage, once occupancy costs in districts without free co-location are tallied, comes to approximately 20 percent.
With overlapping funders and leaders, Edison and KIPP, the central subjects of my book, constitute, in sum, two sides of the same coin, one for-profit and the other non-profit, both opposed to organized labor and, as Casey adds with telling detail, part of the wider war against it.
---
Samuel E. Abrams is the author of Education and the Commercial Mindset and director of the National Center for the Study of Privatization in Education at Teachers College, Columbia University.

Read Leo Casey's reply.