The labor that makes the multi-billion-dollar video-game industry possible, educators fighting back in New York and Chicago, the IRS auditing poor people, and much more.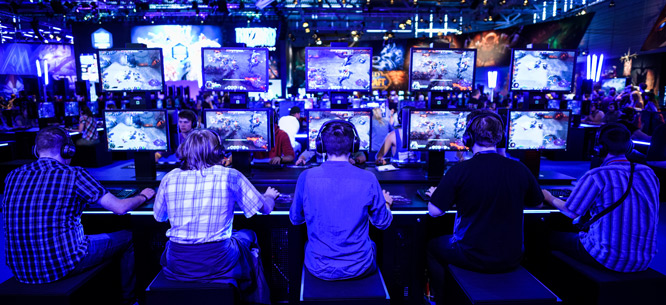 Subscribe to the Belabored RSS feed here. Subscribe and rate on iTunes here or on Stitcher here. Check out the full Belabored archive here. Tweet at @dissentmag with #belabored to share your thoughts, or join the conversation on Facebook. Belabored is produced by Natasha Lewis.
From the beginning, video games have been both a form of work and a form of rebellion against work, so it's fitting that this week we talk about the work of making games with Jamie Woodcock, author of the new book
Marx at the Arcade
. We trace the history of games from the military-industrial complex to today's multi-billion-dollar industry, and look at the workers who have made all that possible, from the factory floors to newly unionized game programmers. 
We also take a look at the potential strike in New York's famed pre-kindergarten program, and the end of a three-week strike at the University of Illinois Chicago. And we hear about how poor people wind up getting audited by the IRS, and a new bill to tackle workplace harassment after the revelations of the #MeToo moment. For Argh, we consider the organizing happening along the border, on the Mexican side, and demand that we repeal Taft-Hartley, already. 
This week's show was supported by our monthly sustaining members. If you think our work is worth supporting as we soldier on through Trumplandia, please consider becoming a member today. If you're interested in advertising on the show, please email ads@dissentmagazine.org. And as always, if you have any questions, comments, or tips, email us at belabored@dissentmagazine.org.
News:
BE HEARD in the Workplace Act Would Help Create Fairer, Safer Workplaces for All (National Partnership for Women & Families)
U of Illinois Chicago Grad Assistants End Strike (Inside Higher Ed)
Where in The U.S. Are You Most Likely to Be Audited by the IRS? (ProPublica)

Some NYC Pre-K Teachers Can't Make Ends Meet. Now They're Preparing to Strike. (New York Magazine)
Sarah: The Fight for Universal Pre-K: New York Charts a Checkered Path Toward Equal Early Education (Truthout)
Conversation:
Marx at the Arcade: Consoles, Controllers, and Class Struggle by Jamie Woodcock (Haymarket Books, 2019)
IWGB Launches UK's First Ever Union Branch for Video Game Workers

Argh:
Michelle: Alex Campbell, Amazon says it's a leader on fighting climate change. 5,000 employees disagree. (Vox)
Sarah: C.M Lewis, Labor has opposed Taft-Hartley for decades. Here's why it's time to repeal it. (Strikewave)