Women and Power in the Wisconsin Uprising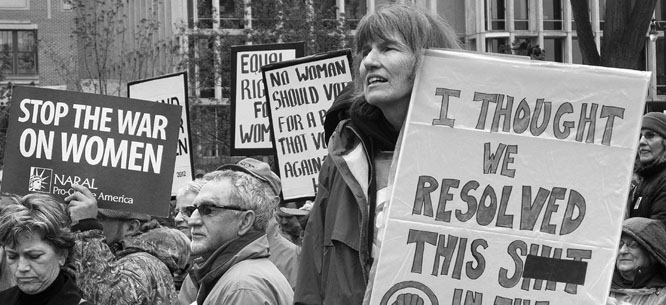 When Wisconsin governor Scott Walker opened his assault on collective bargaining in February 2011, few people realized it would open the door to the election of Tammy Baldwin to the U.S. Senate in November 2012. Baldwin, the first woman to represent Wisconsin in the Senate and the first openly gay senator in U.S. history, had been backed by many women's organizations since her first run for Congress in 1998, but Walker's successful attempt to roll back the collective bargaining rights of 360,000 public sector workers brought together an unprecedented coalition of labor and women's groups.Walker's bill, WI Act 10, exempted some unions—those of safety workers, the police, state troopers, and firefighters—whose members were mainly men. Instead, it focused on unions where women predominated—teachers, health workers, and public sector clerical workers. Nationally, by 2011, women represented 57 percent of the public-sector work force. Over 80 percent of teachers, nationally and in Wisconsin, were female, and 90 percent at the elementary level were women. In 2010, there were 54,510 registered nurses employed in Wisconsin; 95 percent of them were women.Women unionis...
Online Only

For just $18 a year, get access to new issues and decades' worth of archives on our site.

Print + Online

For $30 a year, get new issues delivered to your door and access to our online archives.
Already a subscriber? Log in: